Art Blogs
Art Round May 2012 Part 1. Art Round is a selection of websites, artworks, and spotlight interviews that have been featured throughout the last couple of weeks on our Facebook and Twitter accounts… enjoy our personal highlights below!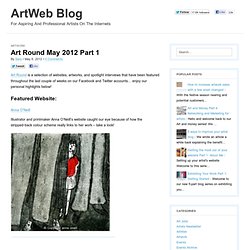 Featured Website: Anna O'Neill. Vague Terrain | Digital Art / Culture / Technology. Mysterious paper sculptures - Central Station Blog post. Those of you who don't keep up with Edinburgh's literary world through Twitter may have missed the recent spate of mysterious paper sculptures appearing around the city.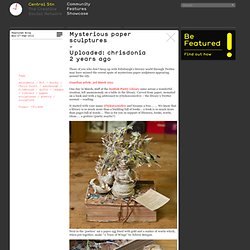 Guardian article, 3rd March 2011. One day in March, staff at the Scottish Poetry Library came across a wonderful creation, left anonymously on a table in the library. Blog of an Art Admirer. Project blogs | Artists talking. Alexia Guggémos. Cafe com Canela: Poesia, Musica, Vida, Fotografia e Humanos - UOL Blog. CORNER. Artodyssey. Creativity Fuse. Detritus. Critical Art Ensemble. Art Crimes - The Writing on the Wall - graffiti art worldwide.
Here comes the sun. Visual Notations. Sean Kernick BlogStand. Open 24 hours. 20/20. STREET ART UTOPIA - We declare the world as our canvas. Street Art, Graffiti, Urbanism. Z.L. Feng International Award Winning Artist - Home. B E R L I N E R   K U N S T K O N T A K T E R   -   ART TV from GERMANY. RELIC. Nota de prensa: "Precipitados" de Pablo Genovés se expone en la galería Estiarte de Madrid, desde el 5 de noviembre hasta el 16 de diciembre. ¿La cultura conquistada por la naturaleza, o la naturaleza aprisionada por la cultura?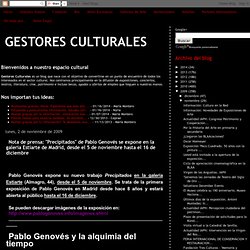 En las imágenes de Pablo Genovés, la pugna entre ambas se ha hecho eterna, y ya no es posible discernir quién agrede a quién. La lucha por la apropiación del espacio deriva en escenas de destrucción, de fin de una época, haciendo un guiño a los presagios catastrofistas que hoy, más que nunca, aguzan el imaginario colectivo. A su vez, estas imágenes proceden de realidades preexistentes: estampas antiguas que el artista revisita y transfigura, liberando la imagen fotográfica de su eterna vigencia, dotando a los elementos del pasado de una nueva capacidad de evocación. En los fotomontajes de Genovés, el mundo -ese que creemos habitar- parece haber sido destruido hace ya mucho tiempo. Underdogs.
---