Art Blogs
Art Round is a selection of websites, artworks, and spotlight interviews that have been featured throughout the last couple of weeks on our Facebook and Twitter accounts… enjoy our personal highlights below! Featured Website: Anna O'Neill
Art Round May 2012 Part 1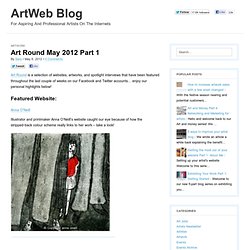 [Mark Amerika / Immobilite, still] This edition of VagueTerrain showcases an intimate and phenomenological mobile art aesthetic unfolding in networked mobile performance and media art projects that utilise the potential of the latest smartphones, transforming and repurposing the device into a new collaborative medium for expression. Many mobile cinematic projects in the past valued poor image quality and low-resolution video on their phones for its immediacy, blurriness and pixelated imperfection – with low resolution holding its own beauty, value, and unique aesthetic. The aesthetic of this emerging mobile moving image medium, as with the early video cameras, has been one of rapidly improving image quality and developing photo and video editing applications. Yet in exchange what is gained is an immediacy and empowerment through the simplicity of use of the device. Due to its portability and close relationship to the body, the videophone has an inherent embodied expressivity.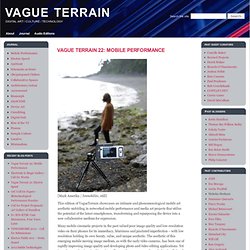 Vague Terrain | Digital Art / Culture / Technology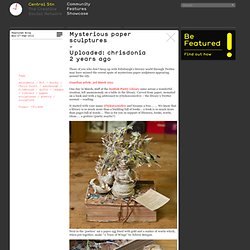 Those of you who don't keep up with Edinburgh's literary world through Twitter may have missed the recent spate of mysterious paper sculptures appearing around the city. Guardian article, 3rd March 2011. One day in March, staff at the Scottish Poetry Library came across a wonderful creation, left anonymously on a table in the library.
Blog of an Art Admirer
Project blogs | Artists talking | a-n
Alexia Guggémos
Chegou o momento: Lançamento do Graúna Grampola Autor: Otavio RanzaniEditor: Eduardo LacerdaCapa e editoração gráfica: Leonardo MathiasOrelha: Daniel ForteQuarta Capa: Ismael Caneppele São 07 anos de blog. 10 anos de poesia. muito axé, búzios, amor, rimas e canções. venha e ganhe um abraço. encontre o gelo, o brigadeiro, a grampola, a água e a fé. te espero por lá, caneleiro. Exibir mapa ampliado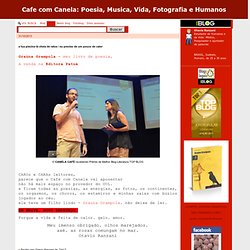 Cafe com Canela: Poesia, Musica, Vida, Fotografia e Humanos - UOL Blog
CORNER
Steven Labadessa Painting and drawing serve as a physically enacted ritual of praise and contemplation, aspiring towards a devout pursuit of a severe beauty. It is an aesthetic of imperfection alluding to the underlying nature of matter and memory: everything is subject to age, wear & decay.
Creativity Fuse
Detritus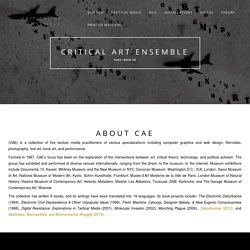 Critical Art Ensemble
Critical Art Ensemble (CAE) is a collective of five tactical media practitioners of various specializations including computer graphics and web design, film/video, photography, text art, book art, and performance. Formed in 1987, CAE's focus has been on the exploration of the intersections between art, critical theory, technology, and political activism. The group has exhibited and performed at diverse venues internationally, ranging from the street, to the museum, to the internet. Museum exhibitions include the Whitney Museum and the New Museum in NYC; the Corcoran Museum in Washington D.C.; the ICA, London; the MCA, Chicago; Schirn Kunsthalle, Frankfurt; Musée d'Art Moderne de la Ville de Paris; and the London Museum of Natural History.
Here comes the sun
Skip to content Self-portrait against white wall, 2011 Like this: Like Loading... Recent notations
Visual Notations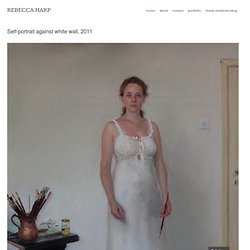 Sean Kernick BlogStand. Open 24 hours.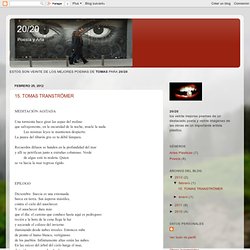 20/20
Veo a los muchachos del verano en su ruina convertir en eriales los dorados rastrojos, desdeñar las cosechas y congelar los suelos; y allí, en su ardor, el invernal diluvio de amores escarchados, persiguen a las niñas, y echan en sus mareas los sacos de manzanas.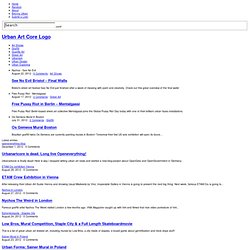 Urbanartcore is dead. Long live Openeverything! Urbanartcore is finally dead! Here is way I stopped writing urban art news and started a new blog-project about OpenData and OpenGovernment in Germany.
Z.L. Feng International Award Winning Artist - Home
B E R L I N E R   K U N S T K O N T A K T E R   -   ART TV from GERMANY
Nota de prensa: "Precipitados" de Pablo Genovés se expone en la galería Estiarte de Madrid, desde el 5 de noviembre hasta el 16 de diciembre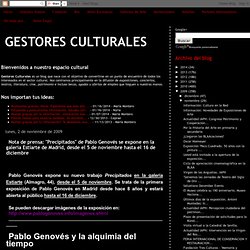 ¿La cultura conquistada por la naturaleza, o la naturaleza aprisionada por la cultura? En las imágenes de Pablo Genovés, la pugna entre ambas se ha hecho eterna, y ya no es posible discernir quién agrede a quién. La lucha por la apropiación del espacio deriva en escenas de destrucción, de fin de una época, haciendo un guiño a los presagios catastrofistas que hoy, más que nunca, aguzan el imaginario colectivo. A su vez, estas imágenes proceden de realidades preexistentes: estampas antiguas que el artista revisita y transfigura, liberando la imagen fotográfica de su eterna vigencia, dotando a los elementos del pasado de una nueva capacidad de evocación. En los fotomontajes de Genovés, el mundo -ese que creemos habitar- parece haber sido destruido hace ya mucho tiempo.
Underdogs
Is a potter, de Xavier Mañosa En ocasiones, exitosas ocasiones, arte y diseño se dan la mano y deciden llegar a las salas expositivas con lo mejor de sus respectivas virtudes. En el caso que nos ocupa, todo mérito recae en Xavier Mañosa y su familia, creadores de Apparatu, un taller cerámico que, a base de tiempo y buen hacer, han logrado un reconocimiento envidiable tanto dentro como fuera de nuestro país. Desde noviembre de 2013 que la Galería Alegría nos ofrece en exposición el trabajo de Xavier Mañosa, de título "is a Potter", en clara referencia a su oficio y jugando con la ya clásica tipografía de los libros del famoso niño hechicero. En "is a Potter" encontramos cerámica, como no, pero también una reflexión sobre el proceso artístico, el desarrollo formal y la dicotomía perfección/imperfección.