Recipes
The Pioneer Woman Cooks. This is a very special recipe for two important reasons: One, it's delicious, hearty, and comforting.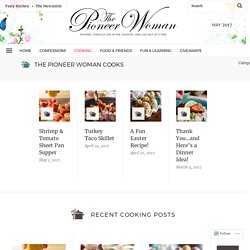 Noodles. Meatballs. No brainer! Two (and even more importantly!) , it is a part of Land O'Lakes' Pin a Meal, Give a Meal campaign. Recipes. Cooking great food is simple and fun.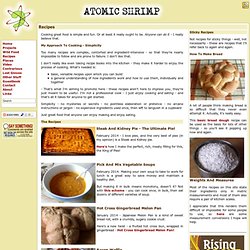 Or at least it really ought to be. Anyone can do it - I really believe that. My Approach To Cooking - Simplicity. A brownie by any other name… Love brownies.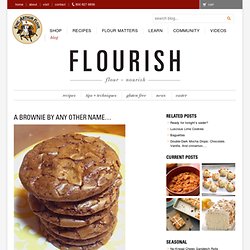 Love their shiny, flaky top that shatters into micro-thin shards that shower onto your fingers as you eat. Love their dark, gooey center. Their "chocolate nirvana" flavor. Sometimes can't deal with the bake, wait to cool, cutting into squares messiness and fuss of brownies. Want something I can enjoy within 5 minutes of its exit from the oven. Fresh Pear Cake - Healthy Recipe Finder | Rodale. Pumpkin Cheesecake with Gingersnappy crust | Cake Recipes. Popsicles! Jun29 Not to sound full of myself, but I'm pretty sure this is the be all, end all of popsicle roundups.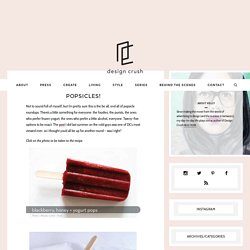 There's a little something for everyone: the foodies, the purists, the ones who prefer frozen yogurt, the ones who prefer a little alcohol, everyone. NabiscoWorld.com. German Chocolate Cake Recipe. German Chocolate Cake: Preheat oven to 350 degrees F (180 degrees C) and place oven racks in the upper and lower third of the oven.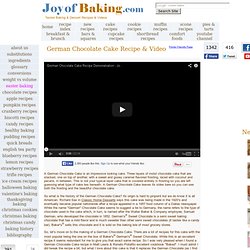 Lightly butter and flour (or spray with a nonstick vegetable/flour spray), and line the bottoms of three - 8 x 2 inch deep (20 x 5 cm) round baking pans with parchment or wax paper. In a heatproof bowl, placed over a saucepan of simmering water, melt the chocolate. Remove from heat and let cool to room temperature. In a separate bowl, sift the flour, cocoa powder, baking powder, baking soda, and salt. Mug Brownie. By now I'm sure everyone and their grandmother has seen the Dizzy Dee microwave chocolate cake in a mug.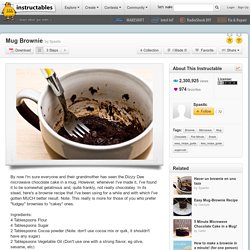 However, whenever I've made it, I've found it to be somewhat gelatinous and, quite frankly, not really chocolatey. In its stead, here's a brownie recipe that I've been using for a while and with which I've gotten MUCH better result. Note: This really is more for those of you who prefer "fudgey" brownies to "cakey" ones. Ingredients:4 Tablespoons Flour4 Tablespoons Sugar2 Tablespoons Cocoa powder (Note: don't use cocoa mix or quik, it shouldn't have any sugar)2 Tablepsoons Vegetable Oil (Don't use one with a strong flavor, eg olive, sesame, etc)2 Tablespoons WaterDash of saltMugMicrowave. Nutella Mug Cake | The Family Kitchen. I have been experimenting with different mug cakes every since I heard about them about a year ago.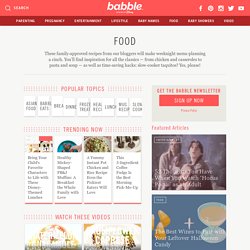 None of them have been winners. They were either too chewy, too dry, or not sweet enough. Well, I continued experimenting, and thought why not add some decadent Nutella into the mix. I modified the classic mug cake recipe, added Nutella, and a little more milk and oil than I had been using before. The results were beyond amazing. Chocolate Cupcakes with Flaming Strawberries. Call me easily amused, but these little torch-topped cupcakes delight me.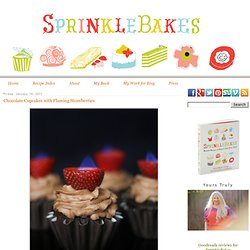 Besides being a cute novelty item for a party, I think they would add a little drama to the end of a romantic meal. I've been looking for something different to serve for Valentine's dessert, and this is definitely different. The strawberries are hollowed out and filled with a bit of liquor, then ignited with a match. Recipe. Moist Lemon Poppy Seed Cake Recipe. Classic White Cake Recipe : Basic Marzipan Recipe - How to Make Homemade Marzipan. Basic Marzipan is a great all-purpose marzipan recipe for dipping in chocolate, using in recipes, or forming figurines.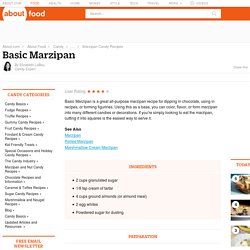 Using this as a base, you can color, flavor, or form marzipan into many different candies or decorations. If you're simply looking to eat the marzipan, cutting it into squares is the easiest way to serve it. Ingredients: 2 cups granulated sugar1/8 tsp cream of tartar4 cups ground almonds (or almond meal)2 egg whitesPowdered sugar for dusting. Red Velvet Teacup Cakes Recipe - Eating The Screen. By Danielle Robbins This dish is inspired by the film Alice in Wonderland , directed by Tim Burton and starring Johnny Depp, Helena Bonham Carter, Anne Hathaway, and Mia Wasikowska.
When thinking about the film Alice in Wonderland two things come to mind: Mad tea parties and the Queen of Hearts. Sunday Sweets: An Ostentation of Peacock. I recently stumbled across a gaggle of peacock cakes... Gaggle? No, that's not right. Foodgawker | feed your eyes. Cake Balls. Classic Buttercream Frosting Recipe. When I used to bake and decorate wedding and birthday cakes, I would use different types of frosting depending on who was eating the cake. Most wedding cakes were frosted in egg based recipes such as Italian or French meringue but for children's cakes or cupcakes I usually frost cakes in American buttercream frosting. Made with powdered sugar, butter, vanilla, and milk, this is a basic, easy recipe for classic vanilla buttercream frosting.
This frosting works great for spreading on cakes, cupcakes, and/or for decorating. Some frosting recipes will call for shortening.
---