Challenges
[WeChall] A Propos de WeChall
For the people not familiar with challenge sites, a challenge site is mainly a site focussed on offering computer-related problems. Users can register at such a site and start solving challenges. There exist lots of different challenge types. The most common ones are the following: Cryptographic, Crackit, Steganography, Programming, Logic and Math/Science. The difficulty of these challenges vary as well.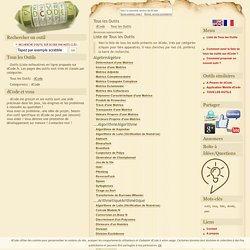 Rechercher un outil sur dCode.fr Tous les outils dCode est ton ami ! Plus aucun jeu, plus aucune énigme, plus aucune chasse au trésor ne vous résisteront !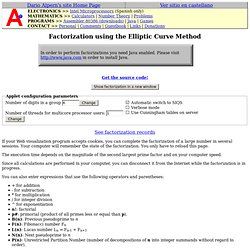 If your Web visualization program accepts cookies, you can complete the factorization of a large number in several sessions. Your computer will remember the state of the factorization. You only have to reload this page. The execution time depends on the magnitude of the second largest prime factor and on your computer speed. Since all calculations are performed in your computer, you can disconnect it from the Internet while the factorization is in progress.
Factorization using the Elliptic Curve Method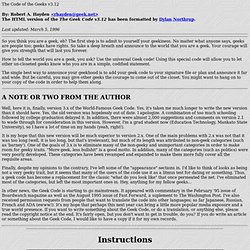 The Code of the Geeks v3.12 By: Robert A. Hayden <rhayden@geek.net> The HTML version of the The Geek Code v3.12 has been formatted by Dylan Northrup. Last updated: March 5, 1996 So you think you are a geek, eh?
What's new? Alphabets and other writing systems Writing & Speech | Types of writing systems | Abjads | Alphabets | Alphasyllabaries | Syllabaries | Semanto-phonetic scripts | Undeciphered scripts | Alternative scripts | A-Z index | Direction index Languages Language learning advice | Articles | Celtic languages | Chinese | French | A-Z index | Index by writing system | Videos | Learn Hebrew online Multilingual pages Phrases | Numbers | Colours | Time expressions | Kinship terms | Language names | Country names | Idioms | Proverbs | Tongue twisters | Signs | UDHR | Tower of Babel | Songs