Researchers & Advisors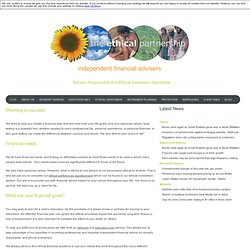 The ethical partnership ltd
Planning to succeed We want to help you create a financial plan that will meet both your life goals, and your personal values. Goal setting is a powerful tool, whether applied to one's professional life, personal aspirations, or personal finances.
The Natural Step's Founder, Dr. Karl-Henrik Robèrt, was recently interviewed by Sustainuance, India's first corporate sustainability magazine. The interview appears in both the print and online versions of the magazine. In this broad-ranging conversation, Dr. Robèrt shares his perspectives on historical paradigm shifts, what it was that helped Natural Step clients like IKEA, Nike and Interface make radical shifts towards sustainability, the gap between what science knows about sustainability and what the popular media, public and many governments perceive to be true, and the responsibility of highly industrialized nations towards the emerging economies of the world.
The Story of Stuff Project
The mission of the Sustainable Food Lab is to accelerate the shift of sustainable food from niche to mainstream. Businesses are integrating sustainability into their value chains - from the consumer in the supermarket through to the farmers who grow crops and raise animals. Companies, farmers, and civil society are identifying the most important sustainability issues in our food systems and developing credible, verifiable, approaches that make improvements and add value through the supply chain. The Sustainable Food Lab is a global network of more than 60 organizations working together to realize this vision. From peer to peer leadership networks, to global learning events, to supply chain innovation projects, to measurement tools, the Sustainable Food Lab helps organizations learn and act together to accelerate progress on creating a more sustainable food system.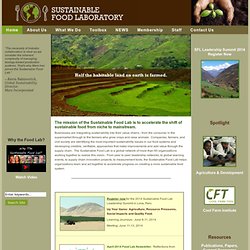 Cradle To Cradle Products Innovation Institute
RMI (Rocky Mountain Institute)
Solar Photovoltaic Research, Analysis & Consulting | PHOTON Consulting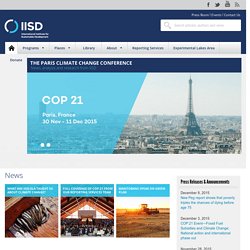 Donate When you donate to IISD you are providing essential financial resources so we can continue doing the necessary high-quality policy research, reporting and communications for achieving sustainable development. Global Reach Map
IISD RS (IISD Reporting Services)
Great Place to Work®
: GMI Ratings' Co-Founder and Director Robert A. G. Monks to be Awarded The Frankel Fiduciary Prize
Governance Metrics International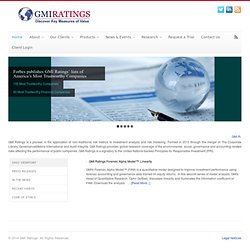 FSC (Forest Stewardship Council)
Ethisphere™ Institute
EIRIS is a global leader in the provision of environmental, social, governance (ESG) research for responsible investors. As a social enterprise we work to help our clients develop the market in ways that benefit investors, asset managers and the wider world. Our mission is to empower responsible investors with independent assessments of companies' ESG performance and advice on integrating them with investment decisions.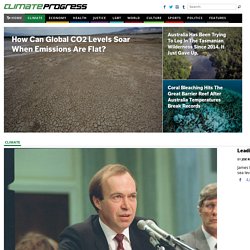 Climate This Airplane Will Fly Around The World Without Using A Drop Of Fuel Tropical Cyclone Hits Australia As 'One Of The Most Powerful Storms' In 'Living Memory' Extreme Weather Has Driven A Ten-Fold Increase In Power Outages Over The Last Two Decades
Recently Answered Questions: August 2013 Midwest USA Hey Folks, Looking for a proven solution for removing painted labels from glass bottles. Client currently uses: 1) a commercial dichloromethane-based cleaner (banned in the EU and recent deaths in the US), or 2) sulfuric acid as a backup for tougher problems (Toxnet reports occup. exposure to inorganic acid mists carcinogenic to humans). Safer Alternatives?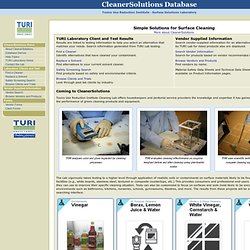 CleanerSolutions Database
Report A New CSR Frontier: Business and Population Health BSR's new report reveals opportunities for U.S. companies across all sectors to address systemic challenges related to health and wellness by engaging with employees, customers, local communities, suppliers, and the general public. Learn more → News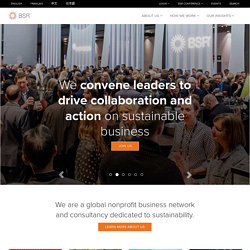 AccountAbility