Tim Jackson
Tim Jackson - Economics of a circular economy. Conférence de Tim Jackson en français (2010) Tim Jackson's economic reality check. TED Talk Tim Jackson Economics Of Climate Change. Sur la « Prospérité sans croissance » de Tim Jackson. On m'a parfois posé la question lors de débats sur mon livre « Adieu à la croissance ».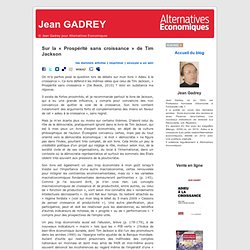 Ce livre défend-il les mêmes idées que celui de Tim Jackson, « Prospérité sans croissance » (De Boeck, 2010) ? Voici en substance ma réponse. Colloque "Vers quelle prospérité ?"- Tim Jackson - une vidéo Actu et Politique. Tim Jackson : "On est au bord du gouffre écologique". Un embouteillage monstre, image du film « Le Syndrome du Titanic » de Nicolas Hulot L'économiste anglais Tim Jackson est un peu devenu le « gourou » des théoriciens de la fin de la croissance.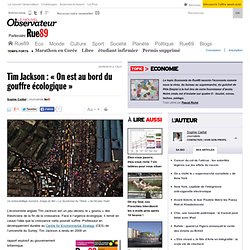 Face à l'urgence écologique, il remet en cause l'idée que la croissance verte pourrait suffire. Professeur en développement durable au Centre for Environmental Strategy (CES) de l'université du Surrey, Tim Jackson a rendu en 2009 un. Www.sd-commission.org.uk/publications/downloads/prosperity_without_growth_report.pdf. An economic reality check: Tim Jackson on TED. Live from TEDGlobal 2013 Tech Impact: The speakers in session 11 at TEDGlobal 2013 Technology is such an integral part of everyday life, it can be hard to remember how far we've come — and how fast.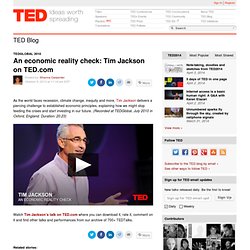 This session at TEDGlobal 2013 introduces a cadre of technological innovators who are helping to change the world yet further–and thinking about the implications of technology on society at large. Here are […]
---