Tim Jackson
Tim Jackson - Economics of a circular economy
Conférence de Tim Jackson en français (2010)
TED Talk Tim Jackson Economics Of Climate Change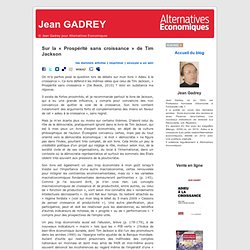 Jean GADREY » Blog Archive » Sur la « Prospérité sans croissance » de Tim Jackson
On m'a parfois posé la question lors de débats sur mon livre « Adieu à la croissance ». Ce livre défend-il les mêmes idées que celui de Tim Jackson, « Prospérité sans croissance » (De Boeck, 2010) ? Voici en substance ma réponse.
Colloque "Vers quelle prospérité ?"- Tim Jackson - une vidéo Actu et Politique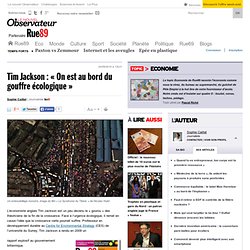 Un embouteillage monstre, image du film « Le Syndrome du Titanic » de Nicolas Hulot L'économiste anglais Tim Jackson est un peu devenu le « gourou » des théoriciens de la fin de la croissance. Face à l'urgence écologique, il remet en cause l'idée que la croissance verte pourrait suffire. Professeur en développement durable au Centre for Environmental Strategy (CES) de l'université du Surrey, Tim Jackson a rendu en 2009 un mensuel rapport explosif au gouvernement britannique.
Tim Jackson : "On est au bord du gouffre écologique"
www.sd-commission.org.uk/publications/downloads/prosperity_without_growth_report.pdf
An economic reality check: Tim Jackson on TED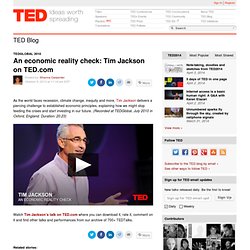 Design thinking about climate change: IDEO's new LivingClimateChange.com Launching today, the design firm IDEO presents LivingClimateChange.com, a clearinghouse for design thinking about the environment. Watch Tim Brown's TEDTalk, just posted today, for some inspiring examples of design thinking that solved big problems of the past. In the same spirit, IDEO's LivingClimateChange.com collects ideas looking forward. From the site: Living Climate Change is a ...