Océans / Continent Plastique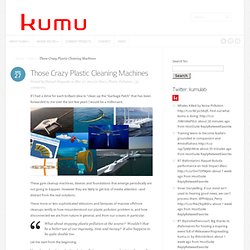 If I had a dime for each brilliant idea to "clean up the "Garbage Patch" that has been forwarded to me over the last few years I would be a millionaire.
Those Crazy Plastic Cleaning Machines | Kumu
Le dessous des cartes : l'empreinte écologique
Ocean Report - Déchets aquatiques
Intro to Plastics At Sea: North Atlantic Expedition 2010 (High Definition)
Ocean's plastic pollution runs deep - GeoSpace
Recent research shows the ocean may contain more plastic debris than previously thought. Here, samples researchers pulled up from the Sargasso Sea. (Credit: Kukulka et al.) The ocean is filled with more plastics than previously thought, according to a new study.