Travel
Travel - The world's strangest optical illusions : Nature & Outdoors. Can you believe your eyes?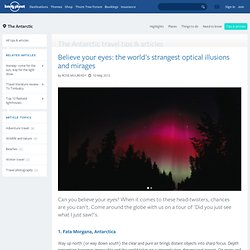 When it comes to these head-twisters, chances are you can't. Come around the globe with us on a tour of 'Did you just see what I just saw?' S. 1. Fata Morgana, Antarctica. 21 Of the Most Extraordinary Places To Visit - StumbleUpon. Amazing Places To Experience Around The Globe (Part 1) - StumbleUpon. Preachers Rock, Preikestolen, Norway Blue Caves - Zakynthos Island, Greece Skaftafeli - Iceland.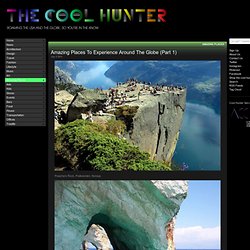 Get Paid to Travel the World - Travel Writing Tips | The Lost Girls - StumbleUpon. Travel Writing — By Lost Girls on January 30, 2011 at 2:20 pm Be sure to check out our new Pitching 101 Series, including interviews with: BootsnAll editor, Katie HammelNew York Times' deputy travel editor, Monica DrakeThe Expeditioner's founder and editor-in-chief, Matt StabileGalavanting's managing editor, Joseph HernandezTravel Belles' publisher and editor, Margo MillureGo NOMAD's general edit Max HartshorneTravel Agent senior editor Joe PikeTravelingMom's editor Cindy RichardsRecommend's managing editor Paloma Villaverde de Rico Want to get paid to travel?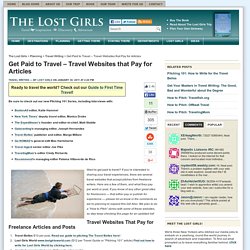 If you're interested in sharing your travel experiences, there are several travel websites that accept pitches from freelance writers. Here are a few of them, and what they pay per word or post. Phrases in 5 common languages to know when traveling in Europe | Travel tip... - StumbleUpon. Traveling abroad this summer?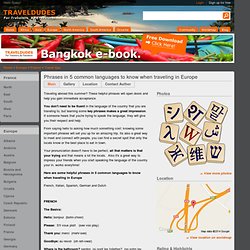 These helpful phrases will open doors and help you gain immediate acceptance. You don't need to be fluent in the language of the country that you are traveling to, but learning some key phrases makes a great impression. If someone hears that you're trying to speak the language, they will give you their respect and help. 9 Best Train Journeys in the World. In a modern world where traveling between destinations is viewed as a waste of time and resources, it is hard to actually comprehend the beauty of some of the most spectacular rides on the planet.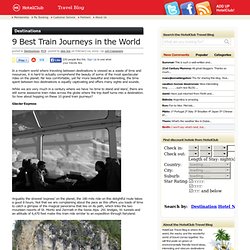 Far less comfortable, yet far more beautiful and interesting, the time spent between two destinations is equally captivating and offers many sights and sounds. While we are very much in a century where we have 'no time to stand and stare', there are still some awesome train rides across the globe where the trip itself turns into a destination.
So how about hopping on these 10 grand train journeys? Glacier Express Arguably the slowest 'express' on the planet, the 180 mile ride on this delightful route takes a good 8 hours. The Mind-Blowing Mount Roraima - All That Is Interesting - StumbleUpon. Mount Roraima is the highest of the Pakaraima mountain chain in South America and one of the world's most extraordinary natural geological formations.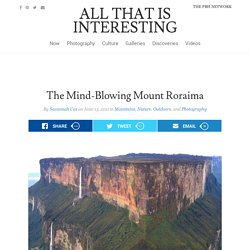 The 31 square kilometer summit area of Mount Roraima is defined by 400 meter tall cliffs on all sides and includes the borders of Brazil, Venezuela, and Guyana. The tabletop mountains of the Pakaraima's are considered some of the oldest geological formations on Earth, dating back to over two billion years ago. The result is the staggering landscape of Mount Rariama which we tour below in photographs and video: 15 Amazing Castles from Around the Globe - StumbleUpon. Although designed and built for the prominent purpose of defense, today the castles seem like somewhat unrealistic constructions straight from the fairytale world.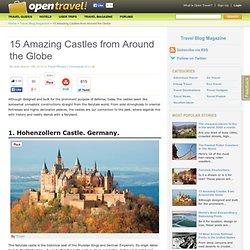 From solid strongholds to oriental fortresses and highly decorative palaces, the castles are our connection to the past, where legends mix with history and reality blends with a fairyland. This fairytale castle is the historical seat of the Prussian Kings and German Emperors. Plitvice Lakes National Park, Croatia | Beautiful Places to Visit - StumbleUpon. The stunning Plitvice Lakes National Park lies in the Lika region of Croatia.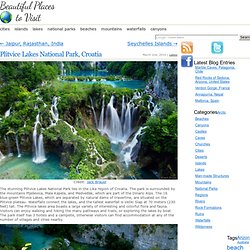 The park is surrounded by the mountains Plješevica, Mala Kapela, and Medveđak, which are part of the Dinaric Alps. The 16 blue-green Plitvice Lakes, which are separated by natural dams of travertine, are situated on the Plitvice plateau. Waterfalls connect the lakes, and the tallest waterfall is Veliki Slap at 70 meters (230 feet) tall.
The Plitvice lakes area boasts a large variety of interesting and colorful flora and fauna. Explore - see where you can go for how much. Better Flight and Hotel Search. Islands | Beautiful Places to Visit - Part 2 - StumbleUpon. The island nation known as the Seychelles can be found in the Indian Ocean off the East coast of Africa, North of Madagascar.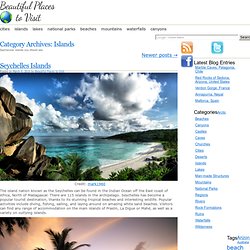 There are 115 islands in the archipelago. Seychelles has become a popular tourist destination, thanks to its stunning tropical beaches and interesting wildlife. Popular activities include diving, fishing, sailing, and laying around on amazing white sand beaches. Visitors can find any range of accommodation on the main islands of Praslin, La Digue or Mahé, as well as a variety on outlying islands. Once a backpacker's secret, Thailand's Phi Phi islands exploded onto the tourist map after the release of The Beach. Places To Visit, Trip Planner, Travel & Vacation Ideas | Wanderfly - StumbleUpon. $9 airfare and 9 other travel hacks - cheap travel - MSN Money - StumbleUpon. Right now AirAsia is having a sale from Kuala Lumpour to USD $3 each way to Singapour, Thailand, Malaysia, some destinations in Indoesnia.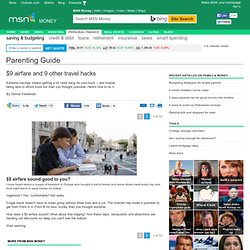 USD $9 each way to Japan and some destinations in India.
---