Resources
Concert Photography & Band Portraits: Music Photographer Todd Owyoung. Digital Photography Workflow: Event Photography. Digital photography requires a solid workflow, allowing for professional preparing of digital photo files for the web and print.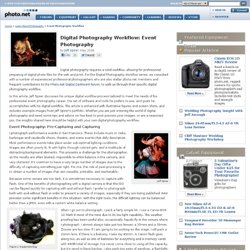 For the Digital Photography Workflow series, we consulted with a number of experienced professional photographers who are also stellar photo.net members and frequent contributors to the Photo.net Digital Darkroom forum , to walk us through their specific digital photography workflow. In this article, Jeff Spirer discusses his unique digital workflow process tailored to meet the needs of his professional event photography career, the set of software and tools he prefers to use, and goals he accomplishes with his digital workflow. The article is enhanced with illustrative figures and screen shots, and includes example images from Jeff Spirer's portfolio.
LearnMyShot - Photography Tutorials, Tips, Techniques & How To Videos. Ugly Hedgehog - Photography Forum. Single Metal Prints, Photographs Printed on Aluminum. Amazon. Know Your Rights: Photographers. Taking photographs of things that are plainly visible from public spaces is a constitutional right – and that includes federal buildings, transportation facilities, and police and other government officials carrying out their duties.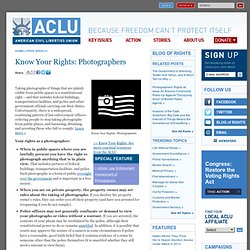 Unfortunately, there is a widespread, continuing pattern of law enforcement officers ordering people to stop taking photographs from public places, and harassing, detaining and arresting those who fail to comply. Learn more » The Photo Argus - A Photography Resource Blog.
---