Lighting
Creator / Home - Online Lighting Diagram Creator - Tools for photographers. Photography lighting diagrams made easy with this online tool: use the drop down menus, select objects, drag them, rotate them, change their layers then export your diagram to JPEG or save its URL. v3 beta is now public with iPad support, it includes ability to add notes.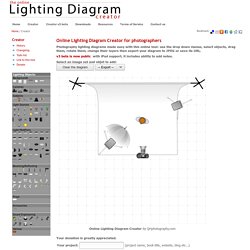 Select an image set and objet to add: Online Lighting Diagram Creator by QHphotography.com Your donation is greatly appreciated.
DIY: How To Make a Professional Softbox for Under $20. Nowadays a softbox needn't be all that expensive - you can get nice results for $100 or even less.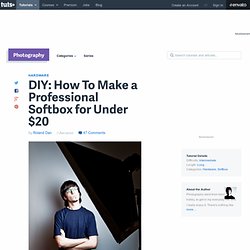 But what if there's a way of making it much cheaper, with the same results? That's what we'll be explaining in this DIY tutorial; how to make a softbox with professional results for less than $20. Step 1: What is a Softbox? A Softbox is a type of light modifier, used specially in studio or outdoor portraits. It creates a soft diffused light by directing light through some diffusing material. Studio lighting on a budget. Words and pictures Philip Weston If you want to take ultra modern style portraits with the pure white backgrounds, but think you can't because you only have one studio light think again.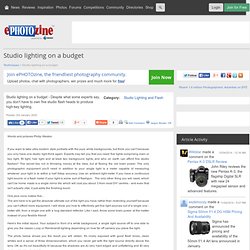 Experts may tell you that you need five lights comprising main or key light, fill light, hair light and at least two background lights, and who on earth can afford five studio flashes? The secret lies not in throwing money at the idea, but at flexing the old brain power. The only photographic equipment you'll need in addition to your single light is a meter capable of measuring whatever your light is to within a half f/stop accuracy. Photoflex Lighting School - Your Free Lighting Lesson Resource. Basic Lighting A good place to start.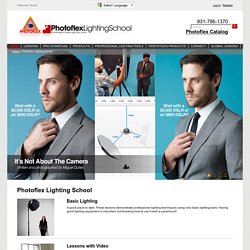 These lessons demonstrate professional lighting techniques using only basic lighting tools. Having good lighting equipment is important, but knowing how to use it well is paramount! Lessons with Video.
---