Blog
Non, le monde des startups n'est pas celui des bisounours. La preuve avec le témoignage de Pierre Doublet, associé fondateur de beepjob. A propos de BeepJob Créé en 2011, Beepjob est un site et une application Iphone de petites annonces gratuites d'emplois géolocalisées.
Startup et piratage informatique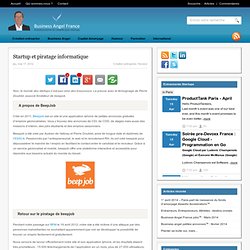 Startup Story: Jeunes et entrepreneuriat
Minimum Viable Team Voilà un concept très intéressant dont nous gratifient l'excellent Franck (cofondateur de Startup Weekend) et Marc Nager : l'idée que la création d'une équipe est un process comme un autre en création d'entreprise, et donc qu'il existe des étapes à... Ma présentation sur l'échec en startup au TEDxGEM :) J'étais hier à Grenoble à l'occasion du TEDxGEM, avec pour mission de parler de l'échec entrepreneurial, sujet que je connais bien, et pour cause Avant de vous proposer la vidéo, qui devrait être dispo dans les prochains jours, voilà déjà... L'ennemi n°1 de tout entrepreneur ? L'entrepreneur, c'est celui qui passe à l'action.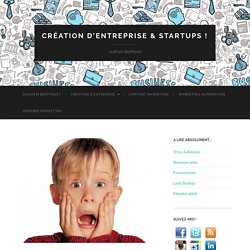 Capital Social
How to Change the World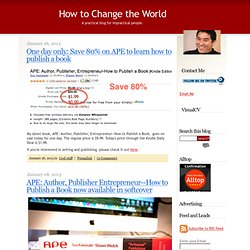 Amazon start selling the paperback edition of my latest book, APE: Author, Publisher, Entrepreneur . APE explains how to publish a book by breaking the process down into three stages: Author explains how to write a book. Publisher explains how to produce both ebooks and printed books. Entrepreneur explains how to market and sell your book with an emphasis on social media . You can order APE here:
GenuineVC
VentureBlog
The Post Money Value
Fractals of Change
Don Dodge on The Next Big Thing
The Equity Kicker « Nic Brisbourne's view from London on venture capital and exploiting change in technology and mediaThe Equity Kicker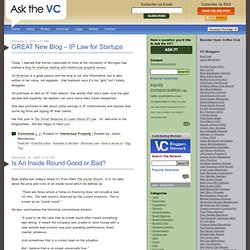 February 2, 2010 1:11 PM Today, I learned that former classmate of mine at the University of Michigan has started a blog for startups dealing with intellectual property issues . Jill Bowman is a great person and her blog is not only informative, but is also written in her voice, not legalese. (Her husband says it's too "girly" but I totally disagree). Jill promises to dish on IP "train wrecks" (her words) that she's seen over the past decade and hopefully her wisdom can save some folks future headaches. She also promises to talk about costs savings in IP controversies and expose how some big firms are ripping off their clients.
Ask The VC
alarm:clock