EducTech
ISTE 2013: Building Technology into the Common Core Standards. Common-Core-and-Tech - home. Tons of Google Forms for Teachers, Administrators and Students. The Best of Teachers Web Tools. The Best of Teachers' Web Tools Educational Technology and Mobile Learning www.educatorstechnology.com.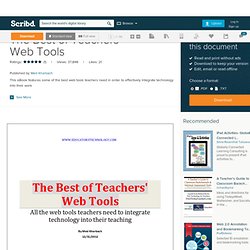 Technology for classrooms. 3 Excellent Tools to Create Interactive Posters and Visuals for Your Class. February 1, 2014 Interactive visuals are great learning and teaching materials to use with your students in the classroom.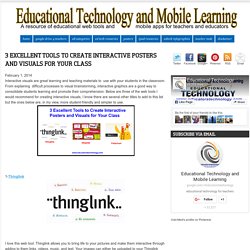 From explaining difficult processes to visual brainstorming, interactive graphics are a good way to consolidate students learning and promote their comprehension. Below are three of the web tools I would recommend for creating interactive visuals, I know there are several other titles to add to this list but the ones below are, in my view, more student-friendly and simpler to use. 1-Thinglink. Khan Academy. Coursera. Take college and university courses online completely free.
In recent years massive open online courses (MOOCs) have become a trend in online education.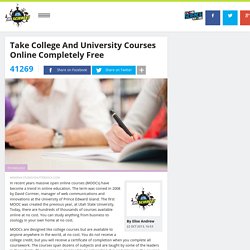 The term was coined in 2008 by David Cormier, manager of web communications and innovations at the University of Prince Edward Island. The first MOOC was created the previous year, at Utah State University. Formation à distance - Université à distance et en ligne - TÉLUQ. Take college and university courses online completely free. Khan academy. Tools And Resources For Creating Infographics. Infographics.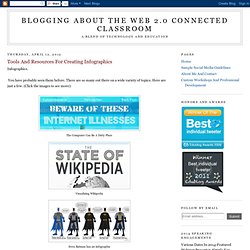 You have probably seen them before. There are so many out there on a wide variety of topics. Here are just a few. (Click the images to see more): These really are a great way to visualize data. Acljohn. Talks | List. Higher Education. Nine Tips for Creating a Hybrid Course. October 29, 2008 By: Rob Kelly in Curriculum Development, Distance Learning Administration, Instructional Design, Learning Styles, Online Education Most instructors supplement their face-to-face courses with some online learning materials such as online syllabi, handouts, PowerPoint slides, and course-related Web links.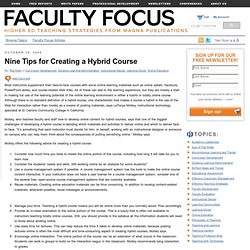 All of these can add to the learning experience, but they are merely a start to making full use of the learning potential of the online learning environment in either a hybrid or totally online course. Although there is no standard definition of a hybrid course, one characteristic that makes a course a hybrid is the use of the Web for interaction rather than merely as a means of posting materials, says LaTonya Motley, instructional technology specialist at El Camino Community College in California.
Hybrid Courses: References. Overview of the Hybrid Instructional Model Bonk, C.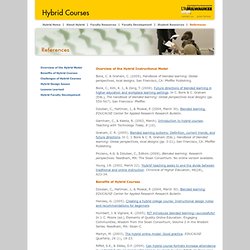 & Graham, C. (2005). Handbook of blended learning: Global perspectives, local designs. 90 EdTech Resources You May Have Missed–Treasure Chest October 30, 2011. Welcome to this week's edition of Treasure Chest—90 EdTech Resources You May Have Missed.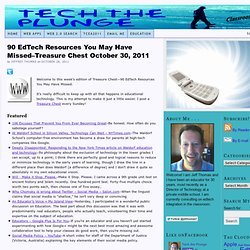 It's really difficult to keep up with all that happens in educational technology. This is my attempt to make it just a little easier. I post a Treasure Chest every Sunday! Featured. The 100 Best Web 2.0 Classroom Tools Chosen By You. The Wordle of this list!
(Click image to enlarge) One of the most popular posts on Edudemic in 2010 was The 35 Best Web 2.0 Classroom Tools Chosen By You and I felt it might be time for an update to that list for 2011. In order to put together a list of the best Web 2.0 classroom tools, I polled my Twitter followers, Facebook fans (are they still called fans? Why the Facebook Group My Students Created for Themselves is Better than the Discussion Forum I Created for Them. « Douchy's Weblog. Since 2004 I've created a website of some kind for each class, with a discussion board – a place where students can ask questions or make comments on our class any time of day or night and get a response.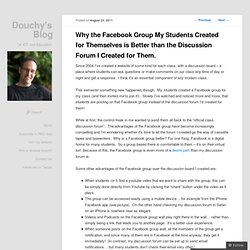 I think it's an essential component of any modern class. This semester something new happened, though. My students created a Facebook group for my class (and then invited me to join it!). Slowly I've watched and noticed more and more, that students are posting on that Facebook group instead of the discussion forum I'd created for them! While at first, the control-freak in me wanted to send them all back to the "official class discussion forum", The advantages of the Facebook group have become increasingly compelling and I'm wondering whether it's time to let the forum I created go the way of cassette tapes and typewriters. How Students Use Technology [INFOGRAPHIC] It's clear that today's students rely heavily on electronic devices even when they're not incorporated in the classroom.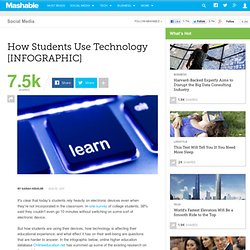 In one survey of college students, 38% said they couldn't even go 10 minutes without switching on some sort of electronic device. But how students are using their devices, how technology is affecting their educational experience, and what effect it has on their well-being are questions that are harder to answer. In the infographic below, online higher education database Onlineeducation.net has summed up some of the existing research on these points. Online Video Lectures and Course Materials — Open Yale Courses. Faculty Focus Email. By Mary Bart All too often students shuffle into class, take notes while the professor lectures for 50 minutes or so, and then pack up and leave. Rinse and repeat throughout the semester. Some might never raise their hand, offer their opinion, or even learn the name of the person sitting in front of them. Yet active learning, while not exactly new, might be reaching its tipping point.
Unique Online Teaching Method at UWM Earns National Attention. Newswise — UWM psychology professors Diane Reddy and Ray Fleming believe they have found a more effective way to teach undergraduate courses. Two major funding organizations agree and have invested to scale up its use at other U.S. universities, and also to scientifically identify what factors make it so successful. The online U-Pace instructional approach has been shown to improve student performance compared to traditional, in-person lecture classes at UWM.
Khan Academy. An Overview of How to Design Instruction Using Critical Thinking Concepts. The Logic of Instructional Design Instructional design involves two deeply interrelated parts: structures and tactics. In this article we focus on structures. Structures involve the "what" of the course: What am I going to teach? Why the Facebook Group My Students Created for Themselves is Better than the Discussion Forum I Created for Them. « Douchy's Weblog. 20 Types of Tablet Tools for Teaching. UPDATED on October 1, 2012 In May 2011, after a year of experimentation, I became sold on the idea of using a tablet instead of a laptop as my primary mobile computer. It was my turn for a workstation update, and I chose a desktop.
What are educators' professional obligations to learn from social media channels? | Dangerously Irrelevant. Paul Bogush pushed back (in a nice way) on my recently-popular post, If you were on Twitter. First he wrote about how most educators are too busy to be involved in social media. Then he wrote about all of the wonderful things that happened during the time when he wasn't on Twitter.
Because he's a good writer, Paul evoked all the right feelings in my heart and head. Brainstorm. Finding Talent Is No. 1 Global Issue, CEOs Say - DiversityInc.com.
---