Languages
This page is dedicated to Judith L. Scott. Requiescat in pace Some phrases from Latin for all Occasions , by Henry Beard.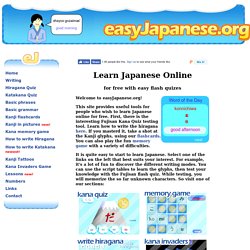 for free with easy flash quizes Welcome to easyJapanese.org! This site provides useful tools for people who wish to learn Japanese online for free. First, there is the interesting Fujisan Kana Quiz testing tool. Learn how to write the hiragana here.
Japanese Girl Names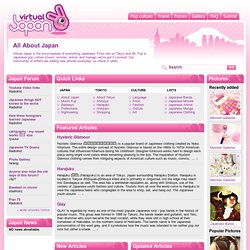 Japanese info, pictures, news, forums, and a wiki - VirtualJapan.com
Hysteric Glamour (ヒステリックグラマー) is a popular brand of Japanese clothing created by Nobu Kitamura. The entire design concept of Hysteric Glamour is based on the 1960s to 1970s American cultures that influenced Kitamura during his childhood. Designer Kitamura works hard to design each piece using bright vivid colors while remaining pleasing to the eye.
Life is full of ki-do-ai-raku (kee-doh-ah-ee-rah-koo; delight-anger-sorrow-fun), and some phrases slip out of our mouths repeatedly in response to different daily situations. Master these common Japanese expressions and use them casually to sound like a native. Yatta (yaht-tah; I did it!) Say yatta when you accomplish something big, receive a great opportunity, or feel victorious. Passing a difficult test, getting the job you wanted, or winning the lottery — these all qualify as yatta material.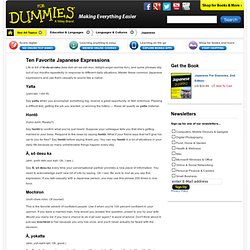 Vocabulary : Useful and common Japanese phrases - Japan Reference
This is a ever-growing collection of common and useful Japanese phrases. They aim at beginners of Japanese studies and travellers to Japan. Each phrase includes the Japanese transcription and pronunciation.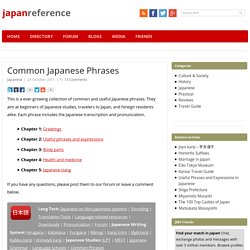 Japanese Word of the Day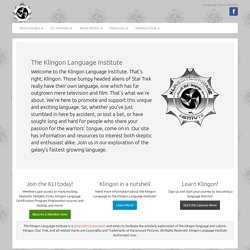 Welcome to the Klingon Language Institute. That's right, Klingon. Those bumpy headed aliens of Star Trek really have their own language, one which has far outgrown mere television and film.