Elorarachel
Elora
20 New Year's Resolutions For 20-Somethings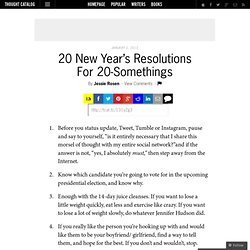 Before you status update, Tweet, Tumble or Instagram, pause and say to yourself, "is it entirely necessary that I share this morsel of thought with my entire social network?"and if the answer is not, "yes, I absolutely must," then step away from the Internet. Know which candidate you're going to vote for in the upcoming presidential election, and know why. Enough with the 14-day juice cleanses. If you want to lose a little weight quickly, eat less and exercise like crazy.
The Joy of Quiet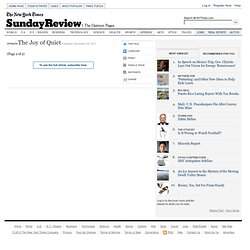 We have more and more ways to communicate, as Thoreau noted, but less and less to say. Partly because we're so busy communicating. And — as he might also have said — we're rushing to meet so many deadlines that we hardly register that what we need most are lifelines. So what to do? The central paradox of the machines that have made our lives so much brighter, quicker, longer and healthier is that they cannot teach us how to make the best use of them; the information revolution came without an instruction manual.
Don't Wake Up Alone On A Saturday Morning
One Sentence Love Story
A person is not a character. You can't know their motivation. You can't cut out the bits that don't fit just to simplify their story (he wants to get the girl, she wants to get the job, he would rather be right than kind).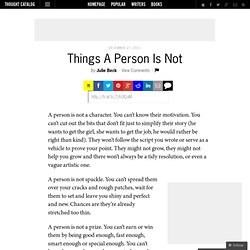 Things A Person Is Not
Seven Things You Will Never Know
1. You don't know why things are different between you and your best friend. You don't know why things feel off. They just do.
Allow yourself to miss things: food, clothes, being able to communicate easily. Don't allow yourself to miss: narrow thinking, getting bored, feeling trapped. Learn the language but don't get upset with yourself if it's difficult and takes time to master. Enjoy the period where you can sit in coffee shops and restaurants and not have to block out inane chatter. It's effortless when it's all gibberish. Get used to the problems of the country not really being your problems.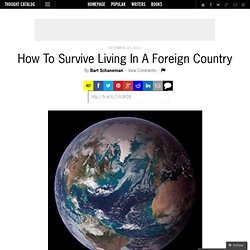 How To Survive Living In A Foreign Country
Remember when we used to take pictures all day and have bad skin but good everything else? Remember when you couldn't get the girl so we were left with our hands and AIM and porn underneath the bed? I do. Remember when we said we wouldn't do certain things? It's easy to have convictions when you're fifteen.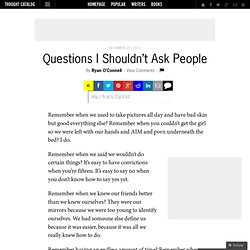 Questions I Shouldn't Ask People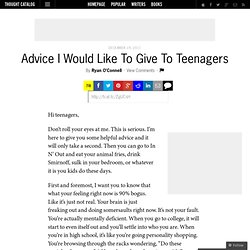 Hi teenagers, Don't roll your eyes at me. This is serious. I'm here to give you some helpful advice and it will only take a second. Then you can go to In N' Out and eat your animal fries, drink Smirnoff, sulk in your bedroom, or whatever it is you kids do these days.
Advice I Would Like To Give To Teenagers
Why Saying "I Love You" To Someone For The First Time Shouldn't Be That Big Of A Deal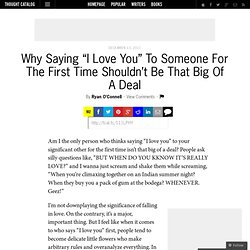 Am I the only person who thinks saying "I love you" to your significant other for the first time isn't that big of a deal? People ask silly questions like, "BUT WHEN DO YOU KKNOW IT'S REALLY LOVE?" and I wanna just scream and shake them while screaming, "When you're climaxing together on an Indian summer night? When they buy you a pack of gum at the bodega?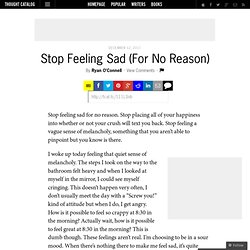 Stop feeling sad for no reason. Stop placing all of your happiness into whether or not your crush will text you back. Stop feeling a vague sense of melancholy, something that you aren't able to pinpoint but you know is there. I woke up today feeling that quiet sense of melancholy. The steps I took on the way to the bathroom felt heavy and when I looked at myself in the mirror, I could see myself cringing.
Stop Feeling Sad (For No Reason)
The One Person You Never Really Get Over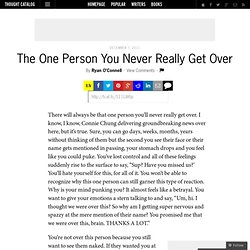 There will always be that one person you'll never really get over. I know, I know, Connie Chung delivering groundbreaking news over here, but it's true. Sure, you can go days, weeks, months, years without thinking of them but the second you see their face or their name gets mentioned in passing, your stomach drops and you feel like you could puke. You've lost control and all of these feelings suddenly rise to the surface to say, "Sup? Have you missed us?' You'll hate yourself for this, for all of it.
Magazine - Dining and Restaurants, Shopping, Politics, Entertainment, Nightlife, Real Estate, News and Events in Washington, DC, Maryland and Virginia
Optimism Bias: Human Brain May Be Hardwired for Hope
We like to think of ourselves as rational creatures. We watch our backs, weigh the odds, pack an umbrella. But both neuroscience and social science suggest that we are more optimistic than realistic. On average, we expect things to turn out better than they wind up being. People hugely underestimate their chances of getting divorced, losing their job or being diagnosed with cancer; expect their children to be extraordinarily gifted; envision themselves achieving more than their peers; and overestimate their likely life span (sometimes by 20 years or more).
Why I Write Contemporary YA | Guest Post: Carol Tanzman
9 Profitable Home Based Business Suggestions That'll Work For You Number 2 Yet another great part-time company. Having an growing amount of scams on the internet appearing as... Get Your Planning Completed Prior to the New Roof So many folks get that sinking feeling at the idea of investing hundreds for a roof overhead.
Ann Shoket: 5 Secrets to Writing an Amazing Story | Figment Blog
Ann Shoket is the editor-in-chief of Seventeen Magazine , so she knows what she's doing when it comes to writing for teens. Here, she shares five insider tips for writing a relatable, interesting story for Seventeen 's My Life feature. Each month, Seventeen runs a two-page article spotlighting a real girl and a life-changing experience she's had. Sound like something you'd be good at writing? Check out the instructions for submissions at the bottom of the post! And if you haven't entered the Seventeen Magazine Fiction Writing Contest . . . what are you waiting for?!
Love, Actually - Magazine
Ellen Weinstein This article has been corrected since it was published in the print magazine. I n case you haven't noticed, millions of girls are in the midst of a cultural insurrection. Armed with the pocket money that has made them a powerful consumer force since the 1920s, girls have set their communal sights on a particular kind of entertainment, and when they find it, they transform it into a commercial phenomenon that leaves even the creators and marketers of that entertainment dumbfounded.
Why I Have No Interest In Being Your Friend
Can FBI Agent James Gagliano Make Newburgh Safe?
JK Rowling Harvard Commencement Speech Part 1 - June 5 2008