Writing and Literature
Cookies by Douglas Adams. Brave New World by Aldous Huxley. Chapter One A SQUAT grey building of only thirty-four stories.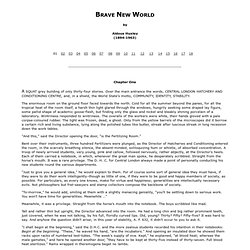 Over the main entrance the words, CENTRAL LONDON HATCHERY AND CONDITIONING CENTRE, and, in a shield, the World State's motto, COMMUNITY, IDENTITY, STABILITY. The enormous room on the ground floor faced towards the north. Cold for all the summer beyond the panes, for all the tropical heat of the room itself, a harsh thin light glared through the windows, hungrily seeking some draped lay figure, some pallid shape of academic goose-flesh, but finding only the glass and nickel and bleakly shining porcelain of a laboratory. [places for writers] Words Without Borders: Home. NANOWRIMO! Cure writer's block with writing prompts - writing tips character name generator.
Exercises for Fiction Writers - Page 2. English 50 – Intro to Creative Writing: Exercises for Story Writers More Exercises: Write the first 250 words of a short story, but write them in ONE SENTENCE.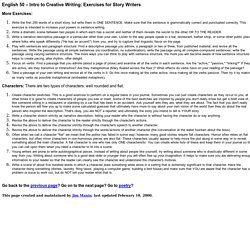 Make sure that the sentence is grammatically correct and punctuated correctly. Welcome to Writing-World.com! New on Writing-World.com Recent Articles Has it been awhile since you've dropped by?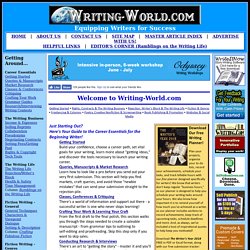 Here's what we've added to the site in the past six months... Free eBooks by Project Gutenberg. The Last Question | Thrivenotes. The Last Question by Isaac Asimov — © 1956 The last question was asked for the first time, half in jest, on May 21, 2061, at a time when humanity first stepped into the light. The question came about as a result of a five dollar bet over highballs, and it happened this way: Alexander Adell and Bertram Lupov were two of the faithful attendants of Multivac. As well as any human beings could, they knew what lay behind the cold, clicking, flashing face — miles and miles of face — of that giant computer. Free Online Literature and Study Guides. Online Books, Poems, Short Stories - Read Print Library. Read and Rate New Writers Online. Short Works & First Pages. 1001 Series. Serendipity. Home.
---