Stress and Your Body
Marvin Minsky on health and the human mind
Why is it so hard to stop worrying?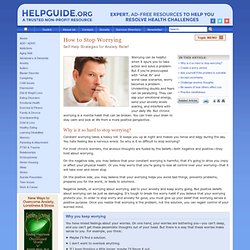 How to Stop Worrying: Self-Help for Anxiety Relief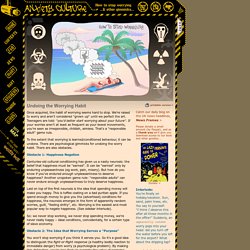 Anxiety Culture: How to Stop Worrying
Undoing the Worrying Habit Once acquired, the habit of worrying seems hard to stop.
Hyperbole and a Half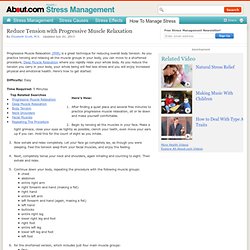 Progressive Muscle Relaxation (PMR) - How to Reduce Tension with Progressive Muscle Relaxation (PMR)
Progressive Muscle Relaxation (PMR) is a great technique for reducing overall body tension.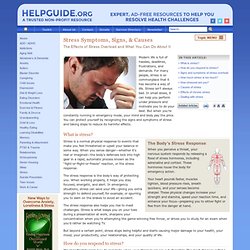 Understanding Stress: Symptoms, Signs, Causes, and Effects
What is stress? The Body's Stress Response When you perceive a threat, your nervous system responds by releasing a flood of stress hormones, including adrenaline and cortisol.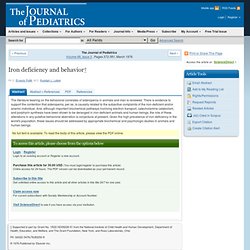 The literature bearing on the behavioral correlates of sideropenia in animals and man is reviewed. There is evidence to support the contention that sideropenia, per se, is causally related to the subjective complaints of the iron-deficient and/or anemic individual. And, although important biochemical pathways involving electron transport, catecholamine catabolism, and porphyrin synthesis have been shown to be deranged in iron-deficient animals and human beings, the role of these alterations in any putative behavioral aberration is conjectural at present. Given the high prevalence of iron deficiency in the world's population, these issues should be addressed by appropriate biochemical and psychologic studies in animals and human beings. No full text is available.
Iron deficiency and behavior
Contents - Previous - Next Introduction: Chronic malnutrition A poor village: Its reality and problems The longitudinal intervention study: Design and implementation The first eight months of life The "valley of death" between 8 and 20 months The preschool survivor and the nutritional crisis at school entrance The teenager who was malnourished as a child Comments: Nutrition in the life cycle and social development References Notes A 24-year Study of Well-Nourished and Malnourished Children Living in a Poor Mexican VillageAdolfo Chávez, Celia Martínez, and Beatriz Soberanes1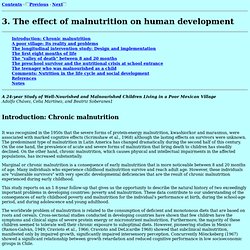 3. The effect of malnutrition on human development
Neurologic Consequences of Malnutrition - Marco T. Medina MD, Dr. Marco Medina
Chronic stress can have a serious impact on our physical as well as psychological health due to sustained high levels of the chemicals released in the 'fight or flight' response. Let's take a closer look at what's going on. The Role of the Nervous System
The Physical Effects of Long-Term Stress | Psych Central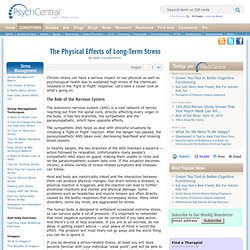 Stress: Constant stress puts your health at risk
Your body's stress reaction was meant to protect you.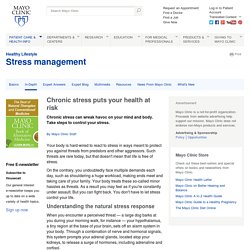 Description
Stress - The Body's Response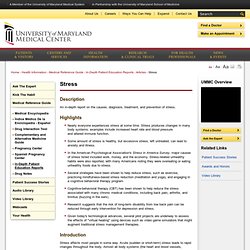 physical Effects of Stress - general Psychology
Constipation, diarrhea and high blood pressure are some of the physical effects of stress.
Effects of Stress on the Body
Not everyone has the same symptoms of stress and thus the effects of stress on your body can vary in each person.