HUMAN PROGRESS
Cosmism and the DeGaris Brain Project. ISCID - International Society for Complexity Information and Design. Nick Bostrom's Home Page. Welcome to the National Intelligence Council (NIC) The National Intelligence Council supports the Director of National Intelligence in his role as head of the Intelligence Community (IC) and is the IC's center for long-term strategic analysis.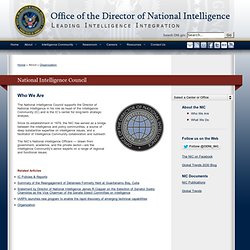 Since its establishment in 1979, the NIC has served as a bridge between the intelligence and policy communities, a source of deep substantive expertise on intelligence issues, and a facilitator of Intelligence Community collaboration and outreach. The NIC's National Intelligence Officers — drawn from government, academia, and the private sector—are the Intelligence Community's senior experts on a range of regional and functional issues. Cover: Human Knowledge: Foundations and Limits. Future of Humanity Institute - Future of Humanity Institute. The World Future Council: WFC - Home. In cooperation with the City of Hamburg the World Future Council brought together 150 mayors, urban planners, practitioners and experts from 35 countries for the Future of Cities Forum.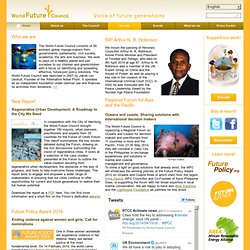 This report summarises the key issues debated during the Forum, drawing on the rich discussions surrounding the vision of regenerative cities. It looks at a selection of the case studies presented at the Forum to outline the value creation resulting from regenerative urban development, the obstacles in the way of progress, and tools to help overcome those challenges. The report aims to engage and empower a wider range of stakeholders in ensuring that our cities continue to offer opportunities for current and future generations to realise their full human potential.
Download the report as a PDF here. The Official Site of The Global Information Network. Home - Future World Project.
---