HUMAN PROGRESS
Cosmism and the DeGaris Brain Project
ISCID - International Society for Complexity Information and Design
The National Intelligence Council supports the Director of National Intelligence in his role as head of the Intelligence Community (IC) and is the IC's center for long-term strategic analysis. Since its establishment in 1979, the NIC has served as a bridge between the intelligence and policy communities, a source of deep substantive expertise on intelligence issues, and a facilitator of Intelligence Community collaboration and outreach. The NIC's National Intelligence Officers — drawn from government, academia, and the private sector—are the Intelligence Community's senior experts on a range of regional and functional issues.
Welcome to the National Intelligence Council (NIC)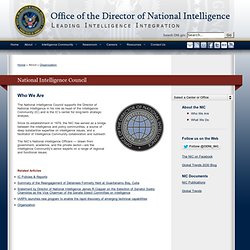 Cover: Human Knowledge: Foundations and Limits
An in-depth report for policy makers shows that Renewable Energy Feed-in Tariff policies (REFiT) are the most promising mechanism to unlock the renewable energy development in Africa.
The World Future Council: WFC - Home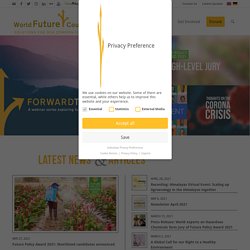 Translated by UNIC Rio de Janeiro The idea to create an United Nations environmental agency following the model of the World Trade Organization (WTO) or the International Labor Organization (ILO) is growing.
Rio+20 discusses the creation of an "environmental WTO"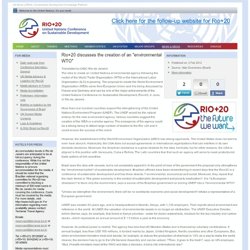 Home - Future World Project