WebSites
Famous Philosophy Quotes Welcome to the Philosophy Paradise quote section. We have assembled a large collection of the most famous philosophical quotes. Just click on a famous philosopher's name to view his quotes. All philosophers are sorted in alphabetical order for your convenience.
Philosophy Paradise - Biographies of famous philosophers, famous philosophical works, and philosophy discussion forum.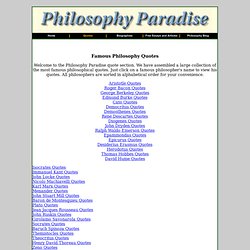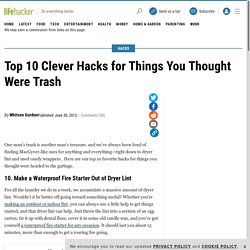 One man's trash is another man's treasure, and we've always been fond of finding MacGyver-like uses for anything and everything—right down to dryer lint and used candy wrappers.. Here are our top 10 favorite hacks for things you thought were headed to the garbage. 10. Make a Waterproof Fire Starter Out of Dryer Lint For all the laundry we do in a week, we accumulate a massive amount of dryer lint.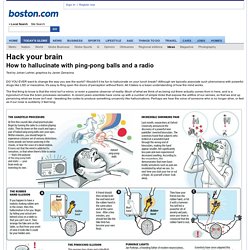 Text by Johan Lehrer, graphics by Javier Zarracina
Background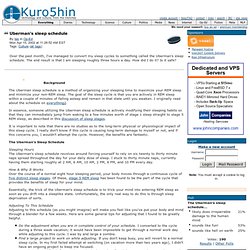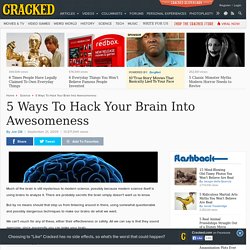 Much of the brain is still mysterious to modern science, possibly because modern science itself is using brains to analyze it.
There is something special about the tricks and tips people come up with to turn old or useless objects into something fresh and useful. Turning an old gadget or piece of furniture into something completely new is a great way to extend its life, and here are some of our favorite conversions from the last year. Top 10 Ways to Turn Your Retired Gadgetry into the Technology of the Future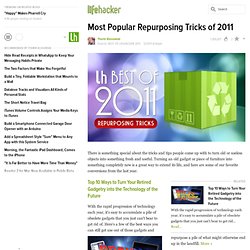 Don't limit yourself to just plugging in simple search terms to Google; check out this infographic and learn a search string search or two.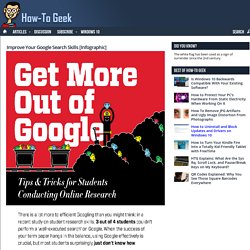 Comandos Ejecutar Win 7 | Tecnosabios
i Rate This Para acceder a ejecutar en W7 probablemente no lo tengas en el panel de heramientas activado por defecto, por lo cual con solo poner en Buscar ejecutar encontrarás el cámpo de ejecución. Si querés tenerlo siempre disponible vas al panel de herramientas>propiedades>Menu Inicio>Personalizar> y tildar Comando Ejecutary Conectar a >Aceptar y listo.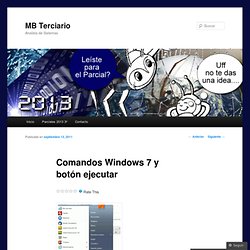 Comandos Windows 7 y botón ejecutar | MB Terciario
Comandos para Windows XP, Windows Vista y Win 7… | MasWindows
Comandos para Windows XP, Windows Vista y Win 7… Menú de Inicio -> Ejecutar -> copia y pega el comando + Enter. Menú de Inicio, copia y pega el comando en el cuadro de búsqueda + Enter. Comando para acceder a la opciones de accesibilidad. Comando para usar el asistente para accesibilidad.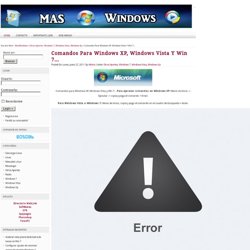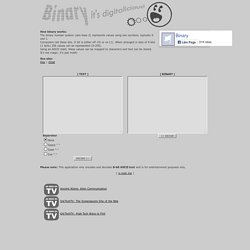 How binary works: The binary number system (aka base 2) represents values using two symbols, typically 0 and 1. Computers call these bits.
By Lydia Warren UPDATED: 13:01 GMT, 17 January 2012 It is the little-known battle that claimed the lives of thousands of Americans during World War II . But now black-and-white photographs, captured by Life magazine photographer W.
World War II photographs show American soldiers fight for survival in brutal Battle of Saipan | Mail Online