Technology
Simple animation to explain complex principles - Electronics. 1, aircraft radial engine 2, oval Regulation 3, sewing machines 4, Malta Cross movement - second hand movement used to control the clock 5, auto change file mechanism.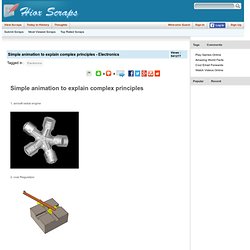 Tadpole eye transplants reveal neuroplasticity in Tufts lab. Photo by David McNew/Getty Images Recently, we have witnessed remarkable, fictional-sounding advancements in science and medicine.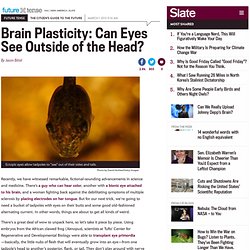 There's a guy who can hear color, another with a bionic eye attached to his brain, and a woman fighting back against the debilitating symptoms of multiple sclerosis by placing electrodes on her tongue. Nanotech breakthrough: get ready for graphene. The exciting one-atom thick super material can now be produced in ample quantities and high quality.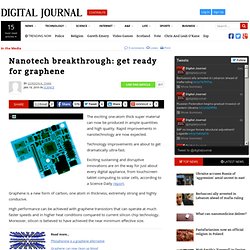 Rapid improvements in nanotechnology are now expected. Technology improvements are about to get dramatically ultra-fast. Exciting sustaining and disruptive innovations are on the way for just about every digital appliance, from touchscreen tablet computing to solar cells, according to a Science Daily report. This no-budget science fiction short looks better than most movies.
The Good: AMAZING effects and character design!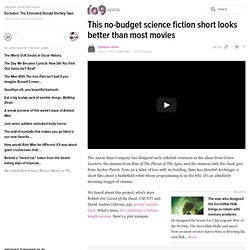 The battle droids actually *looked* like devices built for live combat situations—heavily-armoured, heavily-ARMED, and just...heavy! The Bad: 1) WHEN will people finally drop the completely stupid "careful withdrawal of consciousness from virtual environment" trope? The rig on the interrogator's head is clearly a simple noninvasive magnetic-resonance device stimulating parts of his brain.
Has the Large Hadron Collider destroyed the earth yet? Audífonos pequeños, con eliminación de ruido y claro con calidad Sony. Sony ha presentado su serie de auriculares BA(Balanced Armature), los cuales tienen un diseño y funcionalidad revolucionaria.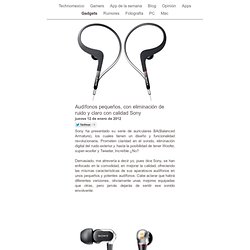 Prometen claridad en el sonido, eliminación digital del ruido exterior y hasta la posibilidad de tener Woofer, super-woofer y Tweeter, Increíble ¿No? Demasiado, me atrevería a decir yo, pues dice Sony, se han enfocado en la comodidad, en mejorar la calidad, ofreciendo las mismas características de sus aparatosos audífonos en unos pequeños y potentes audífonos. Cabe aclarar que habrá diferentes versiones, obviamente unas mejores equipadas que otras, pero jamás dejarás de sentir ese sonido envolvente. Este cubo llevará el calor de tu casa hacía ti. La idea es brillante, HAGENT es este es un cubo robotizado con ruedas al cual el término correcto que se le ha de aplicar es "Robot calefactor de cambio de fase" y es que en invierno mantener el calor en donde estamos se convierte en una lata además hay otras partes en nuestra casa donde hay calor que se está desperdiciando.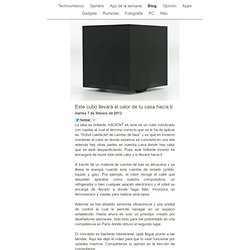 Pues este brillante invento se encargará de reunir todo este calor y lo llevará hacia ti. A través de un material de cambio de sae se almacena y se libera la energía cuando esta cambia de estado (sólido, líquido y gas). Top 10 Ways to Turn Your Retired Gadgetry into the Technology of the Future. SExpand I have written How-Tos for many of them, but I concentrate on the "why" answers, not the "how".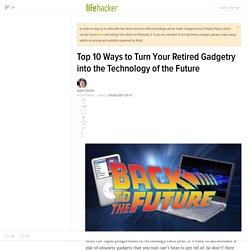 There are lots of places on the internet with step-by-step guides. That isn't my best skill, I know this. When I do attempt to explain how-to, I don't deal with GUIs unless absolutely necessary. Why not? Ejército de nano helicópteros podría convertirse en la fuerza aérea del futuro. Hemos visto varios experimentos y conceptos relacionados con estos, cada vez menos simpáticos, cuadricópteros.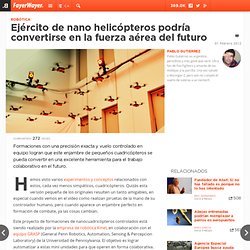 Quizás esta versión pequeña de los originales resulten un tanto amigables, en especial cuando vemos en el video como realizan piruetas de la mano de su controlador humano, pero cuando aparece un enjambre perfecto en formación de combate, ya las cosas cambian. Este proyecto de formaciones de nanocuadricópteros controlados está siendo realizado por la empresa de robótica Kmel, en colaboración con el equipo GRASP (General Penn Robotics, Automation, Sensing & Percepcion Laboratory) de la Universidad de Pennsylvania. AlphaDog: El "perrobot" gigante de la DARPA inicia pruebas en el mundo real.
La DARPA ha publicado el primer video de su robot "Legged Squad Support System" (LS3), la nueva versión de su robot de carga de 4 patas que remplazará a BigDog en la milicia.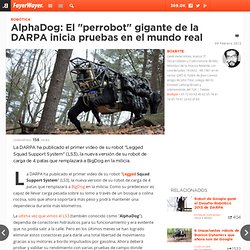 Como su predecesor es capaz de llevar carga pesada sobre su lomo a través de un bosque o colina rocosa, solo que ahora soportará más peso y podrá mantener una dependecia durante más kilometros. La última vez que vimos el LS3 (también conocido como "AlphaDog"), dependía de conectores hidráulicos para su funcionamiento y era evidente que no podía salir a la calle.
Pero en los últimos meses se han logrado eliminar estos conectores para darle una total libertad de movimiento gracias a su motores a bordo impulsados por gasolina. Ahora deberá probar y validar su rendimiento con varias pruebas de campo donde actuará como mula de carga para los Marines de Estados Unidos. Robot Cockroach Produces Its Own Power. I think we can all agree that cockroaches are pretty gross.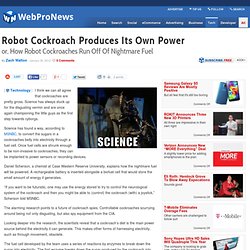 Science has always stuck up for the disgusting vermin and are once again championing the little guys as the first step towards cyborgs. Science has found a way, according to MSNBC, to convert the sugars in a cockroaches belly into electricity through a fuel cell. Once fuel cells are shrunk enough to be non-invasive to cockroaches, they can be implanted to power sensors or recording devices. Daniel Scherson, a chemist at Case Western Reserve University, explains how the nightmare fuel will be powered. IBM Shrinks Computer Memory Into Only Twelve Atoms.
Sony Nextep Computer Concept for 2020 by Hiromi Kiriki. In 2020 We Can Wear Sony Computers On Our Wrist Our present need for internet connectivity is so profound that secondary devices like the Nextep Computer are bound to happen. Developed to be worn as a bracelet, this computer concept is constructed out of a flexible OLED touchscreen. Earmarked for the year 2020, features like a holographic projector (for screen), pull-out extra keyboard panels and social networking compatibility, make the concept plausible. Historia de la computacion. Historia de la Tecnología: Xerox PARC. Muchos de los productos tecnológicos que utilizamos hoy en día y que, prácticamente, se han convertido en objetos de uso cotidiano en nuestro día a día proceden del esfuerzo y visión de unas cuantas personas que dedicaron gran parte de su tiempo a la innovación y, por tanto, a pensar que era posible llegar más lejos. Si hubiese que elegir un lugar del que salieron muchísimas de las ideas que sustentan gran parte de nuestra tecnología, ese es el Xerox PARC (Palo Alto Research Center), un laboratorio de investigación que Xerox abrió en Palo Alto (California) en 1970 y del que salieron ideas como la impresión láser, la programación orientada a objetos, la computación distribuida, el protocolo Ethernet, el WYSIWYG, el concepto de "gusano" o alguno de los estándares en los que se basan las comunicaciones a través de Internet.
Historia de la Computación. La primera computadora fue la máquina analítica creada por Charles Babbage, profesor matemático de la Universidad de Cambridge e Ingeniero Ingles en el siglo XIX. En 1823 el gobierno Británico lo apoyo para crear el proyecto de una máquina de diferencias, un dispositivo mecánico para efectuar sumas repetidas. La idea que tuvo Charles Babbage sobre un computador nació debido a que la elaboración de las tablas matemáticas era un proceso tedioso y propenso a errores. Las características de está maquina incluye una memoría que puede almacenar hasta 1000 números de hasta 50 dígitos cada uno.
Las operaciones a ejecutar por la unidad aritmética son almacenados en una tarjeta perforadora.
---