Publishing your own book, e-book.
Obtaining an ISBN for Your Self-Published Book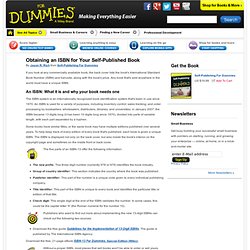 If you look at any commercially available book, the back cover lists the book's International Standard Book Number (ISBN) and barcode, along with the book's price. Any book that's sold anywhere in the world must have a unique ISBN. An ISBN: What it is and why your book needs one The ISBN system is an internationally recognized book identification system that's been in use since 1970.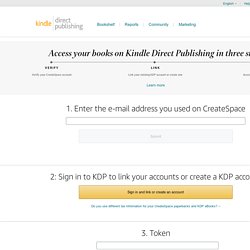 Independent Publishing with CreateSpace Free and Easy Tools Do-it-yourself and finish fast with tools like Interior Reviewer, Cover Creator, Preview, and Image Gallery. Higher Royalties Place more in your pocket with some of the best economics in the industry. View Earning Royalties video. Comprehensive Book Services Get the help you need to complete your book with our affordable design, editing, and marketing services. Always Available Your work is manufactured to meet demand, so your title is always in stock.
InstantPublisher
InstantPublisher.com is a full-service self publishing company with 100% of all work performed in-house. Based right outside Memphis, Tennessee, we've been helping authors achieve their dream of getting published for the past 13 years. Looking to self-publish? Whether you're printing a novel, how-to book, manual or brochure or any type of book you can imagine, our step-by-step instructions make self publishing your own book simple and easy. We offer a quick and affordable service, knowledgeable customer support representatives and a variety of book printing options.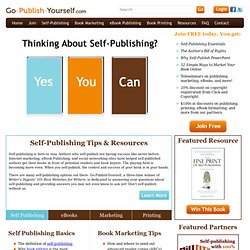 Self-publishing is here to stay. Authors who self-publish are having success like never before. Internet marketing, eBook Publishing, and social networking sites have helped self-published authors get their books in front of potential readers and book buyers. The playing field is becoming more even. When you self-publish, the control and success of your book is in your hands.
Go Publish Yourself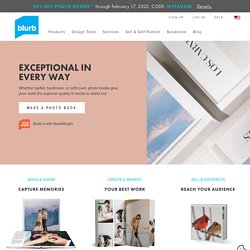 If that sounds a little "all over the place" when it comes to types of books you can make at Blurb, it is. By design. Because if you can think it, dream it, draw it, write it, or photograph it, we can help you turn whatever "it" is into a beautiful print and ebook. We'll never tell you what kind of book to make. Our job is to help you bring whatever book you choose to make into the world and then help you tell the world all about it.
Bookemon makes it possible for anyone to make their own bookstore-quality books quickly and easily. These custom-created, 100% personalized books are perfect for preserving memories, photos, drawings, family recipes, and stories to share with family, friends, and future generations. No Minimum Order Highest Quality Printing Professional Binding Fast Turnaround Get Started for FREE! The Bookemon Process is simple!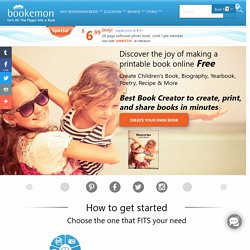 Marketplace Sell and promote your books with a custom BookBuy page enhanced by blog feeds, PDFs, and other marketing tools. Complete Author Services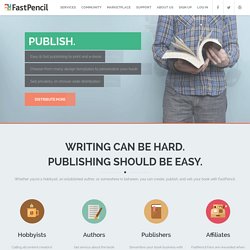 REVISED: February 13, 2014 Lulu is a community for creators of remarkable works. We provide the tools for you to publish your work for personal use or for sale and distribution to others, a marketplace for the purchase of goods and services, and a site where you can participate in forums and discussion groups with like-minded creators.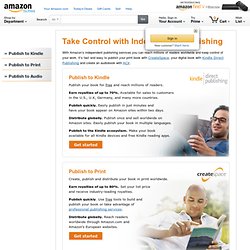 Publish to Kindle Publish your book for free and reach millions of readers. Earn royalties of up to 70%. Available for sales to customers in the U.S., U.K, Germany, and many more countries.
Self-Publish with Us
Publishing your own book, e-book - team curated
How to Self-Publish a Book
Self-Publishing Tutorial: The Top 10 Things You Should Know about Self-Publishing Your Book.
How to Self-Publish a Book
E-Books and Self Publishing Part 1
Naming and evolution[edit] The Kindle name was devised by branding consultant Michael Cronan who was asked by Lab 126 to name the product. Cronan and partner Karin Hibma suggested Kindle, meaning to light a fire.[3] They felt this was an apt metaphor for reading and intellectual excitement.[4]
KDP files and Amazon Kindle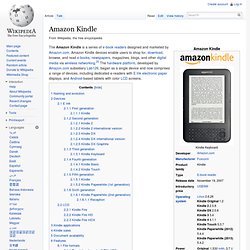 EPUB (short for electronic publication) is a free and open e-book standard by the International Digital Publishing Forum (IDPF). Files have the extension .epub. EPUB is designed for reflowable content, meaning that an EPUB reader can optimize text for a particular display device.
read the best free ebooks on any device! Browse our selection of high quality free books, available in both EPUB3 and Kindle ebook format. All our books are provided without DRM protection and can be read on any device, including Amazon Kindle, iBooks (iPad, iPhone, OSX), Android (Bluefire), Kobo, Windows Phone, Nokia Lumia (Freda App), Sony, Nook and many other digital devices and smartphones. Featured eBooks Random Book
ePub for eBooks - Tech review with Peter Marks
How to Create .epub with Pages
PDF: Portable Document Format (files)
Portable Document Format (PDF) is a file format used to present documents in a manner independent of application software, hardware, and operating systems.[1] Each PDF file encapsulates a complete description of a fixed-layout flat document, including the text, fonts, graphics, and other information needed to display it. In 1991, Adobe Systems co-founder John Warnock outlined a system called "Camelot"[2] that evolved into PDF. While Adobe Systems made the PDF specification available free of charge in 1993, PDF was a proprietary format, controlled by Adobe, until it was officially released as an open standard on July 1, 2008, and published by the International Organization for Standardization as ISO 32000-1:2008,[3][4] at which time control of the specification passed to an ISO Committee of volunteer industry experts.
Selling your book or e-book