Publishing your own book, e-book.
Obtaining an ISBN for Your Self-Published Book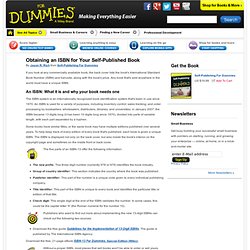 If you look at any commercially available book, the back cover lists the book's International Standard Book Number (ISBN) and barcode, along with the book's price. Any book that's sold anywhere in the world must have a unique ISBN. An ISBN: What it is and why your book needs one The ISBN system is an internationally recognized book identification system that's been in use since 1970.
InstantPublisher
Go Publish Yourself
Self-Publish with Us
Welcome to Amazon's Kindle Direct Publishing Publish your books independently with Kindle Direct Publishing (KDP) on the Amazon Kindle Store. Here's how you benefit: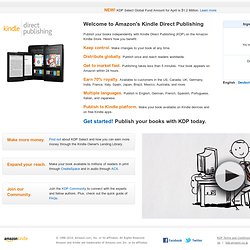 Publishing your own book, e-book - team curated
How to Self-Publish a Book
Self-Publishing Tutorial: The Top 10 Things You Should Know about Self-Publishing Your Book.
How to Self-Publish a Book
E-Books and Self Publishing Part 1
Naming and evolution[edit] The Kindle name was devised by branding consultant Michael Cronan who was asked by Lab 126 to name the product. Cronan and partner Karin Hibma suggested Kindle, meaning to light a fire.[3] They felt this was an apt metaphor for reading and intellectual excitement.[4]
KDP files and Amazon Kindle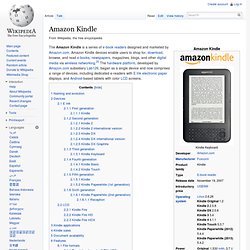 Everyone has accepted epub files as the standard--except Kindle who use KDP files. The variations in files is due to there being no adopted standard file types previously. by electronics Jan 2
EPUB (short for electronic publication) is a free and open e-book standard by the International Digital Publishing Forum (IDPF). Files have the extension .epub. EPUB is designed for reflowable content, meaning that an EPUB reader can optimize text for a particular display device.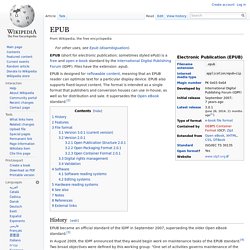 ePub for eBooks - Tech review with Peter Marks
How to Create .epub with Pages
PDF: Portable Document Format (files)
Portable Document Format (PDF) is a file format used to represent documents in a manner independent of application software, hardware, and operating system.[1] Each PDF file encapsulates a complete description of a fixed-layout flat document, including the text, fonts, graphics, and other information needed to display it. In 1991, Adobe Systems co-founder John Warnock outlined a system called "Camelot"[2] that evolved into PDF.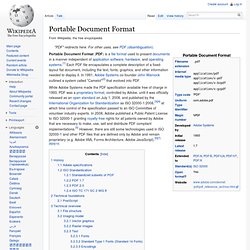 Selling your book or e-book