Digital Storytelling Tools
Trading Card Creator. The Trading Card tool gives students an alternative way to demonstrate their literacy knowledge and skill when writing about popular culture texts or real world examples.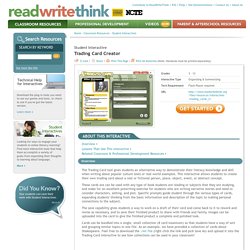 This interactive allows students to create their own trading card about a real or fictional person, place, object, event, or abstract concept. These cards are can be used with any type of book students are reading or subjects that they are studying, and make for an excellent prewriting exercise for students who are writing narrative stories and need to consider characters, setting, and plot. Specific prompts guide student through the various types of cards, expanding students' thinking from the basic information and description of the topic to making personal connections to the subject.
The save capability gives students a way to work on a draft of their card and come back to it to rework and revise as necessary, and to save their finished product to share with friends and family. ACMI Generator. Inkle » inklewriter. Write as you play The inklewriter lets you write as you play, branching the story with choices, and then linking those branches back together again.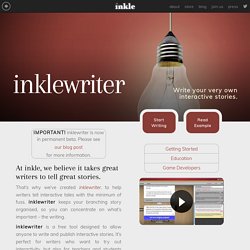 It keeps track of which paths you've finished, and which still need to be written. There's no set-up, no programming, no drawing diagrams – so there's nothing between you and the empty page. Oh, and it's free to use. And once written, you can share your stories with whomever you like. Create a PicLit. This is a tooltip bear collar crowd dog.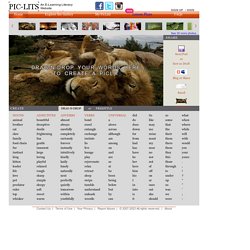 7scenes | Connect your story to the city! Zopler - Collaborative Story Telling. What are SlideBombs? Who Makes SlideBombs? | Slide Bomb. ZEODIA.COM.
FlixTime - Video Slideshows made easy! Home - Creaza Education. Stupeflix - Video production made easy. Atmosphir - Free design tool and platformer videogame. Museum Box Homepage. Masher - create free online video, photo and music mashups. Tabblo. Create Your Own Comic | Marvel Super Hero Squad | The Official Web Site. MapSkip - Places Have Stories!
MAKE BELIEFS COMIX! Online Educational Comic Generator for Kids of All Ages. Magnoto - Freestyle Blogging & Website Building - Home of Magnoto. World's premier Online Video Editor | JayCut. GoAnimate - Make your own animated videos. It's easy and fun. Glogster EDU - 21st century multimedia tool for educators, teachers and students | Text, Images, Music and Video. Make You Own Cartoons - The Funny Times Cartoon Playground. FlixTime - Video Slideshows made easy!
Moviemaker. Make digital movies online. Formerly Dfilm. Make. WeVideo - Collaborative Online Video Editor in the Cloud. Comic Strip Generator (Over 750 Toon Choices), A Custom Cartoon Maker One Comic Book Cel At A Time - Cartoon Generator, Send As Free Ecards & Mask Email (Hide Text) Comic Master. Comic Creator. The Comic Creator invites students to compose their own comic strips for a variety of contexts (prewriting, pre- and postreading activities, response to literature, and so on).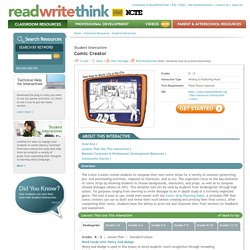 The organizers focus on the key elements of comic strips by allowing students to choose backgrounds, characters, and props, as well as to compose related dialogue (shown at left). This versatile tool can be used by students from kindergarten through high school, for purposes ranging from learning to write dialogue to an in-depth study of a formerly neglected genre.
The tool is easy to use, made even easier with the Comic Strip Planning Sheet, a printable PDF that comic creators can use to draft and revise their work before creating and printing their final comics. Create Comics with Chogger. Capzles Social Storytelling | Online Timeline Maker | Share Photos, Videos, Text, Music and Documents Easily. Design & Make A Book With Our Simple Free Guide | Bookemon.com. UDL Book Builder. GoAnimate for Schools and Educators. Kerpoof Studio. ToonDoo - World's fastest way to create cartoons! MAKE BELIEFS COMIX! Online Educational Comic Generator for Kids of All Ages.
StoryJumper: publish your own children's book. Comic Builder. Collaborative storytelling. Blabberize.com - Got a picture? Blabberize it! ZooBurst. Video Slideshow Maker with Music. JellyCam - Stop Motion. Little Bird Tales - Home.
---