Edu-videos
Eduardo Punset entrevista a Marc Prensky
Building A New Culture Of Teaching and Learning
Redes: Educar para fabricar ciudadanos
Diseño E-Portfolios
PLE
George Carlin: El Sueño Americano
21st Century Skills Map http://ow.ly/2SfyS
The VLE is dead Vía
Instead of sharing the longer, 6+ minute Creative Commons video "Get Creative" during my "Trends in Higher Education" presentation tomorrow at Rose State College in Midwest City, Oklahoma, I'm planning to share the 2.5 minute (180 second) video, "What is Creative Commons? Wanna Work Together RG Remix." This video provides a great summary of Creative Commons and why it's relevant for both educators as well as students. Do all the learners at your school understand Creative Commons, and utilize Creative Commons media in projects which meet the ISTE National Educational Technology Standards? If not, this video can serve as a good conversation starter about these topics! Technorati Tags:commons, copyright, creative, creativecommons, edtech, education, learning, share, sharing, technology, video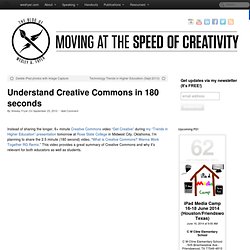 Understand Creative Commons in 180 secs.
Socialontology's Channel
Global Competitiveness and Puerto Rico's Technology Strategies and Roadmap
Jornadas de Integración de las TIC en la Enseñanza: Redes Sociales Video
La Civilización Empática
More Educational Wisdom From Sir Ken Robinson
Reflexiones sobre el cambio
Entornos personales de aprendizaje: Más allá del Campus Virtual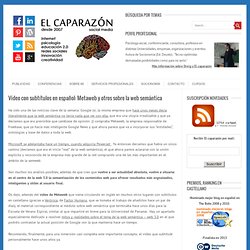 Metaweb y otros sobre la web semántica
Ha sido una de las noticias clave de la semana: Google (sí, la misma empresa que hace unos meses decía literalmente que la web semántica no tenía nada que ver con ella, que era una utopía irrealizable y que ya decíamos que era previsible que cambiase de opinión ) compraba Metaweb, la empresa responsable de Freebase, que ya hacía más inteligente Google News y que ahora parece que va a incorporar sus "entidades", ontologías y base de datos a toda la web. Microsoft se adelantaba hace un tiempo, cuando adquiría Powerset . Ya entonces decíamos que había un único camino (decíamos que era el inicio "real" de la web semántica), el que ahora parece aclararse con la unión explícita y reconocida de la empresa más grande de la red comprando una de las más importantes en el ámbito de la semweb.
The Future of Learning Environments
Vídeo: Chat between Personal Learning Environmet ( PLE ) and Learning Management System ( LMS )
Hacia una definición común de le educación libre y abierta
Tecnologías Educativas » Aprendizaje invisible III
5 Vídeos imprescindibles para entender la web 3.0 | El caparazon
Preparo una presentación completa acerca del tema de la web 3.0, para distintas instituciones, ampliando los Talleres sobre web semántica que ya he impartido antes (en catalán aquí) Os agradeceré que dejéis comentarios al respecto. También que alguien se anime a subtitular a Kelly o el primer y mejor, en mi opinión, vídeo de esta pequeña serie. Estoy trabajando desde hace días en el tema y puedo incorporar cualquier cosa que aporte valor a lo que ya he ido recogiendo. 1.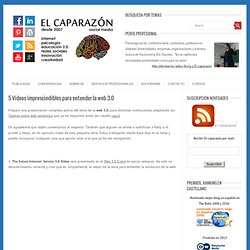 PARADIGMAS I
VÍDEO: Educación del Siglo 21
Proyecto FaceBook
Uso de las redes sociales en España y resto del mundo