Marketing/Branding
New opportunities in native advertising - iMediaConnection.com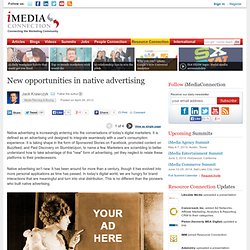 Native advertising is increasingly entering into the conversations of today's digital marketers. It is defined as an advertising unit designed to integrate seamlessly with a user's consumption experience. It is taking shape in the form of Sponsored Stories on Facebook, promoted content on Buzzfeed, and Paid Discovery on StumbleUpon, to name a few. Marketers are scrambling to better understand how to take advantage of this "new" form of advertising, yet they neglect to relate these platforms to their predecessors. Native advertising isn't new.
30 rare photos part 2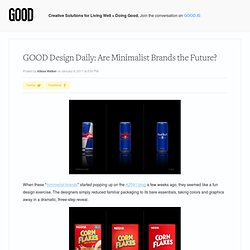 When these "minimalist brands" started popping up on the A2591 blog a few weeks ago, they seemed like a fun design exercise. The designers simply reduced familiar packaging to its bare essentials, taking colors and graphics away in a dramatic, three-step reveal. Some of the brands look especially sharp when reduced to a bare-bones execution; others are reduced to an almost unrecognizable state without their cascading milk falls or sides of sliced fruit. These seem like products stocked in some fantasyland grocery store patronized exclusively by anal-retentive designers, but as I started to look at some recent rebranding stories, I'd argue that the minimal trend is actually infiltrating the market faster than we think.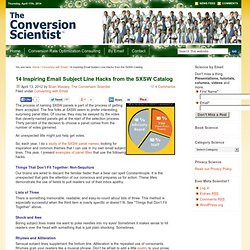 inShare36 The process of naming SXSW panels is part of the process of getting them accepted. The fine folks at SXSW seem to prefer interesting, surprising panel titles.
14 Inspiring Email Subject Line Hacks from the SXSW Catalog | The Conversion Scientist
To know me is to know that I love—love—LinkedIn. At 150 million members and growing, LinkedIn is a powerful professional networking tool, and it's not just for job seekers. Frankly, if you're in the professional world and not using LinkedIn, I'm not sure what you're thinking. Our team at V3 uses it for new business development, competitive research and analysis, participating in groups and discussions, and engaging with and learning from peers—and, of course, it's the go-to site for savvy job seekers everywhere. One of the cool things about LinkedIn is there's always something new to learn. Sure, the first step is to sign up and create your profile.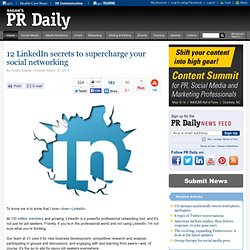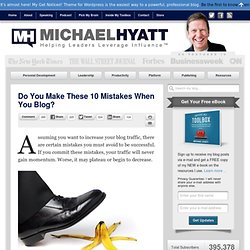 Assuming you want to increase your blog traffic, there are certain mistakes you must avoid to be successful. If you commit these mistakes, your traffic will never gain momentum. Worse, it may plateau or begin to decrease. Photo courtesy of ©iStockphoto.com/VisualField How do I know?
The Top 10 traits of Strong Brands | Ashesh R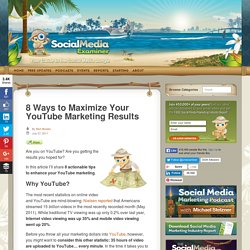 Are you on YouTube? Are you getting the results you hoped for? In this article I'll share 8 actionable tips to enhance your YouTube marketing.
How to Market on Flickr | Small Business Search Marketing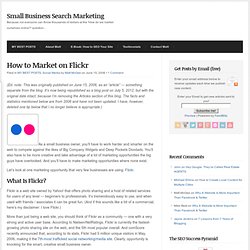 (Ed. note: This was originally published on June 15, 2006, as an "article" — something separate from the blog. It's now being republished as a blog post on July 5, 2012, but with the original date intact, because I'm removing the Articles section of this blog. The facts and statistics mentioned below are from 2006 and have not been updated. I have, however, deleted one tip below that I no longer believe is appropriate.) As a small business owner, you'll have to work harder and smarter on the web to compete against the likes of Big Company Widgets and Deep Pockets Doodads.
Here's a quick rundown of the who, what, where, when, why, and how of using social networks to help kick-start your social media plan. Who You should use social media if you have a business and want to do any of the following: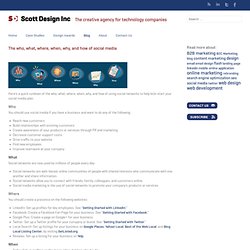 The who, what, where, when, why, and how of social media
There are thousands of Facebook apps, including a growing class designed for marketing use on company Facebook Pages. Here is a list of 16 different marketing strategies — using apps — that can help your ecommerce business. 1. Facebook Send button Facebook recently launched the "Send" button, which allows Fans to send your content to their friends. Think of this as you would a "forward to a friend" button in email.
16 Facebook Marketing Strategies | Practical eCommerce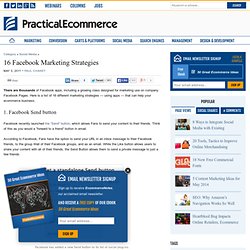 QR Code Resume Blows Traditional Strategy Out the Window | Creative...
1K SharesTwitter58Facebook45Google+0Pin It Share2LinkedIn36StumbleUpon8661K Flares× With our first guerrilla marketing giveaway coming to a close, I figured it would be only fitting to key into some of the strategy and concepts that the giveaway book brings to the table. Be sure to enter our guerrilla marketing giveaway that ends on April 30th! See the details and enter today by clicking here. This is a prime example of Guerrilla Marketing and creative job hunting that will help you land your dream job!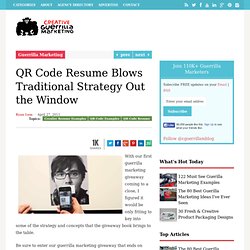 By Mike Nelson Generate top keywords Think about how the community likely identifies itself online. For example, if you are searching for the "polar bear community," write down a list of keywords related to the community's interests. Additionally, consider the breadth of the community's focus. If the target community is exclusively people interested in polar bears, the search will be focused; if a broader community is needed – e.g. environmentalists or people concerned about endangered species – keywords should encompass its broader interests.
A Poor Man's Guide to Finding Influencers. - The Buzz Bin
No matter why you have it, your web site needs to sell. You need to get visitors to do something, whether that something is 'sign up', 'buy now' or just 'keep reading'. Here are 10 quick tips for copy persuades, sells and converts:
10 tips for writing that sells | Internet Marketing Strategy: Conversation...
40 Key Emotional Drivers : Target Marketing
7 Things Pick-Up Artists and Savvy Marketers Have in Common
5 Subject Line Tricks that Get Your Emails Read | Speedy Mail Email...
by Josh Shayne We all want our email campaigns to be read. But with the volume of messages your subscribers receive, you need to make YOUR email stand out from the rest – shining like a lighthouse beacon in a storm. No matter how great the content inside, if your email is never opened, it is almost not worth sending. Your email subject line is your bait – it must hook your reader's attention and reel them in.
Color Psychology in Marketing: Branding Strategy Insider
What colors have you chosen for your marketing materials? What were your reasons for making that particular choice? Was it because you liked those particular colors, or did you have a particular marketing message in mind? While visual appeal is an important consideration, your color choices could be sending a specific message to the people who view them. Are you sure you know what that message is? You'd be wise to consider the psychology of color when designing your marketing materials.
All sizes | Interesting Social Media map by Overdrive | Flickr - Photo Sharing! - StumbleUpon
The Best and Worst of Marketing | Marketing Degree - StumbleUpon
What Apple Can Teach You About Marketing | SmallFuel Marketing
Social Media pays off for small business
9 Viral Videos That Are Actually Advertising
Twitter Is Launching Its Own Photosharing Service
Fortune 500 Mission Statements
Scribulous Scrawlin' by ~Alphabeta85 on deviantART
The Best and Worst Identities of 2009
Zing your Brand - Mary van de Wiel, Online Branding Expert
Social Media pays off for small business