Marketing/Branding
New opportunities in native advertising - iMediaConnection.com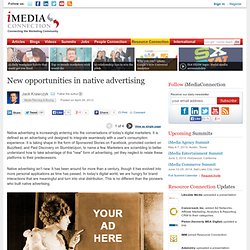 Native advertising is increasingly entering into the conversations of today's digital marketers. It is defined as an advertising unit designed to integrate seamlessly with a user's consumption experience. It is taking shape in the form of Sponsored Stories on Facebook, promoted content on Buzzfeed, and Paid Discovery on StumbleUpon, to name a few. Marketers are scrambling to better understand how to take advantage of this "new" form of advertising, yet they neglect to relate these platforms to their predecessors. Native advertising isn't new.
30 rare photos part 2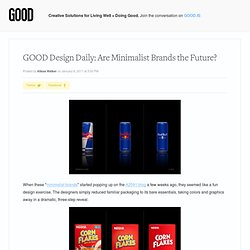 When these "minimalist brands" started popping up on the A2591 blog a few weeks ago, they seemed like a fun design exercise.
14 Inspiring Email Subject Line Hacks from the SXSW Catalog | The Conversion Scientist
To know me is to know that I love—love—LinkedIn. At 150 million members and growing, LinkedIn is a powerful professional networking tool, and it's not just for job seekers.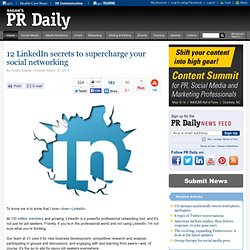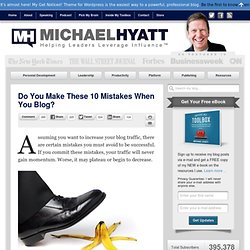 Assuming you want to increase your blog traffic, there are certain mistakes you must avoid to be successful.
The Top 10 traits of Strong Brands | Ashesh R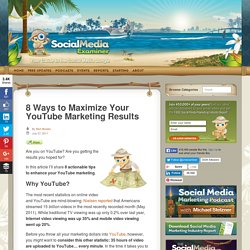 Are you on YouTube? Are you getting the results you hoped for? In this article I'll share 8 actionable tips to enhance your YouTube marketing.
How to Market on Flickr | Small Business Search Marketing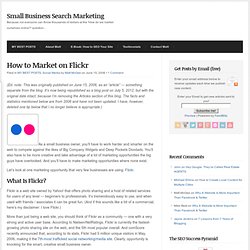 (Ed. note: This was originally published on June 15, 2006, as an "article" — something separate from the blog.
Here's a quick rundown of the who, what, where, when, why, and how of using social networks to help kick-start your social media plan. Who You should use social media if you have a business and want to do any of the following: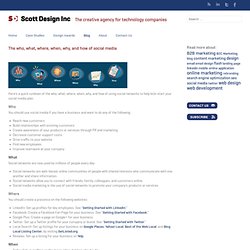 The who, what, where, when, why, and how of social media
There are thousands of Facebook apps, including a growing class designed for marketing use on company Facebook Pages. Here is a list of 16 different marketing strategies — using apps — that can help your ecommerce business.
16 Facebook Marketing Strategies | Practical eCommerce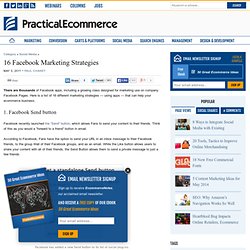 7 Little Words That Sum Up the Entire Marketing Machine :: Small Business M...
QR Code Resume Blows Traditional Strategy Out the Window | Creative...
With our first guerrilla marketing giveaway coming to a close, I figured it would be only fitting to key into some of the strategy and concepts that the giveaway book brings to the table.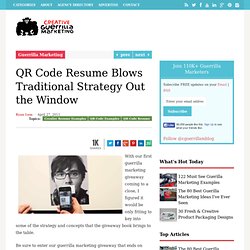 By Mike Nelson | Follow me on Twitter @ 41 Comments
A Poor Man's Guide to Finding Influencers. - The Buzz Bin
No matter why you have it, your web site needs to sell. You need to get visitors to do something, whether that something is 'sign up', 'buy now' or just 'keep reading'. Here are 10 quick tips for copy persuades, sells and converts:
10 tips for writing that sells | Internet Marketing Strategy: Conversation...
40 Key Emotional Drivers : Target Marketing
7 Things Pick-Up Artists and Savvy Marketers Have in Common
5 Subject Line Tricks that Get Your Emails Read | Speedy Mail Email...
by Josh Shayne
Color Psychology in Marketing: Branding Strategy Insider
What colors have you chosen for your marketing materials? What were your reasons for making that particular choice? Was it because you liked those particular colors, or did you have a particular marketing message in mind? While visual appeal is an important consideration, your color choices could be sending a specific message to the people who view them. Are you sure you know what that message is? You'd be wise to consider the psychology of color when designing your marketing materials.
All sizes | Interesting Social Media map by Overdrive | Flickr - Photo Sharing! - StumbleUpon
The Best and Worst of Marketing | Marketing Degree - StumbleUpon
Apple rocks at marketing—I think that's something fanboys and haters can both agree with. From building an incredible amount of buzz, to driving fans out to buy products, to keeping repeat customers for life, they really have their act together. There are a lot of things small businesses can learn from Apple's success, and most of them easily translate from the corporate world to the small business world.
What Apple Can Teach You About Marketing | SmallFuel Marketing
Social Media pays off for small business
9 Viral Videos That Are Actually Advertising
Twitter Is Launching Its Own Photosharing Service
Fortune 500 Mission Statements
Scribulous Scrawlin' by ~Alphabeta85 on deviantART
The Best and Worst Identities of 2009
Zing your Brand - Mary van de Wiel, Online Branding Expert
Social Media pays off for small business