SITES!
Home | Smell Good KitchenSmell Good Kitchen | I'm HeRe FoR tHe FoOd. Eat A Duck I Must! Mallory's Kitchen. Lucid Food – Clearly Natural Cooking. Good Food - Good Food. Adventures in Cooking. BBQ. Global Dish – Stephanie Arsenault - Food & Travel Writer, Eater & Drinker, Photographer & Traveler. Boulder Locavore | Local.Seasonal.Food.Drink.Travel. Cookbook Wizard Recipe Software. Angel Shrimp Scampi Apple Kabob Salad Apple Noodle Pudding Apple Pie Apple Pineapple Relish Apple Puree.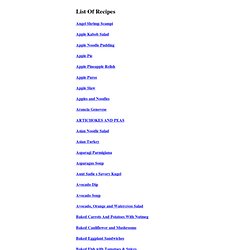 A Brown Table - Every Meal Should Be Simple but Exciting. RecipeRelay -
Girlichef. Cookie and Kate - Celebrating whole foods & vegetarian fare. Cook Republic | Food Stories And Art. Baking. The ABCD's of Cooking. Chef and Steward. Weekend recipes | for the love of food! Family Spice | Spice up your family's meals. ASIAN. The meaning of pie. Ling Li Eats. Ceramic Canvas. Mommie Cooks! Pitchfork diaries. Eating Out Loud. Brooklyn Supper. Leite's Culinaria.
Pip & Ebby - Pip & Ebby. Grab A Plate » Exploring what goes on in my kitchen and beyond. Zen Can Cook. Cooking for Seven. SOUP. Herbie Likes Spaghetti. Umamigirl.com. EllySaysOpa. Bitchincamero. RecipeGirl.com. TasteFood. Other Regional. Food & style — seasonal vegetables, recipes, wine tasting notes, videos. Gastronomer's Guide. Smitten kitchen. Okie dokie artichokie. The Kitchn | Inspiring cooks, nourishing homes. A Thought For Food » where ideas are brought to simmer. FN | Just Recipes. Serves 2 Ingredients 2 x 7 oz [200 g] chicken breasts Sea salt and freshly ground black pepper Vegetable oil, for grilling 5 oz [150 g] snow peas (mange-tout), trimmed ½ cup [125 ml] fresh coriander leaves ¼ cup [60 ml] fresh basil leaves 1 long red chili, seeded and chopped For the dressing1 tbsp [15 ml] lime juice 1 tbsp [15 ml] fish sauce 2 tsp [10 ml] brown sugar.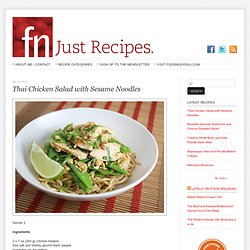 You fed a baby chili? Kitchen Confidante | sharing taste & inspiration.
Renegade Kitchen | serious food for the allergy bound. Use real butter. Pinch of Yum – Because life should be yummy! Tallgrass Kitchen - Simple and delicious cooking from the prairie. VEGAN. NATURAL. BLOGS. BLOGS. Crepes of Wrath. Five And Spice. Not Without Salt. Steamy Kitchen. A Cozy Kitchen. Food52. Luna Cafe. No Recipes. Sophistimom.
---