SITES!
Home | Smell Good KitchenSmell Good Kitchen | I'm HeRe FoR tHe FoOd
Eat A Duck I Must!
Mallory's Kitchen
Champagne punch is a great drink for the holidays, and nothing says Happy New Year quite like champagne does. This punch will give you the taste and elegance of freshly made cocktails without the hassle of having to make them individually which is why it's great for a party. It's also super colorful with all the different citrus fruits included. You don't have to go overboard like I did with specialty citrus produce— ruby red grapefruit, orange, lemon and lime will look festive enough.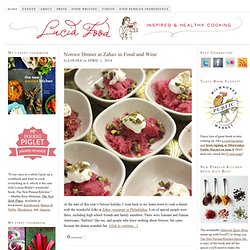 Last month, the Islamic Republic of Iran granted me an Iranian passport, bringing to an end a trying application process that lasted almost exactly two years. As I imagine must be the case when applying for citizenship anywhere in the world, the procedure was frustrating, humbling, and seemingly illogical, to the point where it was often impossible to imagine a positive outcome. But now that I finally have the longed-for permission to enter this ancient land, I'm looking forward to a visit to Iran some time this year. [click to continue…]
Lucid Food – Clearly Natural Cooking
Good Food - Good Food
Adventures in Cooking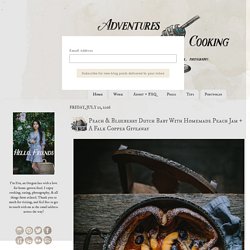 I'll keep this short and sweet since many of us are busy with friends and family in the midst of the holidays, but I just wanted to wish you a wonderful holiday season and thank you all for reading. I have a nice little layer cake to share today, full of honey and diced dates instead of granulated sugar. The honey adds a rich sweetness to the dish and the diced dates add a wonderful texture and a fun polka-dot-look to the cake slices.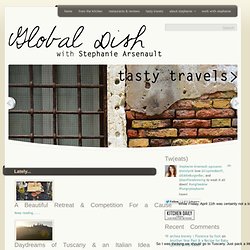 Close Forgot your password? More Information... More Information... More Information... More Information...
Global Dish – Stephanie Arsenault - Food & Travel Writer, Eater & Drinker, Photographer & Traveler.
Boulder Locavore | Local.Seasonal.Food.Drink.Travel.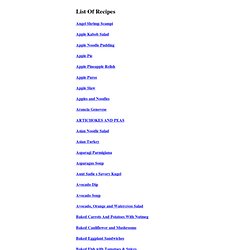 Cookbook Wizard Recipe Software
Angel Shrimp Scampi Apple Kabob Salad Apple Noodle Pudding Apple Pie Apple Pineapple Relish Apple Puree
A Brown Table - Every Meal Should Be Simple but Exciting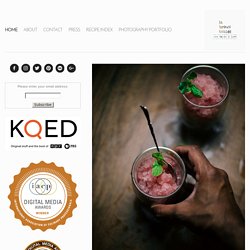 One of my favorite things to do when I work on my blog posts is to sit in the bedroom and have the curtains to the doors pulled back all the way, simply because I can glance outside and enjoy the view of my little garden. It's even more exciting when spring arrives, because I impatiently indulge in multiple glimpses of the little tips of green that are sprouting through the soil or budding off the branches. Not that the incessant staring will make them come any sooner but more so because it reminds me of what my garden looked like in previous year and what it might look this time. I have a mid-shade of a green thumb, I can grow some plants with ease and others, well not so much. I keep getting a little better each year, learning what really works well with me and my garden.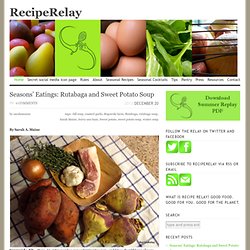 By Sarah A. Maine Sunnyside, NY – Wow. An entire year has gone whizzing by again, and I'm so thankful you all were here to share it with me.
RecipeRelay -
girlichef
Today the Sunday Supper crew is celebrating TWO years with a menu packed with celebration food, and posts packed with Sunday Supper memories and favorite moments. To be completely honest with you, I can't remember how I "discovered" the Sunday Supper Movement. I think it may have been through Jen at Juanita's Cocina. My very first Sunday Supper post was in July of 2012 (about 6 months after its conception) for the theme Beat the Heat. Guess what I made? Yup.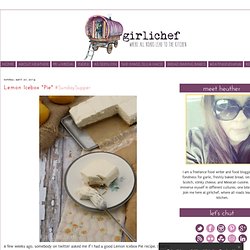 Hey there, Friday! You're looking good. Today, I thought I'd share a few of the top recipes from the past year. Looking back at each recipe brings back memories of the circumstances surrounding it, some of which I was more open about than others.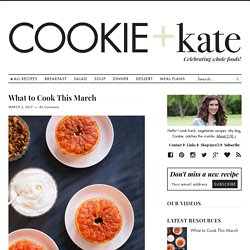 Cookie and Kate - Celebrating whole foods & vegetarian fare
Cook Republic | Food Stories And Art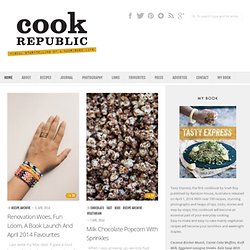 When life gives you lemons, make apple juice! I have somehow always lived by this motto. Sometimes, it is just not possible to make this anomaly work but most of the time there is always a work around. It makes life more interesting and definitely more fun. So when The Good Guys sent me the final appliance – a spunky looking compact George Forman grill as part of Kidspot's VOICES of 2013 Food & Wellbeing Challenge, I decided to …
I know I know, horse gram sprouts do not sound appealing. As the name implies, these beans are actually used as cattle and horse feed, but they are also super tasty and extremely nutritious for you. In South India, they are used to make a number of dishes and in Kannada they are referred to as 'hurali.' They can be sprouted really easily and used in salads like usali or soupy dishes like sambar and saaru. Horse gram also is great to eat in the winter and I actually have been breaking it out quite a bit during days plagued by the 'Polar Vortex.' Not only do these sprouts have a ton of iron and help with weight loss, but they also are believed to warm your body up.
The ABCD's of Cooking
Chef and Steward
I Work in Food! Interview with Karyn Williams-Sykes, top F&B and hospitality trainer Karyn Wiliams-Sykes is quite an indomitable force in the hospitality industry. When you meet her or sit in a training session with her, you get a glimpse of the complex measure of bold strength and soft skills that it takes to really do well in her role.
Five-Minute Mexican Blackened Salmon Recipe January 5, 2014 My recipe ideas come from anywhere and everywhere: talking with people, colors I see, the weather, my mood, my fruit bowl, food images in magazines, walking down an aisle in the market, my kids, a book, a TV show, the seasons, and the list goes on. The idea for this recipe came to me when [...]
weekend recipes | for the love of food!
Family Spice | Spice up your family's meals
The Winter issue of Edible Dallas & Fort Worth recently became available. I have a few favorite things in this issue. Most notably, I wrote a feature article about Foodways Texas, and I got to take photographs of my friend Meaders Ozarow at Empire Baking Company. Those were my two favorite additions to this issue. But I also put together a collection of holiday dinner recipes with an emphasis on keeping the holidays simple.
the meaning of pie
Ling Li Eats
Ceramic Canvas
Mommie Cooks!
Pitchfork diaries
Eating Out Loud
Brooklyn Supper
Leite's Culinaria
Pip & Ebby - Pip & Ebby
Grab A Plate » Exploring what goes on in my kitchen and beyond
Zen Can Cook
Cooking for Seven
Herbie Likes Spaghetti
umamigirl.com
EllySaysOpa
Bitchincamero
RecipeGirl.com
TasteFood
food & style — seasonal vegetables, recipes, wine tasting notes, videos
Gastronomer's Guide
smitten kitchen
okie dokie artichokie
The Kitchn | Inspiring cooks, nourishing homes
A Thought For Food » where ideas are brought to simmer
FN | Just Recipes
You fed a baby chili?
Kitchen Confidante | sharing taste & inspiration
Renegade Kitchen | serious food for the allergy bound
use real butter
Pinch of Yum – Because life should be yummy!
Tallgrass Kitchen - Simple and delicious cooking from the prairie
Crepes of Wrath
Five And Spice
Not Without Salt
Steamy Kitchen
A Cozy Kitchen
food52
Luna Cafe
No Recipes
Sophistimom