SITES!
Home | Smell Good KitchenSmell Good Kitchen | I'm HeRe FoR tHe FoOd
Eat A Duck I Must!
Mallory's Kitchen
Champagne punch is a great drink for the holidays, and nothing says Happy New Year quite like champagne does. This punch will give you the taste and elegance of freshly made cocktails without the hassle of having to make them individually which is why it's great for a party. It's also super colorful with all the different citrus fruits included. You don't have to go overboard like I did with specialty citrus produce— ruby red grapefruit, orange, lemon and lime will look festive enough.
Lucid Food – Clearly Natural Cooking
Good Food - Good Food
Adventures in Cooking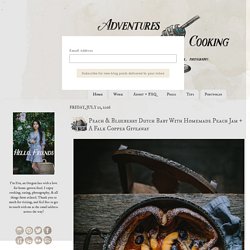 After going through the thousands (not an exaggeration, sadly) of photos I took on our trip to Thailand, I realized that I could not fit everything about Thailand into one post. So, I am breaking it up into three posts, the north, the south, and the center. Each post will be paired with a delicious Thai recipe (or in this case, two!)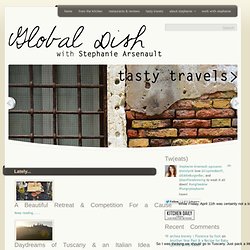 Close Forgot your password? Keep reading...... Keep reading...... Keep reading...... Keep reading......
Global Dish – Stephanie Arsenault - Food & Travel Writer, Eater & Drinker, Photographer & Traveler.
Boulder Locavore | Local.Seasonal.Food.Drink.Travel.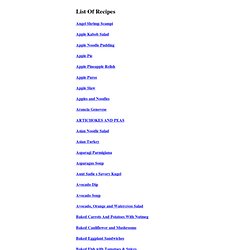 Cookbook Wizard Recipe Software
Angel Shrimp Scampi Apple Kabob Salad Apple Noodle Pudding Apple Pie Apple Pineapple Relish Apple Puree
A Brown Table - Every Meal Should Be Simple but Exciting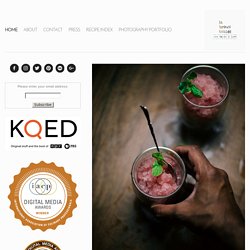 One of my favorite things to do when I work on my blog posts is to sit in the bedroom and have the curtains to the doors pulled back all the way, simply because I can glance outside and enjoy the view of my little garden. It's even more exciting when spring arrives, because I impatiently indulge in multiple glimpses of the little tips of green that are sprouting through the soil or budding off the branches. Not that the incessant staring will make them come any sooner but more so because it reminds me of what my garden looked like in previous year and what it might look this time. I have a mid-shade of a green thumb, I can grow some plants with ease and others, well not so much. I keep getting a little better each year, learning what really works well with me and my garden.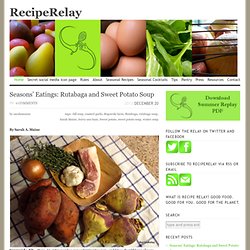 By Sarah A. Maine Sunnyside, NY – Wow. An entire year has gone whizzing by again, and I'm so thankful you all were here to share it with me.
RecipeRelay -
girlichef
One might think that pizza pockets are just a smaller version of a calzone. Smaller and shaped differently. Oh, and they have sauce on the INSIDE. I've heard tell that real calzones would not be caught dead sporting sauce on the inside. Plus, the only cheese acceptable in a real calzone is ricotta. So actually, pizza pockets and calzones really are two entirely different beasts.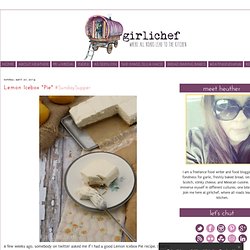 Cookie and Kate - Celebrating whole foods & vegetarian fare
Cook Republic | Food Stories And Art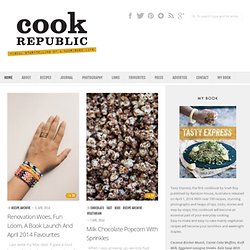 I am at a crossroad today. I look back at the road I have walked for eight years and I can see it scattered with food, sparsely at first and in abundance as the road catches up to where I stand. The first stretch seems to be covered with floppy cakes, burnt cookies, ugly looking curries shot at awkward amateur angles, garish plates, mismatched linen and words that seem too eager to please. As the road moves along, things …
I know I know, horse gram sprouts do not sound appealing. As the name implies, these beans are actually used as cattle and horse feed, but they are also super tasty and extremely nutritious for you. In South India, they are used to make a number of dishes and in Kannada they are referred to as 'hurali.' They can be sprouted really easily and used in salads like usali or soupy dishes like sambar and saaru. Horse gram also is great to eat in the winter and I actually have been breaking it out quite a bit during days plagued by the 'Polar Vortex.' Not only do these sprouts have a ton of iron and help with weight loss, but they also are believed to warm your body up.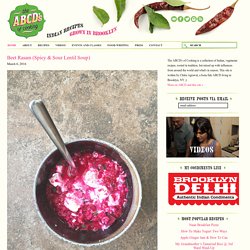 The ABCD's of Cooking
Chef and Steward
I Work in Food! Interview with Karyn Williams-Sykes, top F&B and hospitality trainer Karyn Wiliams-Sykes is quite an indomitable force in the hospitality industry. When you meet her or sit in a training session with her, you get a glimpse of the complex measure of bold strength and soft skills that it takes to really do well in her role.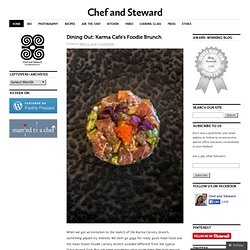 Oatmeal Raisin (Chocolate Chip) Cookie Recipe March 28, 2014 I wanted to be okay with just the raisins and oats . . . . but I really wasn't. I soaked the raisins and started gathering the other ingredients.
weekend recipes | for the love of food!
Family Spice | Spice up your family's meals
It has taken only three or four trips to Mexico to find out that cooks in Mexico, or at least the ones with whom I have had the pleasure of cooking, do amazing things with a blender. My first encounter with this phenomenon was a great cook named Aurelia in Cuernavaca. She made a fresh, smooth, green zucchini soup using very basic ingredients that I still make often. She also used a blender to make the sauce for her Chiles en Nogada, which is a poblano pepper stuffed with savory meat and sweet fresh and candied fruits, topped with a sweet creamy sauce. On my second trip, I met Señora Inez, who was also an accomplished cook.
the meaning of pie
Ling Li Eats
Live lobsters are scary creatures. Even though I know the thick rubber bands wrapped tightly around their claws prevent them from attacking, I still squeal like a little girl whenever I pick up the squirming crustaceans and drop them into the pot of boiling water. I found this hidden supermarket in Chinatown over the summer that sold live lobsters for $2.99/lb. Yes, you heard it, $2.99/lb.
Ceramic Canvas
"We are the Borg. Resistance is futile. You will be assimilated." I don't tend to follow food trends. No culinary groupthink for me.
June 21, 2013 An Update from the Mommie Cooks Clan Hey all!
Mommie Cooks!
Pitchfork diaries
Eating Out Loud
Brooklyn Supper
Leite's Culinaria
Pip & Ebby - Pip & Ebby
Grab A Plate » Exploring what goes on in my kitchen and beyond
Zen Can Cook
Cooking for Seven
Herbie Likes Spaghetti
umamigirl.com
EllySaysOpa
Bitchincamero
RecipeGirl.com
TasteFood
food & style — seasonal vegetables, recipes, wine tasting notes, videos
Gastronomer's Guide
smitten kitchen
okie dokie artichokie
The Kitchn | Inspiring cooks, nourishing homes
A Thought For Food » where ideas are brought to simmer
FN | Just Recipes
You fed a baby chili?
Kitchen Confidante | sharing taste & inspiration
Renegade Kitchen | serious food for the allergy bound
use real butter
Pinch of Yum – Because life should be yummy!
Tallgrass Kitchen - Simple and delicious cooking from the prairie
Crepes of Wrath
Five And Spice
Not Without Salt
Steamy Kitchen
A Cozy Kitchen
food52
Luna Cafe
No Recipes
Sophistimom