Startup
Domain Suggestion Tool - NameTumbler.com
TechCrunch
Pivotal Tracker
Startup Lessons Learned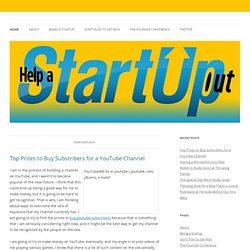 Help a Startup Out
Featured post I am in the process of building a channel on YouTube, and I want it to become popular in the near future. I think that this could end up being a good way for me to make money, but it is going to be hard to get recognition. That is why I am thinking about ways to overcome the lack of exposure that my channel currently has. I am going to try to find the prices to buy youtube subscribers because that is something that I am seriously considering right now, and it might be the best way to get my channel to be recognized by the people on the site.
PartnerUp
KoFounder | Share Ideas. Collaborate. Get Noticed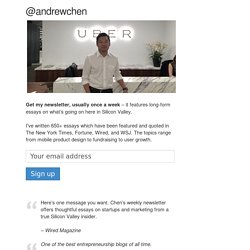 Get my newsletter, usually once a week – it features long-form essays on what's going on here in Silicon Valley. I've written 550+ essays which have been featured and quoted in The New York Times, Fortune, Wired, and WSJ. The topics range from mobile product design to fundraising to "growth hacking." Andrew is one of the smartest geeks in Silicon Valley, and a brilliant and comprehensive virtuoso on a broad array of tech and non-tech topics including internet advertising, viral marketing, web analytics, social networks, online games, and all kinds of web glitter.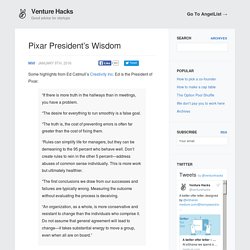 Nivi · February 11th, 2013 AngelList "corporate policy" is that team members should ask forgiveness, not permission. We would rather have someone do something wrong than ask permission to do it. Or better, we would rather have someone do something right and not need permission to do it. This is the most common outcome. We would rather have people ship to production whenever they want, than go through an internal review process.
Startups | Page 3
younggrowth.pdf (application/pdf Object)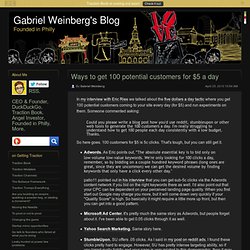 In my interview with Eric Ries we talked about the five dollars a day tactic where you get 100 potential customers coming to your site every day (for $5) and run experiments on them. Someone commented asking: Could you please write a blog post how you'd use reddit, stumbleupon or other web tools to generate the 100 customers a day.
Ways to get 100 potential customers for $5 a day - Gabriel Weinb