Startup
Domain Suggestion Tool - NameTumbler.com
TechCrunch
Pivotal Tracker
Startup Lessons Learned
[Startup Digest]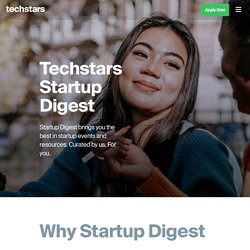 Life is too short to wake up with regrets. Love the people who treat you right. - Bob Marley, Since we founded StartupDigest, we've helped more than 200,000 people around the world get more involved in their local startup communities. Recently, we started a VIP service that helps engineers, designers, and product managers (VIP's) join funded, growing, and meaningful startups.
Help a Startup Out
PartnerUp
KoFounder | Share Ideas. Collaborate. Get Noticed
Startups | Page 3
David H. Hansson, Partner at Never miss an episode! Subscribe in iTunes: Audio (http://bit.ly/TwiStA) || Video (http://bit.ly/TwiStV) Visit http://www.sourcebits.com to begin your web app development journey.
younggrowth.pdf (application/pdf Object)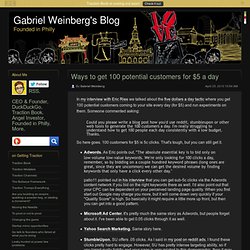 In my interview with Eric Ries we talked about the five dollars a day tactic where you get 100 potential customers coming to your site every day (for $5) and run experiments on them. Someone commented asking: Could you please write a blog post how you'd use reddit, stumbleupon or other web tools to generate the 100 customers a day.
Ways to get 100 potential customers for $5 a day - Gabriel Weinb