George Carlin
A_Challenge_to_Democracy_%281944%29
Japanese American internment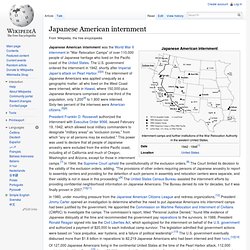 Japanese American internment was the relocation and internment by the United States government in 1942 of about 110,000 Japanese Americans and Japanese who lived along the Pacific coast of the United States to camps called "War Relocation Camps," in the wake of Imperial Japan 's attack on Pearl Harbor . [ 2 ] [ 3 ] The internment of Japanese Americans was applied unequally throughout the United States. All who lived on the West Coast of the United States were interned, while in Hawaii , where the 150,000-plus Japanese Americans composed over one-third of the population, an estimated 1,200 [ 4 ] to 1,800 were interned. [ 5 ] Of those interned, 62% were American citizens . [ 6 ] [ 7 ] President Franklin D. Roosevelt authorized the internment with Executive Order 9066 , issued February 19, 1942, which allowed local military commanders to designate "military areas" as "exclusion zones," from which "any or all persons may be excluded."
YOU HAVE NO RIGHTS - George Carlin
7:52 Bill of rights: bill of temporary priviledges government interested in its own power by dzakyem Jan 10
George Carlin - We Like War (08:03)
George Denis Patrick Carlin (May 12, 1937 – June 22, 2008) was an American stand-up comedian , social critic , satirist , actor , and writer / author who won five Grammy Awards for his comedy albums. [ 22 ] Carlin was noted for his black humor as well as his thoughts on politics , the English language , psychology , religion , and various taboo subjects. Carlin and his " Seven Dirty Words " comedy routine were central to the 1978 U.S. Supreme Court case F.C.C. v. Pacifica Foundation , in which a 5–4 decision by the justices affirmed the government's power to regulate indecent material on the public airwaves . The first of his 14 stand-up comedy specials for HBO was filmed in 1977. From the late 1980s, Carlin's routines focused on socio-cultural criticism of modern American society.