IDE / Dev tools
Labs » Arduino Tool That Connects Each Board to Its Own Source. If you create something with Arduino and put it out into the world, there is no well-established link to the source.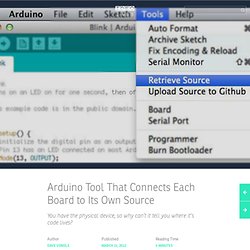 If you personally made the device, the source can get lost over time. If you didn't create it, you could have a tough time tracking the source down. You have the physical device, why can't it tell you where it's code lives? ArduGate | Develop with Arduino. Minibloq. Playground - Eclipse. Eclipse is a free, powerful, and full-featured development environment that can be set up to work with AVR and Arduino.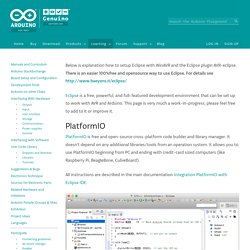 This page is very much a work-in-progress, please feel free to add to it or improve it. This page explains how to setup Eclipse with WinAVR and the Eclipse plugin AVR-eclipse. WinAVR : AVR-GCC for Windows. ArduBlock. Graphical programming with the Arduino IDE.
---