Online Search Tools - Social Web
Kurrently - real-time social media search engine (Twitter, Facebook, Google+) Twitter Photos/Videos - TwiPho, Search twitpic, img.ly, twitvid and yfrog! What Hashtag. Twitter tool to find any existing hashtag. Warning: file_get_contents( [function.file-get-contents]: failed to open stream: HTTP request failed!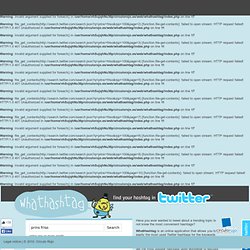 HTTP/1.0 401 Unauthorized in /usr/home/vhSujqhNu36p/circulorojo.es/web/whathashtag/index.php on line 11.
Twitter
Facebook. Social Media Monitoring Wiki - A Wiki of Social Media Monitoring Solutions. Friend Wheel for Twitter. Companies in Social Media Analysis. A global reference to the hundreds of companies that offer products and services for listening to what people are saying in social media Navigating the directory The search box (above and at the top right of every entry) is your friend; the directory contains 508 listings.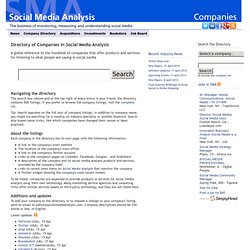 If you prefer to browse the company listings, visit the complete list. Tip: Search operates on the full text of company listings. In addition to company name, you might try searching for a country, an industry specialty, or another keyword. Social Network Analyzer. RSS: Your Social Media Monitoring Secret Weapon. Ever ended a workday and thought: "Whoa, what just happened?"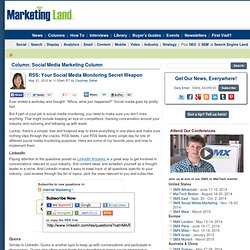 Social media goes by pretty fast. But if part of your job is social media monitoring, you need to make sure you don't miss anything. That might include keeping an eye on competitors, tracking conversation around your industry and nurturing and following up with leads. Like Button. 100+ Social Media Monitoring Tools. 100+ Social Media Monitoring Tools From fans to followers, brands are actively working to engage their current and future customers via social media — and online reputation management is quickly becoming a vital part of doing business.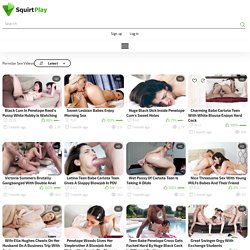 Social media monitoring helps brands discover, in real time, who is saying what online and where the conversations are happening so they can respond in a timely fashion. What The Trend. Find out WHY terms are trending on Twitter. Search » westlandutrechtbank OR "westland utrecht bank" OR "westlandutrecht bank" Top 100 results of at least 277 retrieved for the query westlandutrechtbank OR "westland utrecht bank" OR "westlandutrecht bank" ( details ) ads go here ...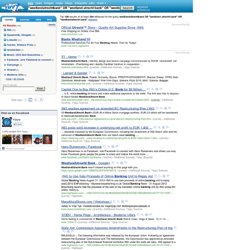 WestlandUtrecht Bank by Lernert and Sander . Justin - FAROO Real Time Search. Real-time Social Media Search and Analytics | Veooz. Search. Lately, there has been a lot of discussion about the future of our information consumption.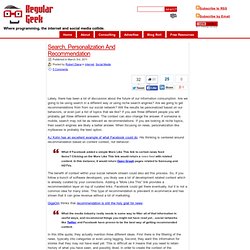 Are we going to be using search in a different way or using niche search engines? Are we going to get recommendations from from our social network? Will the results be personalized based on our behaviors, or even just a list of topics that we like? 'martijn van beek' 31 Free Tools for Brand Monitoring. Brand monitoring is an essential task for any company.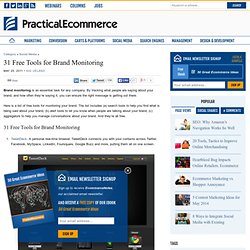 By tracking what people are saying about your brand, and how often they're saying it, you can ensure the right message is getting out there. Here is a list of free tools for monitoring your brand. The list includes (a) search tools to help you find what is being said about your brand, (b) alert tools to let you know when people are talking about your brand, (c) aggregators to help you manage conversations about your brand.
Viralheat | Social media monitoring and analytics. Best Social Media Tools - oneforty. Social Website Analyzer - SEO, SMM & SMA Tool. Hearsay. FAROO - Peer-to-peer Web Search. BlogScope: analyze the blogosphere. Twitter Trending Topics voor Nederland. When did you lose or gain twitter followers? TweetPsych. TweetPsych lists creates a psychological profile of any public Twitter account and compares it to the thousands already in the database.
This identifies those traits that are used more or less frequently by the user analyzed. TweetPsych Report for @dutchital: Hover over the bars to read which criteria they represent. Tweet this report. This user Tweets about learning and education 129% more than the average user. MentionMap - A Twitter Visualization. Yauba - World's first privacy safe, real-time search engine. Search Twitter users by Location and Bio and Create Twitter Lists: LocaFollow. Search and filter options allowing you to find people to follow depending on location, influence, number of followers, how active users are on Twitter and many more!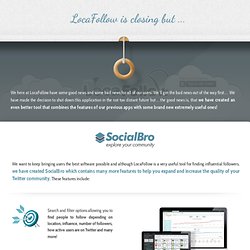 Find the most beneficial people to target so that you can grow and increase the quality of your Twitter community. Find out your best time to tweet, discover the interests of a custom sample of users and endless extra features! To find out more about our product. Social Buzz - Real Time Search for Facebook, Twitter and Google+ Realtime - a bitly labs experiment. Monitter : real time, live twitter search and monitoring. Tweepz.com - search, find and discover interesting people on twitter.
Social Media Search Tool | WhosTalkin? 50 Matches.com | Home. StatusBin | Search Status and Shares on Social Web. PostPost. Xmas. Sency - What's Going On? Scour - Search Socially.
TweetaBoogle - Social Search Redefined. Twitterfall. TweetTabs : Realtime Twitter trends and Twitter search. Welcome to Booshaka. Mention search. Facebook Search for People + Facebook Trends. 48ers - Realtime Social Search. Topsy - Real-time search for the social web. Twitcaps: Real-Time Twitter Image Search. PicFog - Twitter Quick Image Search. Top Twitter Pic Trends and Users. Mashpedia, the real-time encyclopedia.
Username Check Availability Search. Twitter Backup | TweetBackup. BackupMyTweets Home: Backup Your Twitter Account. The Archivist Desktop By Mix Online. Save Tweet Archivist Desktop polls Twitter as frequently as once every five minutes.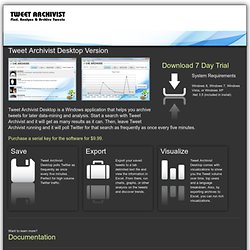 Perfect for high volume Twitter traffic. Top 10 Websites to Back Up Your Tweets. As a matter of fact, all your tweets will be stored on Twitter.com, but only those posted in about 10 days are available for search, and it is hard to track the old tweets, so that to back up your tweets will be useful, especially when you are going to review your old tweets. To back up your tweets, you can check out below 10 websites, all of which will let you do that for free. 1. Google Reader Just subscribe to your Twitter RSS Feed with your Google Reader, then you can back up your tweets automatically and you can also search them easily. Go to Google Reader.
MicroPlaza. Openbook - Connect and share whether you want to or not. Facebook RSS Search. Bing Social Search.
---