Technology
Infographic of the Day: The Next 25 Years in Emerging Tech | Co.Design. Everyday, we blitz you with news of exotic technologies that will change the world -- and so does everyone else.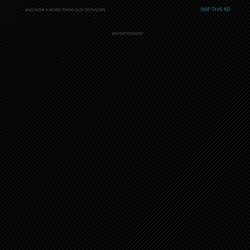 You'd have to be Ray Kurzweil to keep it all straight. But luckily, technologist Michell Zappa has created a simple cheat sheet mapping out all the buzziest technologies in development today. [Click to see full-size] There are two layers of data at work here. The first is obvious: Central nodes represent distinct branches of tech development, from software to AI to internet to "UBICOMP" -- that is, ubiquitous computing. Forum For The Future. Digital Trends. DVICE.
The Future Is Here. Wired. WowWee. Tuvie. TED. TechCrunch. Popular Mechanics. Futurist Thomas Frey Blog. Frog Design. Fast Company.
---