Economy
Amazon Sales Ranking - Understanding How Many Books Amazon Is Selling From Ranks. Calculate How Many Books Amazon Sells from Ranks Subscribe to my publishing blog by Email Note: This analysis is in no way sponsored or approved by Amazon.com.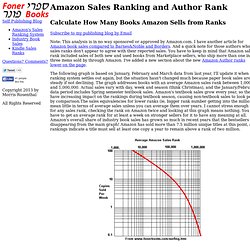 I have another article for Amazon book sales compared to Barnes&Noble and Borders. And a quick note for those authors whose sales ranks don't appear to agree with their reported sales. These 12 Hellholes Are Examples Of What The Rest Of America Will Look Like Soon. Do you want to see where this country is headed?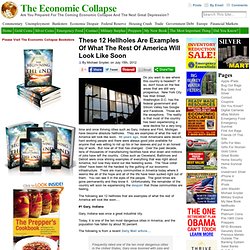 If so, don't focus on the few areas that are still very prosperous. New York City has Wall Street, Washington D.C. has the federal government and Silicon Valley has Google and Facebook. The Scam Wall Street Learned From the Mafia | Politics News. DEAR AMERICA: You Should Be Mad As Hell About This [CHARTS] Death of a Fairy Tale. My dad celebrating because he finally has health insurance and is able to afford his heart medications. : pics. Robert Weidemer's aftershock survival summit predicts the unthinkable. The Aftershock Survival Summit is a gripping, no-nonsense presentation that's quickly becoming a financial beacon in an economic tsunami.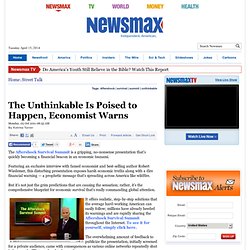 Featuring an exclusive interview with famed economist and best-selling author Robert Wiedemer, this disturbing presentation exposes harsh economic truths along with a dire financial warning — a prophetic message that's spreading across America like wildfire. But it's not just the grim predictions that are causing the sensation; rather, it's the comprehensive blueprint for economic survival that's really commanding global attention. It offers realistic, step-by-step solutions that the average hard-working American can easily follow; millions have already heeded its warnings and are rapidly sharing the Aftershock Survival Summit throughout the Internet. To see it for yourself, simply click here. The capitalist network that runs the world - physics-math - 19 October 2011. AS PROTESTS against financial power sweep the world this week, science may have confirmed the protesters' worst fears.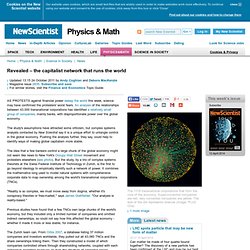 An analysis of the relationships between 43,000 transnational corporations has identified a relatively small group of companies, mainly banks, with disproportionate power over the global economy. The study's assumptions have attracted some criticism, but complex systems analysts contacted by New Scientist say it is a unique effort to untangle control in the global economy. Pushing the analysis further, they say, could help to identify ways of making global capitalism more stable. The idea that a few bankers control a large chunk of the global economy might not seem like news to New York's Occupy Wall Street movement and protesters elsewhere (see photo).
---