Nutrition/Diet
Simple Lunch Box Solutions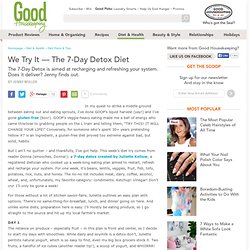 Photo: Istock By Jenny Muller In my quest to strike a middle ground between eating out and eating sprouts, I've done GOOP's liquid harvest (yay!) and I've gone gluten free (boo!). GOOP's veggie-heavy eating made me a ball of energy who came thisclose to grabbing people on the L train and telling them, "TRY THIS! IT WILL CHANGE YOUR LIFE!"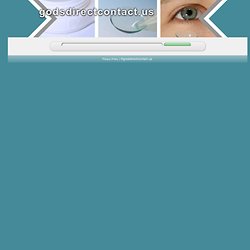 Vegan eating in any restaurants, when eating in anyrestaurants in US, and you are a vegan, what manu / food you should choose?
A&W: website Unfortunately, no items at A&W are vegan. The fries would be except that they are fried in the same oil as the chicken. Applebee's: website Although Applebee's fries in 100% veggie oil, non-veg items may be fried along with veg items. The Sizzling Vegetable Skillet is vegan if requested without butter. You can also order a salad and the steamed vegetable plate.
» 10 Tips for Quitting Smoking
Post written by Leo Babauta . Follow me on Twitter . I recently celebrated my one-year anniversary of quitting smoking. Well, of finally quitting … like most smokers, I had tried to quit many times and failed.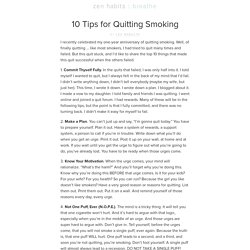 February 01, 2007 For breakfast Best: Spelt toast with peanut butter, mint jelly & honey. Plain oatmeal with banana slices, lots of fresh fruits, raisin bran with soy milk. Some wicked vegan pancakes from How It All Vegan (cookbook). Toasted bagel with scrambled eggs.
Best (and worst) veggie meals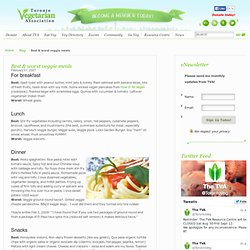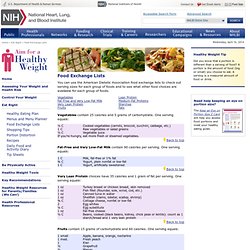 You can use the American Dietetic Association food exchange lists to check out serving sizes for each group of foods and to see what other food choices are available for each group of foods. Vegetables contain 25 calories and 5 grams of carbohydrate. One serving equals: Back to top Fat-Free and Very Low-Fat Milk contain 90 calories per serving.
Vegan Recipes by Category
Vegetarian + Vegan Recipes
Vegan Recipes
Home - Vegan recipes, cooking, baking & desserts, food shopping and eating out - Cooking for Vegans
Simple Vegan Recipes - Easy Vegan Meals
My Vegan Planet Vegan Recipe Website
Vegan Recipes from Plamil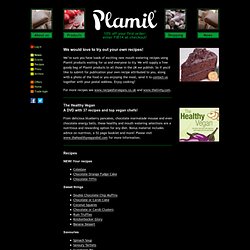 We're sure you have loads of exciting new mouth watering recipes using Plamil products waiting for us and everyone to try. We will supply a free goody bag of Plamil products to all those in the UK we publish. So if you'd like to submit for publication your own recipe attributed to you, along with a photo of the food or you enjoying the meal, send it to contact-us together with your postal address. Enjoy cooking! For more recipes see www.recipesforvegans.co.uk and www.thelivity.com .
Frugal Living in the UK - cheap, economical recipes and meals
About This Site When I started this site up, in April 1997, I wrote some stuff about why I was doing it. You can still read the original page at the Wayback Machine .
Vegan Recipes - Kake's (Vegan) Cookery Site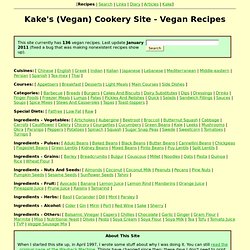 This is a collection of our favourite recipes - it is expanding all the time - to be notified of updates you can sign up for the mailing list , follow us on twitter , or see what weve been eating recently on the blog We highly recommend Goodness Direct as an online health food shop and Approved Food for clearance lines and bargains. Gorgeous, no-cook, tofu cheesecake. Just use our chocolate mousse recipe on top of a biscuit and marg base (we used Co-op ginger nuts). Served here with redcurrants from the garden... scrummy! Most recent additions: Kale Chips , Mushroom Fritatta , Chocolate Gluten Free Fairy Cakes , Banana Raisin Teabread (gluten free) , Lentil Walnut Roast (gluten free) , Gluten free broccoli and sweetcorn quiche , Paprika Pumpkin Soup , Glazed Parsnips and Carrots with Pistachio , Chocolate Solstice Refrigerator Christmas Cake (on blog) , Vegan Cream of Tomato Soup , Tomato, Lentil and Vegetable Soup , Minty Pea and Nettle Soup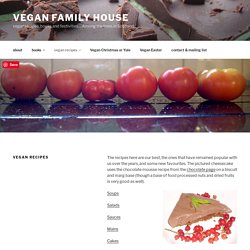 Vegan Recipes from the Vegan Family Kitchen - pure vegetarian dishes
Vegan Campaigns
Parsley Soup - Cherry's Vegan Recipes
Home | Vegetarian Recipe Club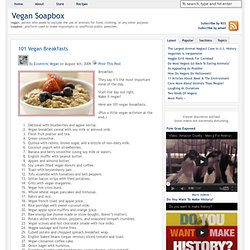 101 Vegan Breakfasts
By Eccentric Vegan on August 6th, 2009 Print This Post Breakfast. They say it's the most important meal of the day. Start the day out right. Make it vegan!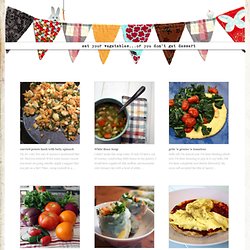 homemade tomato juice (and gazpacho)
Golden Tofucake Golden Vegetable Chowder Gooey Summer Veggies Grapefruit and Avocado Salad
Vegan Recipes
HEALTHY SWEETS How much: Sparingly Healthy choices: Unsweetened dried fruit, dark chocolate, fruit sorbet Why : Dark chocolate provides polyphenols with antioxidant activity. Choose dark chocolate with at least 70 percent pure cocoa and have an ounce a few times a week. Fruit sorbet is a better option than other frozen desserts. RED WINE How much: Optional, no more than 1-2 glasses per day Healthy choices : Organic red wine Why : Red wine has beneficial antioxidant activity. Limit intake to no more than 1-2 servings per day. If you do not drink alcohol, do not start.