Tech-tech
Mac Gems of the Year: 2010 Review | Software | Mac Gems. Mac Gems of the Year 2010 With the end of the year just around the corner, and our our 2010 Eddy Awards and 2010 App Gems Awards in the history books, it's time to take a look at the Mac Gems of the Year—the best of the jewels of the Mac software market.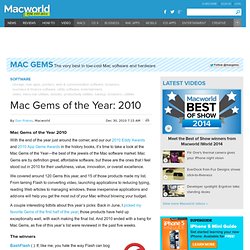 Mac Gems are by definition great, affordable software, but these are the ones that I feel stood out in 2010 for their usefulness, value, innovation, or overall excellence. We covered around 120 Gems this year, and 15 of those products made my list. From taming Flash to converting video, launching applications to reducing typing, reading Web articles to managing windows, these inexpensive applications and add-ons will help you get the most out of your Mac without blowing your budget. A couple interesting tidbits about this year's picks: Back in June, I picked my favorite Gems of the first half of the year; those products have held up exceptionally well, with each making the final list. 4593-Imperial-Code. How to Turn Your PlayStation 3 Into a Linux PC. (Photograph by Jeffrey Westbrook/Studio D) The Cell processor inside Sony's PlayStation 3 is a powerhouse that lets the gaming console render highly detailed graphics at blistering speed.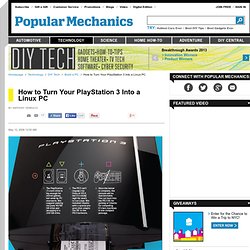 That same chip gives the PS3 all the processing muscle it needs to become a fully functional computer. When we first heard this was possible, we were sure the procedure had to be illegal, or that it would at least void the warranty. Cracking WPA FAST with video cards. Synergy - Welcome - Synergy. Personas | Metropath(ologies) | An installation by Aaron Zinman. 100 Websites To See Before You Die (Part 1) Here at Maximum PC, we've always done our fair share of website recommendation articles--including a couple of doozies from the past few years.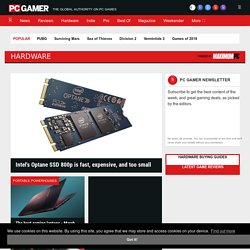 And of course we're not the only ones who do this sort of article either; it's a proven popular format. But this year, we thought we'd mix things up a little bit. Rather than just focusing on what's services are popular, or which web apps will make you the most productive, we wanted to take a look at what's fun on the Internet. In that spirit, our February cover feature is going to be 100 Websites You Need to Visit Before You Die. Free HTML to PDF Converter, Web to PDF Converter.
Mac Software for Advanced OS X Users: 70 Apps. Early in August, we helped to get you started with your Mac by introducing 50 Essential Apps for OS X Beginners.
Today, we will take you to the next level with an incredibly comprehensive list of 70+ apps geared towards advanced users. These apps are a mix of free and paid for software, and in order to provide you with as much information as possible, we've included multiple apps for similar tasks if available. The Usability of Passwords (by @baekdal) #tips. Security companies and IT people constantly tells us that we should use complex and difficult passwords.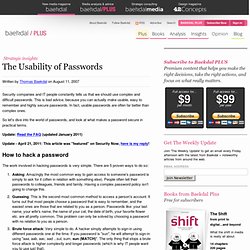 This is bad advice, because you can actually make usable, easy to remember and highly secure passwords. In fact, usable passwords are often far better than complex ones. So let's dive into the world of passwords, and look at what makes a password secure in practical terms. Update: Read the FAQ (updated January 2011) MLIN - My Life Is Nerdy | It's the Nerd Life. The Ultimate Dropbox Toolkit & Guide.
Dropbox, the app we all (at least many of us) know and love, has a plethora of advanced uses to make life so much easier in managing data between multiple computers and online.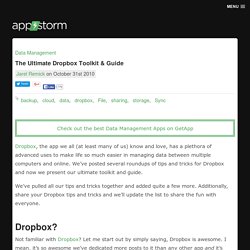 We've posted several roundups of tips and tricks for Dropbox and now we present our ultimate toolkit and guide. We've pulled all our tips and tricks together and added quite a few more. Additionally, share your Dropbox tips and tricks and we'll update the list to share the fun with everyone. How To Recover Data From Scratched Or Damaged Dvds/Cds.
One of my favorite TV shows is The office.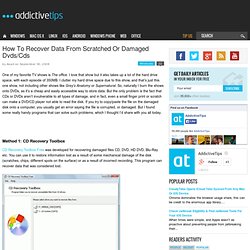 I love that show but it also takes up a lot of the hard drive space, with each episode of 350MB. I clutter my hard drive space due to this show, and that's just this one show, not including other shows like Grey's Anatomy or Supernatural. So, naturally I burn the shows onto DVDs, as it's a cheap and easily accessible way to store data. But the only problem is the fact that CDs or DVDs aren't invulnerable to all types of damage, and in fact, even a small finger print or scratch can make a DVD/CD player not able to read the disk. If you try to copy/paste the file on the damaged disk onto a computer, you usually get an error saying the file is corrupted, or damaged. 50 Mac Apps With Well Designed & Sexy Interfaces.
November 19th, 2009 50 Mac Apps With Well Designed & Sexy Interfaces Ever since the roundup of 21+ essential iPhone apps with sexy interfaces crashed my hosting server (!)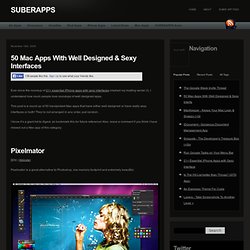 Your World of Text. The Hacker Manifesto. By +++The Mentor+++ Written January 8, 1986 Another one got caught today, it's all over the papers.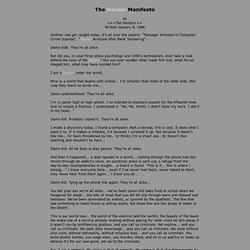 "Teenager Arrested in Computer Crime Scandal", "Hacker Arrested after Bank Tampering"... Damn kids. They're all alike. But did you, in your three-piece psychology and 1950's technobrain, ever take a look behind the eyes of the hacker? BrowserMarketShare. Best. Bar. Ever. - Mona's Posterous.
QDB: Quote Database Home. Social Music Reinvented. 8tracks | Handcrafted internet radio. 15 Web Alternatives to Popular Desktop Software. Web applications have come a long way.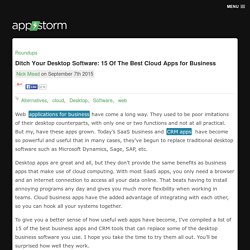 They used to be amateur imitations of their desktop counterparts, with only one or two functions and not at all practical. But my, have these web apps grown. Web apps these days have become so powerful and useful that in some cases, they've begun to replace desktop software. Super OS X menubar items. Essential Mac OS X applications. Things Mac OS X.
Programming
Free Online Computer Science and Programming Books, Textbooks, and Lecture Notes.
---