Gaming
Quickstart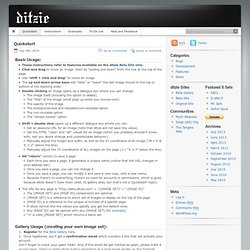 Quickstart
posted Thursday, August 12th 2010 by Brandan Landgraff Fluff/Inspiration Mankind has a well-documented fascination with the heavens. The Sun, the moon, the planets and the stars, as well as other celestial objects like comets and events like eclipses, have all been a field of great interest.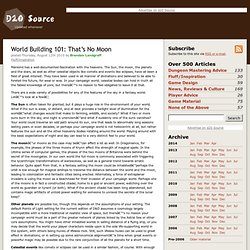 That's No Moon « Jonathan Drain's D20 Source: Dungeons & Dragons Blog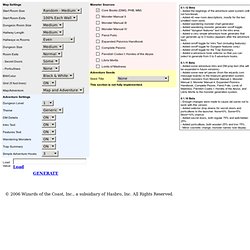 0.1.12 Beta - Added the beginings of the adventure seed system (still not functional). - Added 40 new room descriptions, mostly for the two smallest room sizes. - Added wandering monster chart generator. - Added wandering monster generator on/off toggle. - Added "dungeon features" text to the intro area. - Added a very simple adventure hook generator that can generate up to 5 hooks (appears after the adventure text). - Added on/off toggle for Intro Text (including features) - Added on/off toggle for Dungeon features (only) - Added on/off toggle for the Trap Summary. - Added a adventure hook selector so that you can select to generate from 0 to 5 adventure hooks.
Index of /books
Underlight: Shades of Truth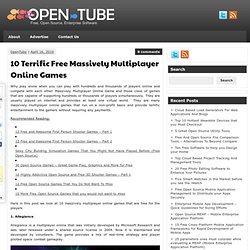 10 Terrific Free Massively Multiplayer Online Games
Why play alone when you can play with hundreds and thousands of players online and compete with each other. Massively Multiplayer Online Game and those class of games that are capable of supporting hundreds or thousands of players simultaneously.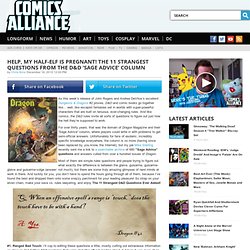 Help, My Half-Elf Is Pregnant! The 11 Strangest Questions From The D&D 'Sage Advice' Column - ComicsAlliance | Comics culture, news, humor, commentary, and reviews
As this week's release of John Rogers and Andrea DeVitos's excellent Dungeons & Dragons #2 proves, D&D and comic books go together like... well, like escapist fantasies set in worlds with super-powerful characters that are built on tenuous, ever-changing rules. And like comics, the D&D rules invite all sorts of questions to figure out just how the hell they're supposed to work.
killyouwithmybrain
If you're enjoying the content here, check out our new site, Thoughtcrime Games . Thanks for visiting!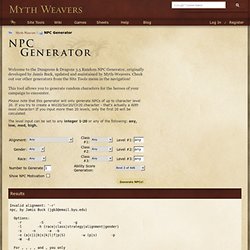 This NPC generator incorporates data and information from the Open Gaming License (OGL) and from the "Creature Collection" Copyright 2000 by Sword and Sorcery Studios. The "Core (PHB)" races, "DMG" races, and "Monster Manual" races are from (respectively) the "Player's Handbook", "Dungeon Master's Guide", and the "Monster Manual", all Copyright 2000 by Wizards of the Coast.
NPC Generator for D&D - Myth-Weavers
dungeon_gen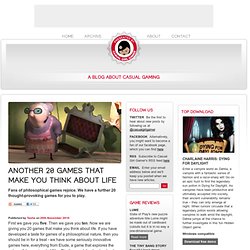 First we gave you five . Then we gave you ten .
Super Mario Bros. 3 Maps | Mario Universe.com
A competitive roleplaying game for three or more people. Everyone is John is a humorous, competitive roleplaying game about playing the various personalities of John, an insane man from Minneapolis. One participant is the GM, or, in Everyone is John lingo, "Everyone Else."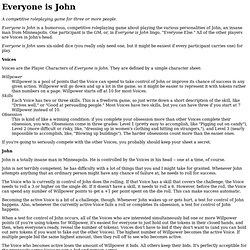 Geekologie
UncleBear Media
Sometimes it's necessary to take a break from work and do something a little more enjoyable — like play games! Of course your employer probably won't allow you to install a desktop game on your computer but fret not, there are plenty of browser-based games to keep you entertained. We've pulled together ten great browser-based games you should definitely check out.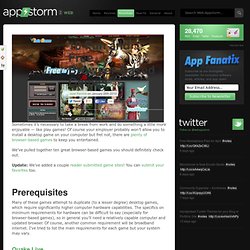 10 Fun and Free Browser-Based Games
Viking Defense - Action Games at Miniclip
Entanglement - by Gopherwood Studios
General infomation
FAQ: Play By Email (PBEM) Role-Playing Games
Big News: This list is available in German courtesy of Lena Eierhoff and Thomas Voß , French courtesy of Jamic, Russian courtesy of Glarion, and now in Spanish courtesy of Ana Pescador , Naxo Fdez , and Daniel Sànchez . Thanks, Glarion!
1KM1KT is a free site devoted to independent RPG authors and developers seeking online exposure for their games. This is a collection of games, and links to games, that I've collected over the past decade.
Ghost Hacker | Armor Games