Free 3D CAD
CNC Machine Shop | Custom Waterjet, Plasma, Laser Cutting | eMachineShop.com. Free-cad. Free 3D Modeling & CAD Software Downloads. Shape on 3DVIA. No matter what your 3D skill level may be, design in 3D with ease using 3DVIA Shape.
Perfect for the beginner, yet powerful enough for the expert, Shape allows you to easily create your ideas in 3D and share them online all for free. Featured Models Check out the latest featured work from our 3DVIA Shape Modeling Community For the week of November 26, 2012 Opera House (concept) V2 Great imaginative use of the deform tools! Eclectic3D | Home of J3DWorkbench. Sculptris. Focus as an artist on pure creativity Enter Sculptris, a fun and engaging way to start off your digital sculpting journey!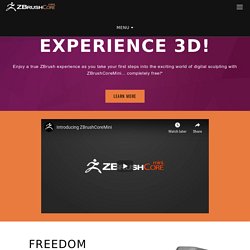 If you're new to the world of digital sculpting, Sculptris is the ideal ground on which to get started. If on the other hand you're experienced in CG, we offer you ZBrush. Software - Products. 3DCrafter™ 3DCrafter is a real-time 3D modeling and animation tool that incorporates an intuitive drag-and-drop approach to 3D modeling.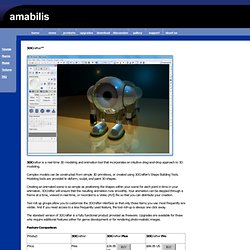 Complex models can be constructed from simple 3D primitives, or created using 3DCrafter's Shape Building Tools. Modeling tools are provided to deform, sculpt, and paint 3D shapes. Free Mechanical Engineering: CAD Software. Google SketchUp. MeshLab. Autodesk 123D - Free 3D Modeling Software, 3D Models, DIY Projects, Personal Fabrication Tools. Autodesk 123D - 123D Catch turn photos into 3D models. Download 123D Catch PC downloads, updates and requirements for 123D Catch.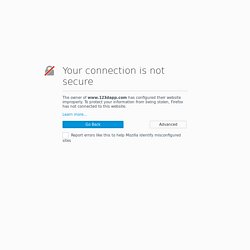 Download 123D Catch for PC View PC system requirements Microsoft® Windows® 7 (32-bit and 64-bit), Microsoft® Windows® XP Service Pack 3 or higher (32-bit and 64-bit) Intel® Core™2Duo 1 GB RAM 1 GB free disk space OpenGL compatible video card (OpenGL version 1.3 recommended) with 256MB or more memory Internet connection Microsoft run-time libraries* *Under most circumstances, the necessary dynamically loadable libraries (DLLs) will be present on your Windows system.
---