Free 3D CAD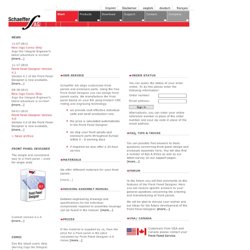 Home - Schaeffer AG - Frontplatten, Front Panels, Faces Avant
Our company will be closed from 12/24/2013 until 12/31/2013. Orders will be processed again normally from 01/02/2014. We wish all our customers a Merry Christmas and restful holidays! You can possibly find answers to basic questions concerning front panel design and enclosure assembly here. You will also find a number of tips & tricks as well as our latest survey on our support pages. [more...]
Free 3D Modeling & CAD Software Downloads - Freeware Files.com
No matter what your 3D skill level may be, design in 3D with ease using 3DVIA Shape. Perfect for the beginner, yet powerful enough for the expert, Shape allows you to easily create your ideas in 3D and share them online all for free. Featured Models Check out the latest featured work from our 3DVIA Shape Modeling Community For the week of November 26, 2012 Opera House (concept) V2 Great imaginative use of the deform tools!
Eclectic3D | Home of J3DWorkbench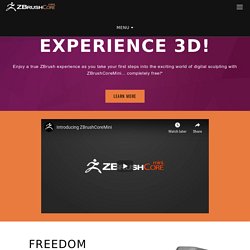 Focus as an artist on pure creativity Enter Sculptris, a fun and engaging way to start off your digital sculpting journey! If you're new to the world of digital sculpting, Sculptris is the ideal ground on which to get started. If on the other hand you're experienced in CG, we offer you ZBrush.
3DCrafter™ 3DCrafter is a real-time 3D modeling and animation tool that incorporates an intuitive drag-and-drop approach to 3D modeling. Complex models can be constructed from simple 3D primitives, or created using 3DCrafter's Shape Building Tools. Modeling tools are provided to deform, sculpt, and paint 3D shapes.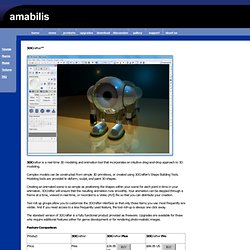 Software - Products
Free Mechanical Engineering: CAD Software
Hi,
Thanks for the update. Never thought about the MS Kinect, will check out the link and update the pearls if I find anything more. by dtreacy Mar 9
Will this do away with 3D Scanners? by dtreacy Feb 22