Free 3D CAD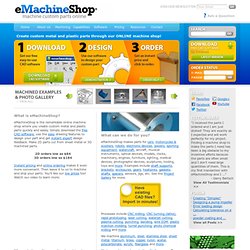 eMachineShop makes parts for cars, motorcycles & scooters, robots, electronic devices, jewelry, sporting equipment, watercraft, aircraft, musical instruments, optical devices, models, clocks, machinery, engines, furniture, lighting, medical devices, photographic devices, sculptures, tooling, toys and more. Examples include shaft supports, brackets, enclosures, gears, heatsinks, gaskets, shafts, spacers, sensors, jigs, etc. See the Project Gallery for more. Processes include CNC milling, CNC turning (lathe), rapid prototyping, laser cutting, waterjet cutting, plasma cutting, punching, bending, wire EDM, plastic injection molding, turret punching, photo chemical milling and more. We machine aluminum, steel, stainless steel, sheet metal, titanium, brass, copper, nylon, acetal, polycarbonate, acrylic, fiberglass and more. We love making parts - whether it's for a one-off project or for production.
FreeCAD is a general purpose feature-based, parametric 3D modeler for CAD , MCAD, CAx , CAE and PLM , aimed directly at mechanical engineering and product design but also fits a wider range of uses in engineering, such as architecture or other engineering specialties. It is 100% Open Source and extremely modular, allowing for very advanced extension and customization. FreeCAD is based on OpenCasCade , a powerful geometry kernel, features an Open Inventor -compliant 3D scene representation model provided by the Coin 3D library, and a broad Python API. The interface is built with Qt . FreeCAD runs exactly the same way on Windows, Mac OSX and Linux platforms.
Free 3D Modeling & CAD Software Downloads - Freeware Files.com
No matter what your 3D skill level may be, design in 3D with ease using 3DVIA Shape. Perfect for the beginner, yet powerful enough for the expert, Shape allows you to easily create your ideas in 3D and share them online all for free. Featured Models Check out the latest featured work from our 3DVIA Shape Modeling Community For the week of November 26, 2012 Opera House (concept) V2 Great imaginative use of the deform tools!
Eclectic3D | Home of J3DWorkbench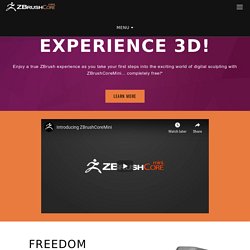 Focus as an artist on pure creativity Enter Sculptris, a fun and engaging way to start off your digital sculpting journey! If you're new to the world of digital sculpting, Sculptris is the ideal ground on which to get started. If on the other hand you're experienced in CG, we offer you ZBrush.
3DCrafter™ 3DCrafter is a real-time 3D modeling and animation tool that incorporates an intuitive drag-and-drop approach to 3D modeling. Complex models can be constructed from simple 3D primitives, or created using 3DCrafter's Shape Building Tools. Modeling tools are provided to deform, sculpt, and paint 3D shapes.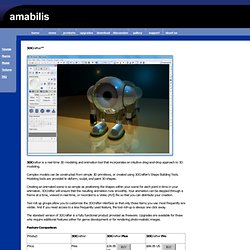 Software - Products
Free Mechanical Engineering: CAD Software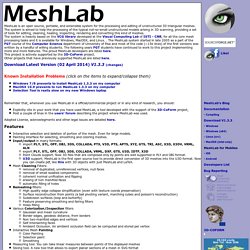 MeshLab is an open source, portable, and extensible system for the processing and editing of unstructured 3D triangular meshes. The system is aimed to help the processing of the typical not-so-small unstructured models arising in 3D scanning, providing a set of tools for editing, cleaning, healing, inspecting, rendering and converting this kind of meshes. The system is heavily based on the VCG library developed at the Visual Computing Lab of ISTI - CNR, for all the core mesh processing tasks and it is available for Windows, MacOSX, and Linux. . The MeshLab system started in late 2005 as a part of the FGT course of the Computer Science department of University of Pisa and most of the code (~15k lines) of the first versions was written by a handful of willing students.