Review Sites
Reviews. " I find the book reviews that are completed for H-Net far above those that are published in journals.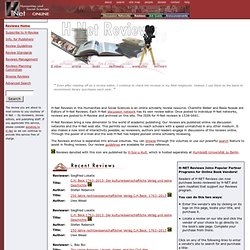 They are more analytically insightful and have a genuine honesty about their usefulness in the classroom. " " The reviews have been an excellent resource for me, in research as well as in teaching. With respect to teaching, due to the online availability of reviews, it's easy to incorporate discussions of recently published literature or recent films in class. " " Reviews and queries about syllabi and course design have been most helpful -- like a constant conference round-table that keeps you connected to the field.
Especially important these days when travel budgets are an endangered species. " " The purchase of (English) academic books for our department now relies entirely on the reviews published at H-Net. " " It is really useful to know through reviews about all the research and the areas people are exploring. Home. Kirkus Reviews Online - Kirkus Book Reviews - KirkusReviews.com. Sidekicks -- graphic novel reviews for kids -- part of no flying no tights. ACQWEBs Directory of Book Reviews on the Web. Booklist Online - Book Reviews - Home. Publishers Weekly. BookPage.com Book Reviews, Author Interviews.
TheBookseller.com | Daily News and Comment for the book business. Genrefluent. Brodart TIPS. Silver TIPS Free monthly lists in an extensive range of subjects and formats for all ages.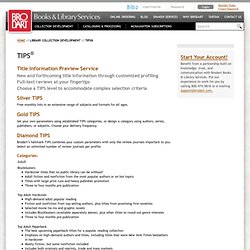 Gold TIPS Set your own parameters using established TIPS categories, or design a category using authors, series, publishers, or subjects. Kirkus Book Reviews. National Union Catalog of Manuscript Collections (NUCMC), Celebrating Fifty Years, 1959-2009, Library of Congress. Jay Hyland, an archivist at the Jewish Museum Milwaukee says, "the NUCMC project has enabled us to display catalog records of many of our archival collections worldwide at a faster rate than if we had tried posting catalog records on our own.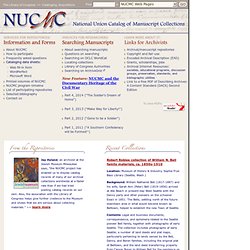 Also, the association with the Library of Congress helps give further credence to the Museum and shows that we are serious about collecting materials. " >> learn more Robert Roblee collection of William N. Bookmarks Magazine | Comprehensive Book Reviews and Coverage. CHOICE. Current Issue April 2014 About the Cover: Ritter Library, Baldwin Wallace University, Berea, OH.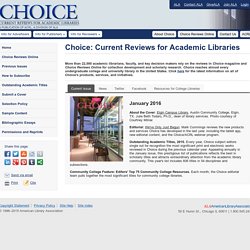 John DiGennaro, director of library services.
---