Review Sites
Reviews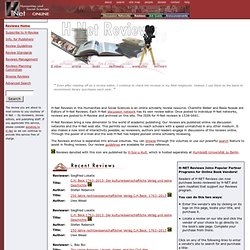 " I find the book reviews that are completed for H-Net far above those that are published in journals. They are more analytically insightful and have a genuine honesty about their usefulness in the classroom. " " The reviews have been an excellent resource for me, in research as well as in teaching. With respect to teaching, due to the online availability of reviews, it's easy to incorporate discussions of recently published literature or recent films in class. " " Reviews and queries about syllabi and course design have been most helpful -- like a constant conference round-table that keeps you connected to the field. Especially important these days when travel budgets are an endangered species. " " The purchase of (English) academic books for our department now relies entirely on the reviews published at H-Net. " " It is really useful to know through reviews about all the research and the areas people are exploring.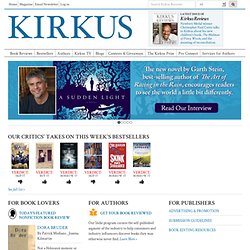 Kirkus Reviews Online - Kirkus Book Reviews - KirkusReviews.com
"Kirkus' review of The Mill River Recluse played an important role in encouraging readers to take a chance on a first novel by an unknown author." — Darcie Chan, independent author of The Mill River Recluse , which sold more that 500,000 copies (Read more about Darcie's success in the Wall Street Journal .) "Kirkus' advertising package helped me draw additional attention to my books.
sidekicks -- graphic novel reviews for kids -- part of no flying no tights
ACQWEBs Directory of Book Reviews on the Web
Genrefluent
Books In Print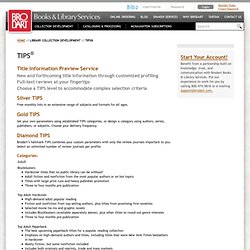 Brodart TIPS
Silver TIPS
National Union Catalog of Manuscript Collections (NUCMC), Celebrating Fifty Years, 1959-2009, Library of Congress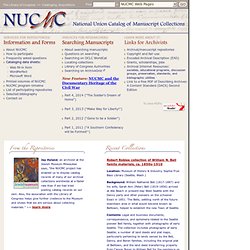 Home Sweet Home Mission papers, 1899-2009 Location: McLean County Museum of History (Bloomington, Ill.) Background: Candy maker Billy Shelper, 1872-1952, founded the Home Sweet Home City Rescue Mission in 1917 after attending a Billy Sunday revival meeting at the Circuit Court Room in the McLean County Courthouse.
Bookmarks Magazine | Comprehensive Book Reviews and Coverage
CHOICE
CURRENT ISSUE: April 2013