Portable
70 Free Useful Portable Applications You Should Know. Portable applications in general are software and programs you can run independently from a removable drives (like flash/pen drive) without going through the hassle of installing them.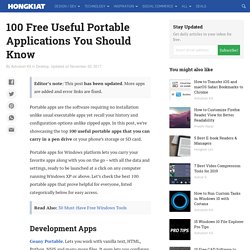 They are widely used and have been a favorite approach for professionals of different various industries. With portable applications, you can leave your laptop behind; plug in the thumb drive in any client machine, run the application without worrying about leaving anything behind. PortableAppZ. PortableLinuxApps - LiberKey - Portable Applications.
5 free portable application suites. If a flash drive is one of those accessories that stays with you at all times, why not use it to carry your favorite applications around, so that you always get to use the same programs with the same settings no matter where you are?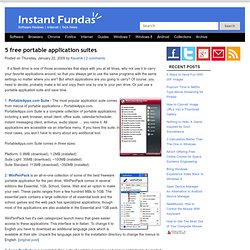 But which applications are you going to carry? Of course, you need to decide, probably make a list and copy them one by one to your pen drive. S BootCD 14.0 - All in one Bootable CD. Antivirus Tools Avira AntiVir Personal Free anti-virus and anti-spyware on-demand scanner, detects and removes more than 50000 viruses and trojans.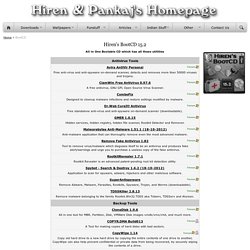 ComboFix Designed to cleanup malware infections and restore settings modified by malware. GMER 1.0.15 Hidden services, hidden registry, hidden file scanner, Rootkit Detector and Remover. Remove Fake Antivirus 1.82 Tool to remove virus/malware which disguises itself to be an antivirus and produces fake alert/warnings and urge you to purchase a useless copy of the fake antivirus. SuperAntispyware Remove Adware, Malware, Parasites, Rootkits, Spyware, Trojan, and Worms (downloadable). 4 portable app suites to power up your USB flash drive. Portable applications suites are a great way to get your hands on a ton of useful software with minimal fuss.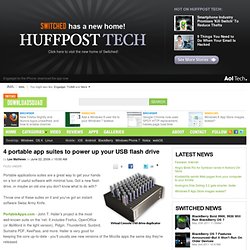 Got a new flash drive, or maybe an old one you don't know what to do with? Throw one of these suites on it and you've got an instant software Swiss Army Knife. PortableApps.com - John T. Haller's project is the most well-known suite on the 'net. Top 5 Portable Apps Suites. Top 5 Portable Apps Suites Posted on January 25th, 2010 under Software I still remember the days when a Floppy Disk was the best thing you had to take your data with you.
The typical floppy was the 3½-inch HD with an enormous 1.44 MB total capacity. Best Free Portable Applications. Best Free Portable Backup Program & Folder Sync Utility: Toucan -- Download | Support | Forum | Editor Review Description: Toucan has a simple interface for syncing and backing up.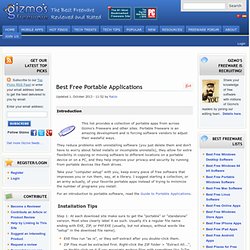 70 Free Useful Portable Applications You Should Know. Portable Application Suites. IObit Toolbox is a free portable collection of tools that can be used to diagnose, repair, and prevent PC problems.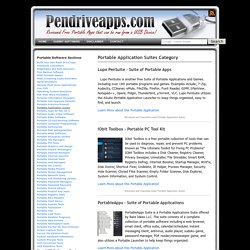 Known as "The Ultimate Toolkit for Fixing PC Problems" IObit Toolbox includes a Disk Cleaner, Registry Cleaner, Privacy Sweeper, Uninstaller, File Shredder, Smart RAM, Registry Defrag, Internet Booster, Startup Manager, WinFix, Disk Doctor, Shortcut Fixer, Undelete, IE Helper, Process Manager, Security Hole Scanner, Cloned Files Scanner, Empty Folder Scanner, Disk Explorer, System Information, and System Control. Learn More about this Portable Application. Best Portable Applications - Main page. Best Free Portable Application Suite For USB Drives. Home » Software » Freeware » Best Free Portable Application Suite For USB Drives Posted by km in Freeware, Open Source, Security, Software, Utilities Portable Application suite, a set of portable application that enhanced your USB drives functionality.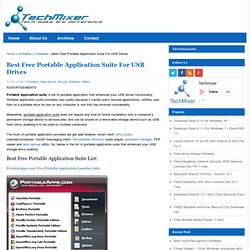 Portable application suite considers very useful because it carries one's favored applications, utilities, and files on a portable drive for use on any computer is one that has evolved considerably. Portables Download Rapidshare Megaupload Hotfile. Spoon lets you run desktop apps anywhere with no installs. Applications » Download Rapidshare, Megaupload, Hotfile, Torrent » eSoft.in Downloads. All categories. Portable Download - RapidShare Links. Rapidig - RapidShare Search Engine. Download Treasure! Portable. Portable Category. Cinema Royal Intro AE Project(CS5) - After Effects Project (Videohive) & Win7dl.com DownloadCinema Royal Intro AE Project(CS5) - After Effects Project (Videohive) HD 1920x1080 | After Effects CS5, CS5.5, CS6 | 332.4 Mb DEMO This is a very very easy to use.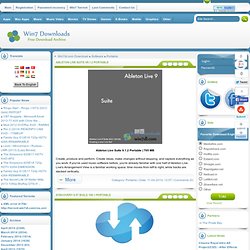 No plug-ins required. 13 Different Animation scenes separate from each other. Just Change the Logo or video or Image and text that you want. Gizmo's Freeware Reviews. Portable. Portable Software. Portable Apps. Portable Apps. Download PORTABLE SOFTWARE. Portable applications. Free Portable Software USB Flash Drive Applications | Pendriveapps.
News. Desideriamo informare gli utenti che è attualmente in corso lo sviluppo di alcune caratteristiche della nostra piattaforma che introdurranno nuove funzionalità, tra cui il supporto multilingua.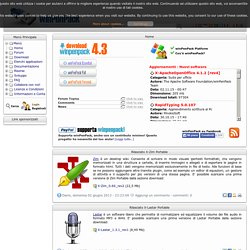 Per questo motivo abbiamo dovuto rallentare temporaneamente l'aggiornamento degli X-Software, che speriamo possa riprendere prima possibile. Purtroppo, l'esiguo numero dei collaboratori attivi e il carattere principalmente volontario del progetto non ci permettono di portare avanti lo sviluppo dei vari componenti di winPenPack, gli aggiornamenti e il sito web come vorremmo. A questo proposito abbiamo deciso di ampliare il winPenPack Team, dando la possibilità a nuovi sviluppatori di entrare a far parte del nostro gruppo. I requisiti di accesso sono una buona conoscenza dei linguaggi di programmazione Autoit3 per il launcher e .NET per il menu, e una grande passione per i programmi portatili. Portable Software For USB Flash Drive: Lupo PenSuite. Portable Software For USB Flash Drive: Lupo PenSuite.
Portable Applications. Portable Download. PortableApps.com - Portable software for USB drives. SoftLab - портал portable-софта!
---