Space
The Asteroid that Flattened Mars
Mars Exploration Rover Mission: Press Releases
PASADENA, Calif. – After a journey of almost three years, NASA's Mars Exploration Rover Opportunity has reached the Red Planet's Endeavour crater to study rocks never seen before. On Aug. 9, the golf cart-sized rover relayed its arrival at a location named Spirit Point on the crater's rim. Opportunity drove approximately 13 miles (21 kilometers) since climbing out of the Victoria crater. "NASA is continuing to write remarkable chapters in our nation's story of exploration with discoveries on Mars and trips to an array of challenging new destinations," NASA Administrator Charles Bolden said. "Opportunity's findings and data from the upcoming Mars Science Laboratory will play a key role in making possible future human missions to Mars and other places where humans have not yet been." Endeavour crater, which is more than 25 times wider than Victoria crater, is 14 miles (22 kilometers) in diameter.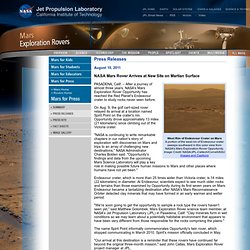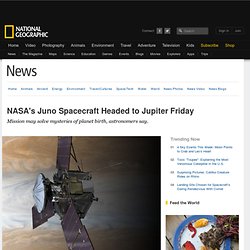 This Friday a NASA spacecraft is slated to launch on a five-year journey to Jupiter . When it arrives, the craft will probe deeper into the gas giant planet than any previous mission, searching for the unseen core hidden below the thick atmosphere. It will also endure the solar system's strongest radiation zone to study the origins of the giant auroras that dance across Jupiter's poles.
NASA's Juno Spacecraft Headed to Jupiter Friday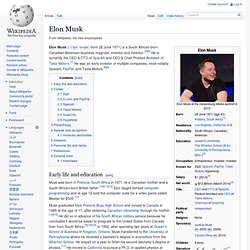 Elon Musk (born 28 June 1971) is a South African-born American entrepreneur. He is best known for founding SpaceX , and co-founding Tesla Motors and PayPal (initially known as X.com). While at those companies, he oversaw the construction of the first electric car of the modern era, the Tesla Roadster , a private rocket known as Falcon 9 / Dragon , and the Internet payment system PayPal .
Astronomy Documentaries | Science Documentaries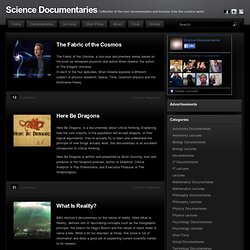 Here Be Dragons, is a documentary about critical thinking. Explaining how the vast majority of the population will accept dragons, or their logical equivalents, than to actually try to learn and understand the principle of how things actually work, this documentary is an excellent introduction to critical thinking. Here Be Dragons is written and presented by Brian Dunning, host and producer of the Skeptoid podcast, author of Skeptoid: Critical Analysis of Pop Phenomena, and Executive Producer of The Skeptologists.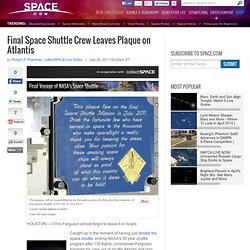 Final Space Shuttle Crew Leaves Plaque on Atlantis | NASA Space Shuttle Prog...
HOUSTON — Chris Ferguson almost forgot to leave it on board. Caught up in the moment of having just landed the space shuttle , ending NASA's 30 year shuttle program after 135 flights, commander Ferguson followed his crew out of shuttle Atlantis and only then realized he had forgotten about the plaque . "If I was as clear thinking as I wish I was right after landing, I would have put it right on there but I had to have someone run back and pull it out of my saddlebag and put it on there for me," Ferguson said Friday (July 22), a day after landing, after his return home to Houston. The small plaque, which was sized to fit perfectly over the center display screen in Atlantis' cockpit, was already a bit of an "afterthought" by the STS-135 crew, one devised with the help of the astronauts' simulator training team.
Catalog Page for PIA01907
Click on the image for Spirit's Winter Panorama Labeled Version Since April of 2006, NASA's Mars Exploration Rover Spirit has been sojourning in a place called "Winter Haven," where the robotic geologist spent several months parked on a north-facing slope in order to keep its solar panels pointed toward the sun. During that time, while the rover spent the daylight hours conducting as much scientific research as possible, science team members assigned informal names to rock outcrops, boulders, and patches of soil commemorating exploration sites in Antarctica and the southernmost islands of South America. Antarctic bases are places where researchers, like the rovers on Mars, hunker down for the winter in subzero temperatures.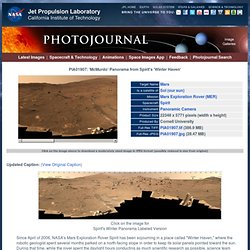 Orbiter Penetrates Mysteries of Martian Ice Cap - NASA Jet Propulsion...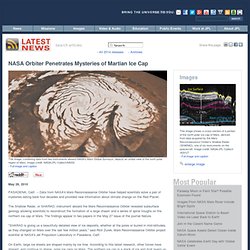 This image, combining data from two instruments aboard NASA's Mars Global Surveyor, depicts an orbital view of the north polar region of Mars. Image credit: NASA/JPL-Caltech/MSSS › Full image and caption May 26, 2010 PASADENA, Calif. -- Data from NASA's Mars Reconnaissance Orbiter have helped scientists solve a pair of mysteries dating back four decades and provided new information about climate change on the Red Planet. The Shallow Radar, or SHARAD, instrument aboard the Mars Reconnaissance Orbiter revealed subsurface geology allowing scientists to reconstruct the formation of a large chasm and a series of spiral troughs on the northern ice cap of Mars.
ESMD
New and Improved Antimatter Spaceship for Mars Missions Most self-respecting starships in science fiction stories use antimatter as fuel for a good reason – it's the most potent fuel known. While tons of chemical fuel are needed to propel a human mission to Mars, just tens of milligrams of antimatter will do (a milligram is about one-thousandth the weight of a piece of the original M&M candy).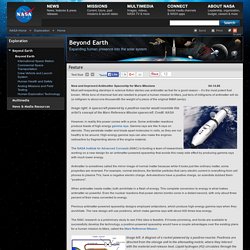 The Spacesuit
NASA Makes Space for Open Source Software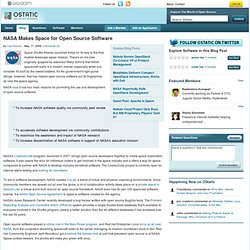 by Lisa Hoover - May. 11, 2009 Comments (2) Space Shuttle Atlantis launched today on its way to the final Hubble telescope repair mission. There's an old joke originally quipped by astronaut Wally Schirra that NASA spacecraft really is a modern marvel, especially when you consider it's built by the lowest bidders.