Psychology
The Psychology of Flow (in under 300 words) What is it like to be fully alive, right now, engaged with what you are doing?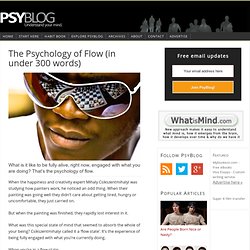 That's the psychology of flow. When the happiness and creativity expert Mihaly Csikszentmihalyi was studying how painters work, he noticed an odd thing. When their painting was going well they didn't care about getting tired, hungry or uncomfortable, they just carried on. But when the painting was finished, they rapidly lost interest in it. What was this special state of mind that seemed to absorb the whole of your being? Internal Time: The Science of Chronotypes, Social Jet Lag, and Why You're So Tired. By Maria Popova Debunking the social stigma around late risers, or what Einstein has to do with teens' risk for smoking.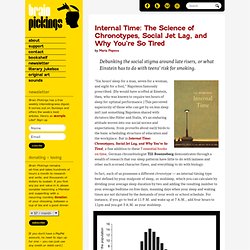 "Six hours' sleep for a man, seven for a woman, and eight for a fool," Napoleon famously prescribed. (He would have scoffed at Einstein, then, who was known to require ten hours of sleep for optimal performance.) Why great ideas come when you aren't trying. History is rich with 'eureka' moments: scientists from Archimedes to Isaac Newton and Albert Einstein are said to have had flashes of inspiration while thinking about other things.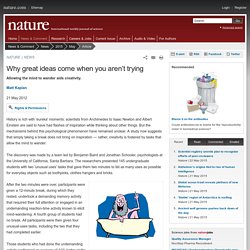 But the mechanisms behind this psychological phenomenon have remained unclear. A study now suggests that simply taking a break does not bring on inspiration — rather, creativity is fostered by tasks that allow the mind to wander. The discovery was made by a team led by Benjamin Baird and Jonathan Schooler, psychologists at the University of California, Santa Barbara. Seasonal Affective Disorder: Shining a light in your ear 'can brighten your winter mood' By Lauren Paxman Updated: 13:31 GMT, 9 November 2011 As the nights get longer, those who suffer from the winter blues will be planning ways to escape to the sunshine.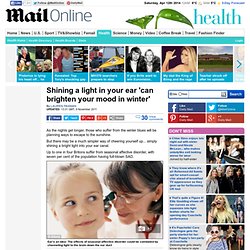 But there may be a much simpler way of cheering yourself up... simply shining a bright light into your ear canal. Up to one in four Britons suffer from seasonal affective disorder, with seven per cent of the population having full-blown SAD. Ear's an idea: The effects of seasonal affective disorder could be combated by channeling light to the brain down the ear duct. A bright word in the ear for those with winter blues. The Impressive Power of a Stranger's Advice. Spend more wisely by learning to take other people's surprisingly accurate advice.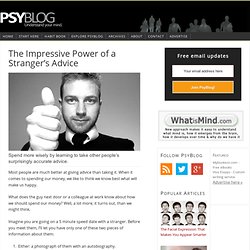 Most people are much better at giving advice than taking it. When it comes to spending our money, we like to think we know best what will make us happy. What does the guy next door or a colleague at work know about how we should spend our money? What The Eyes Reveal: 10 Messages My Pupils are Sending You. The dilation and constriction of the pupils reveals how hard we're thinking, how excited or disgusted we are and more… Our pupils, the black holes which let light into the eyes, don't just help us see, they also signal what's going on in our minds.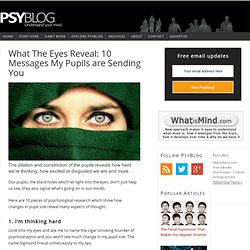 Here are 10 pieces of psychological research which show how changes in pupil size reveal many aspects of thought. Maslow's hierarchy of needs & Social Media – a modern take. Blood test accurately distinguishes depressed patients from healthy controls. Public release date: 1-Feb-2012 [ Print | E-mail Share ] [ Close Window ] Contact: Kristen Stantonkstanton3@partners.org 617-643-3907Massachusetts General Hospital The initial assessment of a blood test to help diagnose major depressive disorder indicates it may become a useful clinical tool.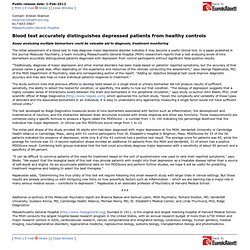 In a paper published in the journal Molecular Psychiatry, a team including Massachusetts General Hospital (MGH) researchers reports that a test analyzing levels of nine biomarkers accurately distinguished patients diagnosed with depression from control participants without significant false-positive results. Working too much is correlated with 2-fold increase in likelihood of depression. Public release date: 25-Jan-2012 [ Print | E-mail Share ] [ Close Window ] Contact: Yael Francoyfranco@plos.org 415-568-3169Public Library of Science.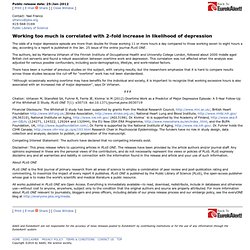 Median Ruby Wax launches Facebook-style website for adults with mental illness. By Sadie Nicholas Updated: 22:00 GMT, 26 November 2011 She has spoken candidly about her own bouts of depression – and now comedian Ruby Wax is hoping to help others, with a ground-breaking social-networking website for adults with mental illnesses.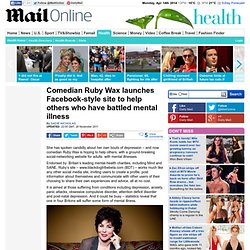 Endorsed by Britain's leading mental-health charities, including Mind and SANE, Ruby's site – www.blackdogtribebeta.com (BDT) – works much like any other social media site, inviting users to create a profile, post information about themselves and communicate with other users of their choosing to share their own experiences and advice, all at no cost. It is aimed at those suffering from conditions including depression, anxiety, panic attacks, obsessive compulsive disorder, attention deficit disorder and post-natal depression. And it could be busy – statistics reveal that one in four Britons will suffer some form of mental illness.
Support network: Ruby Wax's site has the backing of mental health charities. 'I Wanted To Live': New Depression Drugs Offer Hope For Toughest Cases : Shots - Health Blog. Hide captionChris Stephens, 28, who has been battling depression all of his life, plays with his dogs at home in Concord, Calif., on Friday.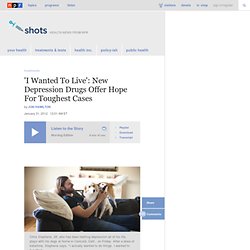 After a dose of ketamine, Stephens says, "I actually wanted to do things. I wanted to live life. " How The Mind Really Works: 10 Counterintuitive Psychology Studies. Ten psychological findings that challenge our intuitive view of how our minds work. Some critics say psychology is just common sense, that it only confirms things we already know about ourselves. Ironically this can be difficult to argue with because once people get some new information they tend to think it was obvious all along. iPad app - How to live better every day - Unstuck. Can An iPad App Really Make You More Productive And Inspired? | Co.Design. Okay, so you're supposed to be working on something and you know you're supposed to be working on that something but, for whatever reason, you can't seem to get going. Surfing the Internet for a while hasn't helped (hint: it never does) but you're wondering if maybe there's a tool to help you get unstuck.
Enter: Unstuck, an app for your iPad. Unstuck is a spin-off from SYPartners, "a company that helps leaders and their teams during times of transformation. " The idea is that you can follow a few easy steps to tell the app about your situation and then it'll give you advice. You start by picking three feelings, filling in some details by multiple choice, and then the app gives you a pile of virtual cards to sort into "so me" and "not me. " Unstuck iPad app - How to live better every day - Unstuck. TV time: Why children watch multi-screens. Public release date: 2-Aug-2011 [ Print | E-mail Share ] [ Close Window ] Contact: Dr Hilary Gloverhilary.glover@biomedcentral.com 44-020-319-22370BioMed Central. Seasonal Affective Disorder – The Basics | A Blog Around The Clock. First published on February 05, 2006. So, why do I say that it is not surprising the exposure to bright light alleviates both seasonal depression and other kinds of depression, and that different mechanisms may be involved?
In mammals, apart from visual photoreception (that is, image formation), there is also non-visual photoreception. The receptors of the former are the rods and cones that you all learned about in middle school. The receptors for the latter are a couple of thousand Retinal Ganglion Cells (RGCs) located in the retina in each eye. Face Research » Psychology experiments about preferences for faces and voices. MBTI and Kiersey. MBTI Wikipedia. MBTI types.
---