Other
Nuts and Bolts: "Thought" Verbs
In six seconds, you'll hate me. But in six months, you'll be a better writer. From this point forward – at least for the next half year – you may not use "thought" verbs.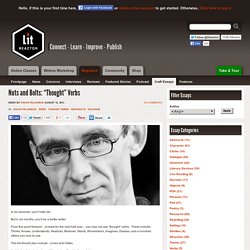 Craft Essays
The Blogger's Guide to Unleashing a Manifesto (or, How to Attract 7,986 More Visitors to Your Blog in 5 Days)
Last week I launched the manifesto 18 Months, 2 Blogs, Six Figures.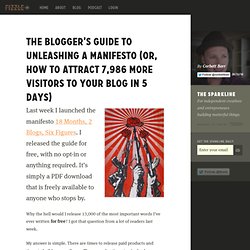 https://s3.amazonaws.com/s3.documentcloud.org/documents/470200/how-to-write-a-book-in-30-days-worksheets.pdf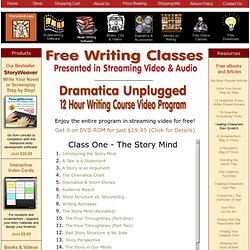 Free Writing Classes in Streaming Video
Class One - The Story Mind 1. Introducing the Story Mind
Free Downloads for Writers - Writing Novels, Books, Screenplays & Screenwriting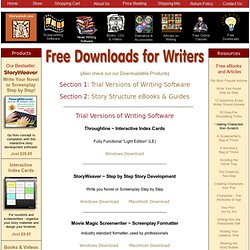 Copyright Melanie Anne Phillips - Owner, Storymind.com, Creator Storyweaver, Co-creator Dramatica Write Your Novelor ScreenplayStep by Step! Go from concept to completion with this interactive story development software!. Just $29.95 InteractiveIndex Cards For novelists and screenwriters - organize your story materials and design your timeline!.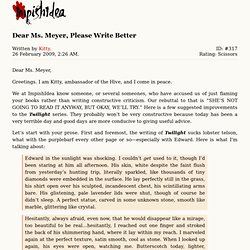 Dear Ms. Meyer, Greetings. I am Kitty, ambassador of the Hive, and I come in peace.
Dear Ms. Meyer, Please Write Better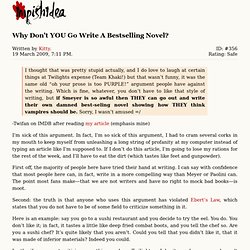 Why Don't YOU Go Write A Bestselling Novel?
I thought that was pretty stupid actually, and I do love to laugh at certain things at Twilights expense (Team Khaki!) but that wasn't funny, it was the same old "oh your prose is too PURPLE!" argument people have against the writing. Which is fine, whatever, you don't have to like that style of writing, but if Smeyer is so awful then THEY can go out and write their own damned best-seling novel showing how THEY think vampires should be. Sorry, I wasn't amused =/ -Twifan on IMDB after reading my article (emphasis mine)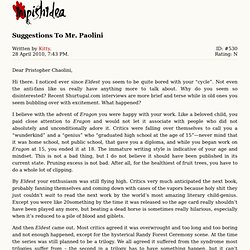 Dear Pristopher Chaolini, Hi there. I noticed ever since Eldest you seem to be quite bored with your "cycle".
Suggestions To Mr. Paolini
Quotes
Myth & Moor: Writing in blood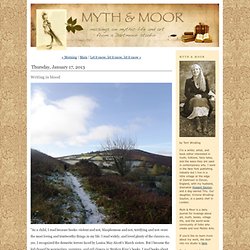 "As a child, I read because books–violent and not, blasphemous and not, terrifying and not–were the most loving and trustworthy things in my life. I read widely, and loved plenty of the classics so, yes, I recognized the domestic terrors faced by Louisa May Alcott's March sisters. But I became the kid chased by werewolves, vampires, and evil clowns in Stephen King's books.
mchkez1ciJ1rqhj8xo1_500.jpg (500×333)
The Office of Letters and Light Blog
Twine: a tool for creating interactive stories
The Columbia University MFA Writing Program is highly regarded for its rigorous approach to literary instruction and for its faculty of acclaimed writers and editors who are devoted and dedicated teachers. The faculty, the students, and the curriculum represent and foster a full range of artistic and literary diversity. Students are encouraged to make the most of their own artistic instincts and to realize as fully as possible, beyond any perceived limitations, their potential as writers. At the core of the curriculum is the writing workshop.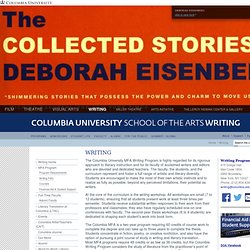 Writing | Columbia University School of the Arts
I Write Like - StumbleUpon
handwriting tips
You've decided you want to improve your handwriting and you're probably hoping a fountain pen will do the trick -- maybe a friend told you it would. Maybe you're just adventurous and you want to try your hand at calligraphy (or you might, once your handwriting improves). Good for you! A fountain pen may make your writing look a bit better, but if your writing looks as if frenzied chickens got loose on the page, chances are this won't be enough. Most likely, you'll need to retrain your arm and hand.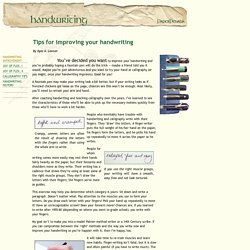 Last Name Generator - The Random Surname Generator!
Jump down to the Generator Thinking of surnames can be a tedious task, whether the last name is for a character in a fictional book, game or for an alias. I am guessing you are here because you are an author and have found it difficult to think of a good surname.
Introducing Write or Die 2 Write or Die is an application for Windows, Mac and Linux which aims to eliminate writer's block by providing consequences for procrastination and, new to this version, rewards for accomplishment. Historically Write or Die has specialized in being the stick in the carrot/stick motivation continuum, but it's time to experiment with encouragement. Please play with the user interface, check out what new options are available, then read this quick intro. I hope you enjoy the new features.
Write or Die by Dr Wicked | Putting the 'Prod' in Productivity
DarkCopy - Simple, full screen text editing
Six Word Stories
letters to crushes: #57660
Ernest Hemingway once said "All American literature comes from one book by Mark Twain called Huckleberry Finn. There was nothing before. There has been nothing as good since."
Seven great writing quotes from seven great American writers
Eight Secrets Which Writers Won't Tell You
Beautiful Word Clouds