Gaming and Education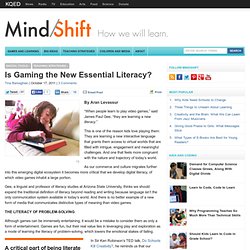 Is Gaming the New Essential Literacy?
By Aran Levassur "When people learn to play video games," said James Paul Gee, "they are learning a new literacy ." This is one of the reason kids love playing them: They are learning a new interactive language that grants them access to virtual worlds that are filled with intrigue, engagement and meaningful challenges. And one that feels more congruent with the nature and trajectory of today's world. As our commerce and culture migrates further into this emerging digital ecosystem it becomes more critical that we develop digital literacy, of which video games inhabit a large portion.
Gaming in Education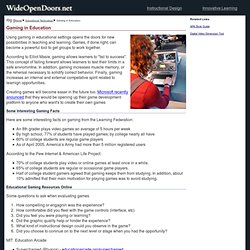 rbg g Home Educational Technology Gaming in Education
You don't have to be a genius to understand the work of the Nobel Laureates. These games and simulations, based on Nobel Prize-awarded achievements, will teach and inspire you while you're having FUN! Blood Typing Game HUMAN BLOOD GROUPS 2012 Winner of the Best Game Category by Swedish Learning Awards.