Développement
Downgraf Coupon Giveaway on Webydo A decade ago designers were just a tiny gear in the website building machine and had no direct influence on the overall performance of their projects; today they are instrumental in creating highly usable, interactive websites and establishing competition on the market. Thus, web designers employed in the most progressive web companies are given more creative freedom and the ability to influence the way their creations operate. However, they may still suffer certain inconveniences tied with the various implementations and human factor issues. So, if you belong to this category of web designers or just want to get your creative juices flowing – get your own, absolutely code-free web design studio where YOU will be put in the driver's seat.
Coupon Giveaway on Webydo: Revolutionizing the Way the Web is Designed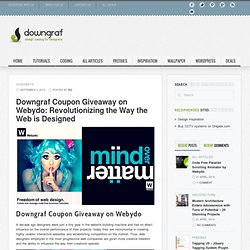 Webydo's Studio is best viewed in the following browsers: Webydo's Studio has been created and tested using Safari, Firefox and Chrome web browsers. We highly recommend that you view our website with one of these browsers. Create exceptional HTML websites from scratch, without writing code.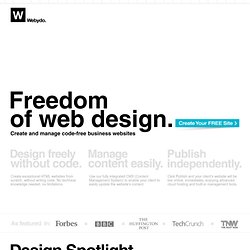 Start Now – Webydo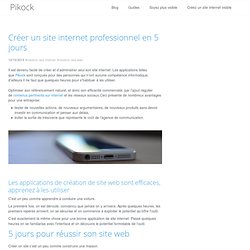 Il est devenu facile de créer et d'administrer seul son site internet. Les applications telles que Pikock sont conçues pour des personnes qui n'ont aucune compétence informatique, d'ailleurs il ne faut que quelques heures pour s'habituer à les utiliser. Ceci présente de nombreux avantages pour une entreprise: optimiser son référencement naturel, et donc son efficacité commerciale, par l'ajout régulier de contenus pertinents sur internet et les réseaux sociaux, tester de nouvelles actions, de nouveaux argumentaires, de nouveaux produits sans devoir investir en communication et penser aux délais, éviter la sortie de trésorerie que représente le coût de l'agence de communication. Les applications de création de site web sont efficaces, apprenez à les utiliser C'est un peu comme apprendre à conduire une voiture.
Créer un site internet en 5 jours
Créer votre site internet autrement - Pikock
26, rue de Charonne 75011 PARIST. +33 (0)1 42 71 48 36F. +33 (0)1 43 55 08 02E. boitenoire@ultranoir.comW. www.ultranoir.com MARS NETWORKS 26, rue du village 13006 MARSEILLET. +33 (0)4 91 48 26 59F. +33 (0)4 91 24 67 02E. commercial@mars-networks.comW. www.mars-networks.com L'utilisateur du site internet ultranoir.com reconnaît disposer de la compétence et des moyens nécessaires pour accéder et utiliser ce site internet.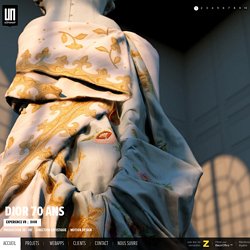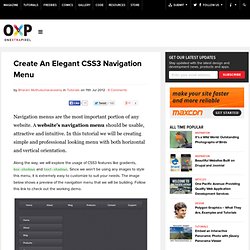 Create An Elegant CSS3 Navigation Menu
Navigation menus are the most important portion of any website. A website's navigation menu should be usable, attractive and intuitive. In this tutorial we will be creating simple and professional looking menu with both horizontal and vertical orientation.
What's New CSS3 Menu v4.6 (December 12, 2013) * New flat skins: Boundary, Sparkle and Volume * New flat icon sets: Fantasy-green, Fantasy-white and Fantasy-red CSS3 Menu v4.5 (November 14, 2013) * New flat skins: Gleam, Sublime and Blurring * New flat icon sets: contour and geometric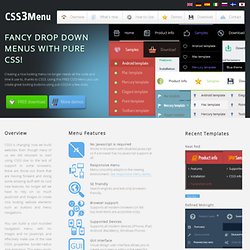 CSS3 Menu. Free CSS Menu Maker
Google Analytics est l'un des outils gratuits d'analyse web les plus populaires au monde. Il permet au webmaster ou à l'éditeur d'analyser la fréquentation de son site Internet et affiner la stratégie marketing. Serge Descombes et Alan Boydell sont deux spécialistes « Data Insights & Analytics » au sein de l'agence parisienne Fifty-Five (collecte, analyse des données, testing, optimisation des dispositifs numériques…). Avec Sébastien Manaches, ils viennent de réactualiser un ouvrage sur Google Analytics : prise en main, utilisations avancées et cas pratiques.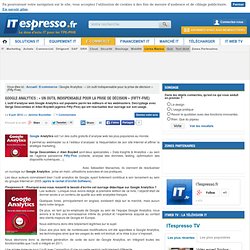 Google Analytics est un outil indispensable pour al prise de décision
Le créateur de portfolio
We've heard a lot about photo-sharing apps over the last year or two, and although the launch of a new social photo app may result in eye-rolling by some, images are becoming an ever-more important medium for communication. As our lives, products, and communications become increasingly visual, content producers, app developers, and site owners alike all have to ramp up their services to meet that escalating demand. Of course, that's easier said than done. That's why Chute, a new Y Combinator startup launching today, doesn't just want to be another photo sharing or syncing app, it wants to be the service every app developer and content producer uses to manage and enhance their photo capabilities. Chute is an Images-as-a-Service startup or, in other words, a cool API for photos. What does that mean?
Y Combinator-Backed Chute Launches A Twilio For Photos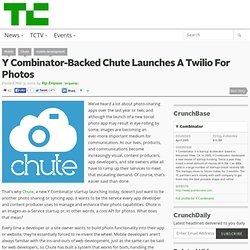 L'arrivée du HTML5 est un vrai chamboulement pour tous les webdesigners : facilité d'usage, plus de possibilité, mais nouvelles balises, nouvelle utilisation… Bref, il faut s'y mettre ! Si le W3C y travaille, après avoir repris le travail du « Web Hypertext Application Technology Working Group » (ou WHATWG), les spécifications finales ne sont pas encore connues et ne sont pas près de l'être. Toutefois, tous les grands acteurs du Web encouragent les développeurs à s'y atteler rapidement, mais le langage deviendra un standard en juillet 2014 a prévenu le W3C. Plusieurs ouvrages sur le sujet ont déjà vu le jour. Adobe avait même présenté un outil capable de convertir du contenu Flash en HTML5. Et certains grands sites se sont lancés dans le bain, à l'image de Deezer par exemple, dont la version bêta (http://beta.deezer.com/fr) est disponible depuis avril dernier.
Toutes les ressources utiles !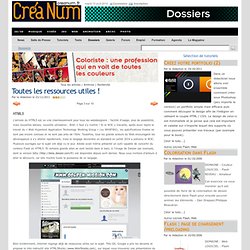 Buy and Sell virtual files, Flash web design, Web templates, Music, Graphics, Video, 3D from $2 - Freemarket.com
Buy Website Templates #31811 on sale for $63 at Freemarket.com
Adobe Muse est disponible en français
Dimanche 6 novembre Webdesign - 6 novembre 2011 :: 19:14 :: Par Nicolas-Lecointre Souvenez-vous, on vous en a parlé en août : Adobe venait de sortir Muse, un outil vous permettant de générer des pages web sans même saisir une seule ligne de code !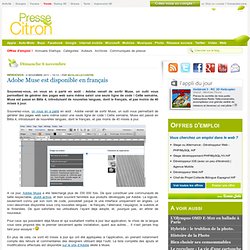 GoMo: An Initiative From Google
Ces derniers temps je parle de plus en plus des terminaux mobiles, et pour cause : ils prennent une place de plus en plus importante dans notre quotidien et surtout dans notre consommation de l'internet (services et contenus). Avec la multiplication des plateformes mobiles et même des formats de terminaux alternatifs, les concepteurs de sites et services en ligne s'arrachent les cheveux pour trouver des solutions à cette fragmentation.
Le responsive design à l'assaut des terminaux mobiles
Le Web Design Réactif par ETHAN MARCOTTE Le contrôle qu'exercent les designers au sein du média imprimé et qu'ils désirent souvent retrouver au sein du virtuel est simplement le produit d'une limitation de la page imprimée.
The English architect Christopher Wren once quipped that his chosen field "aims for Eternity," and there's something appealing about that formula: Unlike the web, which often feels like aiming for next week, architecture is a discipline very much defined by its permanence. A building's foundation defines its footprint, which defines its frame, which shapes the facade. Each phase of the architectural process is more immutable, more unchanging than the last. Creative decisions quite literally shape a physical space, defining the way in which people move through its confines for decades or even centuries. Working on the web, however, is a wholly different matter. Our work is defined by its transience, often refined or replaced within a year or two.