Pakistan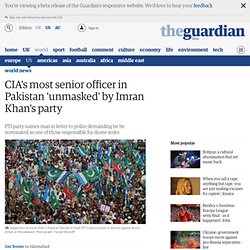 Supporters of Imran Khan's Pakistan Tehreek-e-Insaf (PTI) party protest in Karachi against drone strikes at the weekend.
CIA's most senior officer in Pakistan 'unmasked' by Imran Khan's party | World news
US "war on terror" - Afghanistan & Pakistan
Origins of C.I.A.'s Not-So-Secret Drone War in Pakistan | Rights & Liberties
Pakistan Says U.S. Drone Strike Kills 4 | Rights & Liberties
Afghanistan wants ISI to be declared a terror outfit, renews demand for its ban : Asia
Headlines Today Bureau | Headlines Today | New Delhi, March 7, 2013 | UPDATED 19:16 IST
Urgent Appeal Case: AHRC-UAC-026-2013 25 February 2013 --------------------------------------------------------------------- PAKISTAN: A young man was tortured to death in military custody in Azad Kashmir ISSUES: Torture; arbitrary arrest; intimidation; no rule of law ---------------------------------------------------------------------
A young man was tortured to death in military custody in Azad Kashmir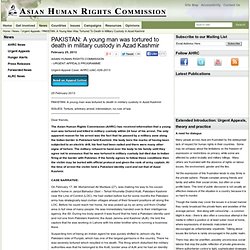 169,144 have signed. Help us get to 1,000,000
Malala's hope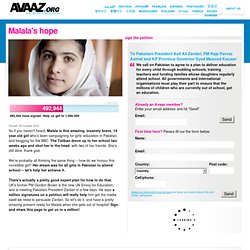 US officials 'question Imran Khan on drones' - Central & South Asia
Imran Khan, the Pakistani cricketer turned politician, has been stopped by US immigration officials and questioned about his views on US drone strikes in his country, party officials have said.
Pakistani authorities halt anti-drone protest - Central & South Asia
Pakistani authorities have stopped a protest over US drone strikes led by cricketer-turned-politician Imran Khan from entering the troubled region of South Waziristan, prompting allegations the government is ambivalent about US actions.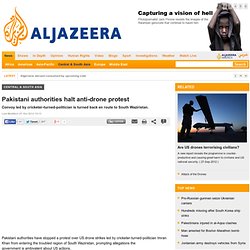 Pakistan: US women internationalists join tribal protest against US drone war | Rights & Liberties
m.guardian.co.uk
In the long history of love songs the attention of a beautiful woman has been compared to many things – but perhaps only in Pakistan's tribal belt would it be likened to the deadly missile strike of a remotely controlled US drone.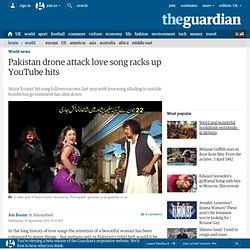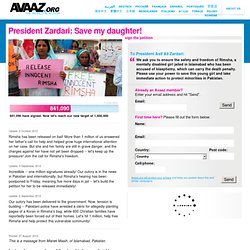 President Zardari: Save my daughter -- 48 hrs left!
87,189 have signed. Now let's reach our new target of 1,500,000 Update: 2 October 2012
Shakil Afridi sentenced to 33 years in treason case
Osama bin Laden was killed in a raid by US Navy SEALS in Abbottabad, an operation Dr Shakil Afridi has been accused of assisting by providing information on Bin Laden's whereabouts through a fake anti-polio campaign in the city .—File Photo PESHAWAR: A Pakistani physician accused of assisting the Central Intelligence Agency (CIA) in obtaining DNA samples of Osama Bin Laden through a fake vaccination campaign was, on Wednesday, convicted for involvement in anti-state activities by a tribal court, a senior government official said. "Dr Shakil Afridi was produced before a four-member tribal court Wednesday morning and was sentenced to 33 years in prison and also given a 3,20,000-rupee fine," Political Agent, Khyber tribal region, Mutahir Zeb Khan told Dawn. Soon after his conviction, Afridi was sent to the Central Prison in Peshawar.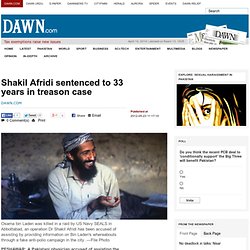 When the ICT R&D fund in Pakistan announced a call for proposals earlier this year for a "National URL Filtering and Blocking System" inviting companies, academia and research institutions to bid; my reaction was of shock and disbelief. Not because censorship is a new phenomenon in Pakistan — in fact it has been legitimized and often protected under the constitution camouflaged as an initiative to counter blasphemy, immorality and national security threats — but because of the audacity of making the bid publicly, and also involving institutions that are likely to be censorship's biggest victims. It is perhaps the first time that a government has announced its plans for censorship publicly. In the past years, Pakistan's government has been involved in covertly censoring the Internet, the acquiring of a National URL Filtering and Blocking System would be the last nail in the coffin.
Pakistan: Unpacking an Anti-Censorship Campaign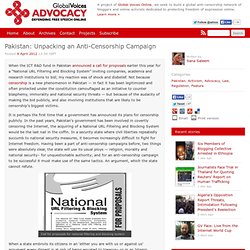 The Pakistani government is looking for new ways to censor the Internet. This week, the Pakistani Telecommunication Authority (PTA) released a Request for Proposals (RFP) for the development, deployment and operation of a "National Level URL Filtering and Blocking System," calling on institutions to submit by March 2nd a feasible proposal that would allow the government to institute a large-scale filtering system. Shockingly, the RFP requires: "Each [filtering] box should be able to handle a block list of up to 50 million URLs (concurrent unidirectional filtering capacity) with processing delay of not more than 1 milliseconds." While content filtering and blocking has existed in Pakistan for the past few years, it has been executed manually and has thus been inconsistent and intermittent. The state's latest effort to subsidize a comprehensive, automated censorship regime is deeply troubling.
This Isn't a Hoax: Pakistan Requests Proposals for a National Filtering and Blocking System
Pakistan to ban encryption software | World news
Millions of internet users in Pakistan will be unable to send emails and messages without fear of government snooping after authorities banned the use of encryption software.
The National ICT R&D Fund invites proposals from academia/research institutions, companies, organizations for the development, deployment and operation of a national level URL Filtering and Blocking System. Institutions/organizations/companies desirous of developing, deploying and managing the proposed system are requested to submit their proposals to the ICT R&D Fund Islamabad by 1500 hrs on 2nd March, 2012 as per the prescribed format.…Internet access in Pakistan is mostly unrestricted and unfiltered.
Pakistan Internet Filtering and URL Blocking System Request for Proposal | Public Intelligence
Countering extremism in Pakistan
The disappearances and extrajudicial killings continue and not a single day goes by without the abduction and murder of activists. The family members of disappeared persons who were holding a protest meeting and token hunger strike outside the Quetta Press Club at the capital of Balochistan province were warned by some plain clothed persons that they should wind up their meeting otherwise they would face serious problems. Since July 2010 to date, there have been 215 extrajudicial killings of missing persons. It is also reported that police and plain clothed persons had approached the newspaper hawkers and book stalls and stopped them not to keep the Daily Tawar which generally vocal on the actions of military and Para-Military forces against the people of Balochistan. The group, Reporters without Borders (RSF) has shown its outrage at the murder of Javed Naseer Rind, former deputy editor of the newspaper, which is close to nationalist and pro-independence groups in Balochistan.
PAKISTAN: The bullet riddled bodies of nine more missing persons including one journalist were found
Occupy Lahore rally
Bashar al-Assad for president ... of Pakistan
Once again, Pakistan and the United States are in crisis mode. Admiral Mike Mullen, the outgoing US Chairman of the Joint Chiefs of Staff, has publicly accused the Pakistani intelligence service, the ISI, of acting in league with the so-called Haqqani Network, which the US deems responsible for the recent attack on its embassy compound in Kabul, merely the latest of a string of alleged outrages. This has precipitated the usual round of recriminations, with the US threatening to take unilateral action against the Haqqanis on the Pakistani side of the Durand Line, the Pakistanis vowing to defend their sovereignty, and the American Congress making the usual noises about curtailing and further conditioning grants of aid to its duplicitous Pakistani ally. Indeed, relations between the two countries, having suffered a recent series of successive declines, now threaten to enter a tailspin from which they cannot recover.
U.S. drone strikes in Pakistan
‪Quaid-i-Azam Muhammad Ali Jinnah - Aug 15, 1947‬‏
Medico-legal report confirms severe torture
Pakistan and the Mumbai Attacks: The Untold Story
Trial Testimony Intensifies Allegations Pakistan is Playing Double Game
Pakistan Papers DAWN.COM | Latest news, Breaking news, Pakistan News, World news, business, sport and multimedia
South Asia news, business and economy from India and Pakistan
Karachi Journal - Pakistanis Find Success in Fetish Business