Social Media
Billions of messages are fired off each week via Twitter, many of which capture defining moments in history, or in the evolution of the San Francisco-based firm. Below is a sampling of 10 memorable tweets since the Twitter era began.
The History Of Twitter In 10 Tweets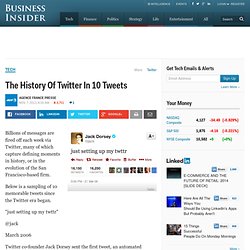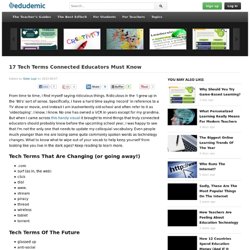 17 Tech Terms Connected Educators Must Know
From time to time, I find myself saying ridiculous things.
Technology for the Classroom | Social Networking Inspires Collaboration in the Elementary Classroom | Houghton Mifflin Harcourt
By Denise Phillips Fostering strong communication skills.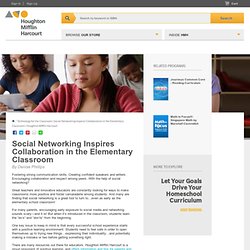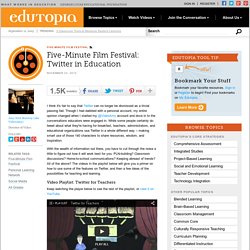 I think it's fair to say that Twitter (1) can no longer be dismissed as a trivial passing fad. Though I had dabbled with a personal account, my entire opinion changed when I started my @VideoAmy (2) account and dove in to the conversations educators were engaged in. While some people certainly do tweet about what they're having for breakfast, teachers, administrators, and educational organizations use Twitter in a whole different way -- making smart use of those 140 characters to share resources, wisdom, and inspiration.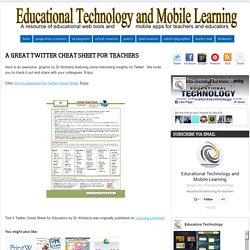 I am currently working on an eBook about the use of Twitter in education which I will be offering here for free in the next few coming weeks.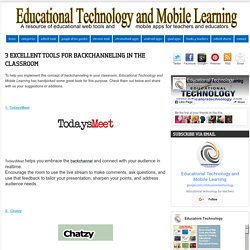 3 Excellent Tools for Backchanneling in The Classroom
Hosting backchannel discussions with your students in the classroom has several advantages for their learning.
50 Education Twitter Hashtags Perfect For Parents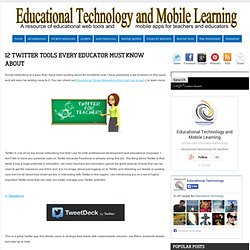 12 Twitter Tools Every Educators Must Know about
Social networking is a topic that I have been posting about for sometime now. I have published a set of series on this issue and will soon be adding more to it. You can check out Educational Social Networking from part one to part 4 to learn more. Twitter is one of my top social networking tool that I use for both professional development and educational purposes.
April 2, 2012, 2:53 p.m.
Tweet, Tweet, Go the Kindergartners – SchoolBook
Global Digital Citizen – the role of the teacher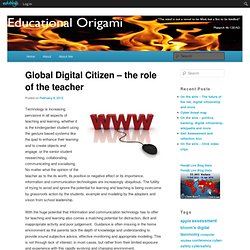 Technology is increasing pervasive in all aspects of teaching and learning, whether it is the kindergarden student using the gesture based systems like the ipad to enhance their learning and to create objects and engage or the senior student researching, collaborating, communicating and socialising. No matter what the opinion of the teacher as to the its worth, its positive or negative effect or its importance, information and communication technologies are increasingly ubiquitous. The futility of trying to avoid and ignore the potential for learning and teaching is being overcome by grassroots action by the students, example and modeling by the adopters and vision from school leadership. With the huge potential that Information and communication technology has to offer for teaching and learning also comes a matching potential for distraction, illicit and inappropriate activity and poor judgement.
Social Media: It Does Have a Place in the Classroom
Features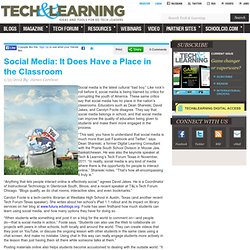 10 Things You Need To Know About Facebook Right Now
Twitter, Facebook, LinkedIn: The Pros And Cons Of Social Media In Education [INFOGRAPHIC]
Mom This is How Twitter Works
10 Pro Tips for Writers Using Social Media
We recently covered 10 inspiring social networks for writers that can help you extend your influence and develop your content. But what about the mainstream networks? How do you successfully raise your profile and gain a following? Six well-known authors and writers, who are experts in this type of personal branding, share their methods and suggestions on how to use social media to push yourself forward in the writing industry. Whether you've been using social media for a while or you're just starting out, you might learn something new. 1.
MIT OpenCourseWare: Will it work for you?
Free White Paper: "MIT OpenCourseWare: Will it work for you?" The Massachusetts Institute of Technology (MIT), one of the most prestigious universities in the world, opened its doors to the world by launching their MIT OpenCourseWare initiative, which aims to offer free educational resources for anyone, anywhere. With this paper, you will learn the experiences of educators, self-paced learners, and students who have been using MIT OpenCourseWare to supplement their learning and teaching efforts. This paper aims to explore the possibilities of learning via open educational resources and limitations posed when learning is not facilitated by a teacher. It will help teachers and learners understand how they can use MIT OpenCourseWare.
Ten meta-trends impacting learning |
In a world where libraries are completely reinventing themselves, where universities and schools are moving away from labs to BYOD, and where the focus of everything seems to be on mobiles —what will be the role of technology in the next decade? What do leading institutions need to be doing now to prepare? What are the strategies that will provide them the most flexibility?
Angry Birds Statistics [Infographic]
More Teens Turning to Twitter
The Innovative Educator: Back to School Questions for Innovative Families to Ask Their Children