Social Media
Teachers Guide to Teaching Using Social Media. March 26, 2014 The growing popularity and the pervasive use of social networking websites among our teens and students is a fact we can no longer ignore.
Unfortunately, many school boards still promulgate laws that inhibit access to these platforms in schools and thus missing on huge learning opportunities for students. Instead of forcing an unwarranted ban on these media tools why not embrace them and turn them into learning hubs where our students can thrive academically. Using social media in education has got such a huge potential and there are a variety of ways teachers and schools can leverage the networked power of these tools to help students achieve better. Here are some of the ideas I highlighted from the graphic below on how to use social media in class: 1- Facebook. The History Of Twitter In 10 Tweets. Billions of messages are fired off each week via Twitter, many of which capture defining moments in history, or in the evolution of the San Francisco-based firm.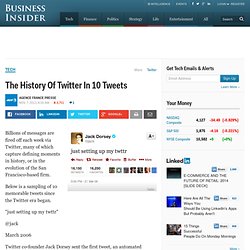 Below is a sampling of 10 memorable tweets since the Twitter era began. "just setting up my twttr" @jack March 2006 Twitter co-founder Jack Dorsey sent the first tweet, an automated message saying "just setting up my twttr. " 17 Tech Terms Connected Educators Must Know. From time to time, I find myself saying ridiculous things.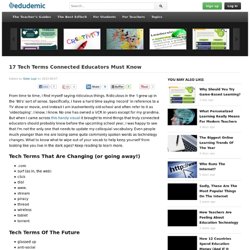 Ridiculous in the 'I grew up in the '80′s' sort of sense. Specifically, I have a hard time saying 'record' in reference to a TV show or movie, and instead I am inadvertently old-school and often refer to it as 'videotaping'. I know, I know. No one has owned a VCR in years except for my grandma. Technology for the Classroom | Social Networking Inspires Collaboration in the Elementary Classroom | Houghton Mifflin Harcourt.
By Denise Phillips Fostering strong communication skills.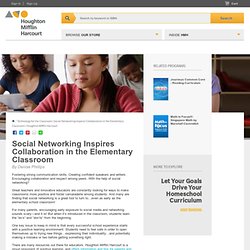 Creating confident speakers and writers. Encouraging collaboration and respect among peers. With the help of social networking? Great teachers and innovative educators are constantly looking for ways to make classrooms more positive and foster camaraderie among students. Five-Minute Film Festival: Twitter in Education. I think it's fair to say that Twitter can no longer be dismissed as a trivial passing fad.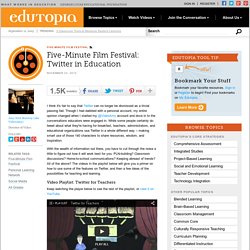 Though I had dabbled with a personal account, my entire opinion changed when I started my @VideoAmy account and dove in to the conversations educators were engaged in. While some people certainly do tweet about what they're having for breakfast, teachers, administrators, and educational organizations use Twitter in a whole different way -- making smart use of those 140 characters to share resources, wisdom, and inspiration. A Great Twitter Cheat Sheet for Teachers. I am currently working on an eBook about the use of Twitter in education which I will be offering here for free in the next few coming weeks.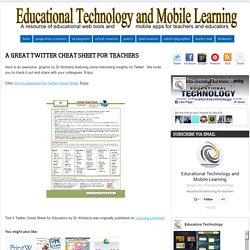 I also have other free surprises for you and I will probably let them be special gifts to you on New Year's Eve. However, as I was reading some of the resources other educators have written on Twitter I came across this awesome graphic by Dr Kimberly. As you can see , the graphic is really well designed and contains most of the things you need to know about Twitter . 3 Excellent Tools for Backchanneling in The Classroom. Hosting backchannel discussions with your students in the classroom has several advantages for their learning.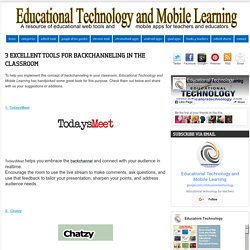 Backchanneling allows those shy and reluctant students to participate and share their thoughts. This is particularly the case with those students who are verbally incapable of engaging in open discussions. Backchanneling will also let you address specific learning issues that might raise in your lessons. 50 Education Twitter Hashtags Perfect For Parents. 12 Twitter Tools Every Educators Must Know about. Social networking is a topic that I have been posting about for sometime now.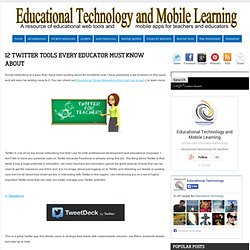 I have published a set of series on this issue and will soon be adding more to it. You can check out Educational Social Networking from part one to part 4 to learn more. Twitter is one of my top social networking tool that I use for both professional development and educational purposes. An Educators Guide To Twitter. Tweet, Tweet, Go the Kindergartners – SchoolBook. "Tweet, tweet, tweet!"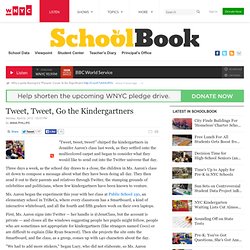 Chirped the kindergartners in Jennifer Aaron's class last week, as they settled onto the multicolored carpet and began to consider what they would like to send out into the Twitter universe that day. Three days a week, as the school day draws to a close, the children in Ms. Aaron's class sit down to compose a message about what they have been doing all day. They then send it out to their parents and relatives through Twitter, the stamping grounds of celebrities and politicians, where few kindergartners have been known to venture. Ms. Global Digital Citizen – the role of the teacher. Technology is increasing pervasive in all aspects of teaching and learning, whether it is the kindergarden student using the gesture based systems like the ipad to enhance their learning and to create objects and engage or the senior student researching, collaborating, communicating and socialising.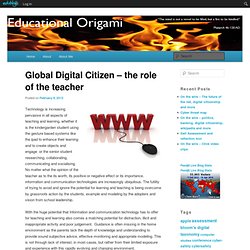 No matter what the opinion of the teacher as to the its worth, its positive or negative effect or its importance, information and communication technologies are increasingly ubiquitous. The futility of trying to avoid and ignore the potential for learning and teaching is being overcome by grassroots action by the students, example and modeling by the adopters and vision from school leadership. With the huge potential that Information and communication technology has to offer for teaching and learning also comes a matching potential for distraction, illicit and inappropriate activity and poor judgement.
Social Media: It Does Have a Place in the Classroom. 1/31/2012 By: James Careless Social media is the latest cultural "bad boy." Like rock'n roll before it, social media is being blamed by critics for corrupting the youth of America. These same critics say that social media has no place in the nation's classrooms. 10 Things You Need To Know About Facebook Right Now. As Facebook filed for its initial public offer, it's the perfect time to examine the website's performance online and how its audience compares with that of other social networks. Given the expected $75 billion to $100 billion initial valuation of Facebook, we're all already aware of the magnitude of the business.
Below we reveal how much of a behemoth the website itself is in the U.S. and other markets. Facebook captures one in every eleven Internet visits in the U.S. Twitter, Facebook, LinkedIn: The Pros And Cons Of Social Media In Education [INFOGRAPHIC] Mom This is How Twitter Works. 10 Pro Tips for Writers Using Social Media. We recently covered 10 inspiring social networks for writers that can help you extend your influence and develop your content. But what about the mainstream networks? How do you successfully raise your profile and gain a following?
Six well-known authors and writers, who are experts in this type of personal branding, share their methods and suggestions on how to use social media to push yourself forward in the writing industry. Whether you've been using social media for a while or you're just starting out, you might learn something new. 1. MIT OpenCourseWare: Will it work for you? InShare19 Since the establishment of the first university in 1148, these institutions have primarily been reserved for those who could afford a higher education. This was a clear denial of the four human rights in education : ✔ The right to availability of schools and teachers. ✔ The right to accessibility that if free of obstacles such as legal, financial, and distance. Ten meta-trends impacting learning | The A-Z Dictionary of Educational Twitter Hashtags. Angry Birds Statistics [Infographic] More Teens Turning to Twitter. How a 140-Character Twitter Resume Could Land Your Next Job. Can Facebook Get You a Job? [INFOGRAPHIC]
The Innovative Educator: Back to School Questions for Innovative Families to Ask Their Children.
---