Research skills
Teach Students to Search with Google
I posted this yesterday on Google+ and it seems to have been well-received so I thought I'd share it again. In February of 2010 I designed a short activity for my students to compare textbooks, Wikipedia, and primary source documents on a given topic.
Comparing sources: wikipedia, textbooks, primary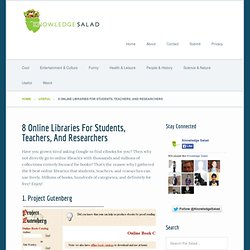 Have you grown tired asking Google to find eBooks for you? Then why not directly go to online libraries with thousands and millions of collections entirely focused for books? That's the reason why I gathered the 8 best online libraries that students, teachers, and researches can use freely.
8 Online Libraries For Students, Teachers, And Researchers