Urbanfarming
Projects. Capital Growth: The campaign for 2,012 new food growing spaces in London. URBAN FARM™ Online - Sustainable City Living. It doesn't take a farm to have the heart of a farmer.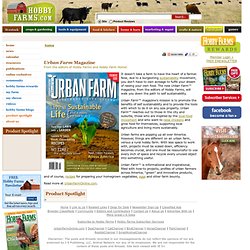 Now, due to a burgeoning sustainability movement, you don't have to own acreage to fulfill your dream of raising your own food. The new Urban Farm™ magazine, from the editors of Hobby Farms, will walk you down the path to self sustainability. Urban Farm™ magazine's mission is to promote the benefits of self sustainability and to provide the tools with which to do it on any size property. Urban Farm™ reaches out to those in the city and suburbs, those who are inspired by the local-food movement and who want to raise chickens and grow food for themselves, supporting local agriculture and living more sustainably.
TreeHugger. City Farmer's Urban Agriculture Notes. UrbanFarmOnline.com - Sustainable city living at your fingertips. Urban Farming :: Welcome To Urban Farming! Sharing Knowlege... Feeding Nations.
Selbermachen
---