DIY
MaKey MaKey: An Invention Kit for Everyone (Official Site) Linux / libre / open source / hacking. DIY Urban Sensor Kit | Fab Lab Barcelona > Fabricacion Digital Personal. Desarrollado en conjunto con el Instituto de Arquitectura Avanzada de Catalunya y Hangar, el DIY Urban Sensor Kit permite obtener los datos medioambientales de temperatura, sonido, luz, co2 y humedad en tiempo real y subirlos a Pachube.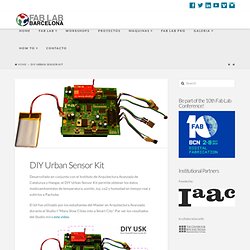 El kit fue utilizado por los estudiantes del Master en Arquitectura Avanzada durante el Studio I "Many Slow Cities into a Smart City". Par ver los resultados del Studio mira este video. Panneau Solaire :: Panneau de chauffage solaire fait en canettes. Custom Search Plusieurs facteurs font qu'entre les énergies renouvelables (et écologiques), et les énergies conventionnelles (non renouvelables et non écologiques), le choix qui s'impose est d'abord celui de l'énergie conventionnelle avec pour argument principal le prix.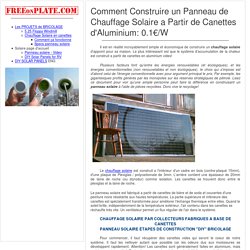 Par exemple, les gigantesques profits générés par les monopoles sur les réserves stratégiques de pétrole. Lisez ce document pour voir qu'une simple personne peut faire la différence en construisant un panneau solaire à l'aide de pièces recyclées. Donc vive le recyclage! r0ket's soup. Start - r0ket. Hack N Mod - Amazingly Cool Hacks, Mods, and DIY Projects. Construire un stenope.
Autoportraits au sténopé sténopé sur film 120, tirage contact © robert colognoli - 2003 Comment construire un appareil ?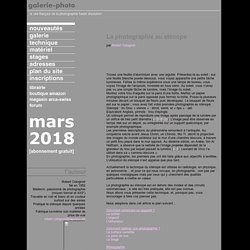 Le boîtier Le boîtier ne sert qu'à présenter une surface sensible dans le champ illuminé par le sténopé. Une simple boîte fera très bien l'affaire. Toute amélioration ne sert qu'à en faciliter l'utilisation. Moteur à aimants permanents – électricité gratuite. Hacked Gadgets – DIY Tech Blog. PirateBox DIY - David Darts Wiki. DIY / DIWO culture. DIY hardware - electronic. Ultralab. Fab@Home - Make Anything | Fab@Home.
Fabbaloo Blog - Fabbaloo - Daily News on 3D Printing. Your 3D design turns into reality with the 3D printing. Thingiverse - Digital Designs for Physical Objects. 3d modelling software. How to start out with 3d printing In the first of the Personal Factory 3d printing tutorial series we're looking at popular software packages you can use to create your designs.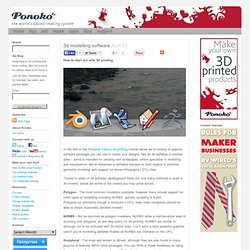 Not all 3d software is created alike – some is intended for creating vast landscapes, others specialise in rendering and visualisation. We're interested in software focused on both organic & primitive geometry modeling with support for stereo-lithography (.STL) files. Thanks to years of 3d software development there are now many methods to build a 3d models, below are some of the means you may come across… Polygon - The most common modellers available, however many include support for other types of modelling including NURBS, splines, sculpting & SubD.
3DTin. Solar Sinter Project: 3D Printing with Sunlight and Sand.
---