À classer
This is a list of corporate collapses and scandals . A collapse involves a major insolvency or bankruptcy of a failure. A scandal involving allegations of unethical behavior by people acting within or on behalf of a corporation.
List of corporate scandals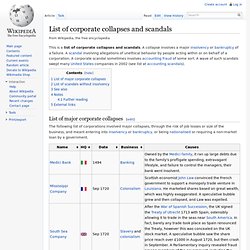 backtalk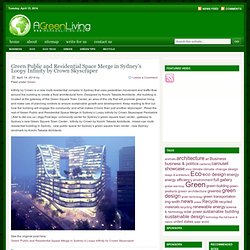 March 31, 2013 by Filed under Eco , Green Any young boy raised on Calvin and Hobbes has dreamed of retreating to a tree fort to hurl snowballs and Susie Derkins and host G.R.O.S.S. (Get Rid Of Slimy girlS) meetings. One amazing dad created a nursery for his kid that would be any Calvin & Hobbes fan's dream come true. The room includes a big Calvin & Hobbes-themed mural, and a treehouse bed with both a ladder and a slide. Just looking at it makes us want to turn back the clock to be a kid again.
Green | A Green Living Blog
Un article de Wikiverts. Notre économie à ceci de particulier qu'elle donne relativement peu d'importance à la gestion des déchets. Est-ce un reste de l'époque ou nous croyions la Terre suffisamment grande pour nous procurer assez de ressources et pour recycler naturellement nos détritus ? Si c'est le cas, il est temps de reconsidérer la chose.
Déchets - Wikiverts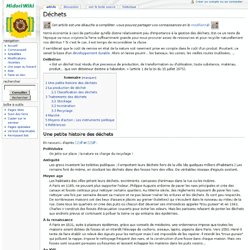 Un article de Wikipédia, l'encyclopédie libre. Schéma de la chambre forte. La Réserve mondiale de semences du Svalbard (en norvégien Svalbard globale frøhvelv , en anglais Svalbard Global Seed Vault et littéralement Chambre forte mondiale de graines du Svalbard ), est une chambre forte souterraine sur l'île norvégienne du Spitzberg destinée à conserver dans un lieu sécurisé des graines de toutes les cultures vivrières de la planète et ainsi de préserver la diversité génétique . Ce site a été choisi parce que le climat et la géologie du Spitzberg se prêtent parfaitement à un tel projet de conservation et que les pays scandinaves sont fortement impliqués dans ce dernier.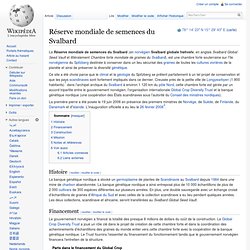 In the first commercial application of CeNSE technology, HP and Shell will build a wireless sensing system to acquire high-resolution seismic data. By vastly improving the quality of seismic imaging, the new system will allow Shell to more easily and cost-effectively explore difficult oil and gas reservoirs.
Labs' Central Nervous System for the Earth project aims to build a planetwide sensing network: HP Labs Feature Article (November 2009)-Namoroka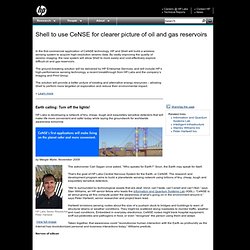 Global IT Services | HP Services-Namoroka
Networking: switches, routers, wired, wireless, HP TippingPoint Security-Namoroka
Waste Management and Solid Waste Recycling - Global Recycling Network - Main Menu
Vigitox | Greenpeace France
Page - 25 mai, 2011 100 000 substances chimiques sont commercialisées en Europe. Or pour 99% d'entre elles, nous n'avons aucune idée de leurs effets sur la santé et l'environnement. Certaines molécules, dangereuses sont présentes dans nos produits de consommation.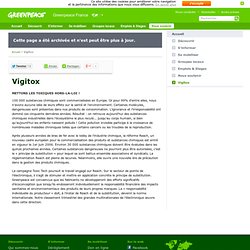 Polypropylène
Un article de Wikipédia, l'encyclopédie libre. Le polypropylène (ou polypropène ) isotactique, de sigle PP (ou PPi) et de formule chimique (-CH 2 -CH(CH 3 )-) n , est un polymère thermoplastique semi-cristallin de grande consommation. Le polypropylène isotactique est une polyoléfine résultant de la polymérisation coordinative des monomères propylène [(CH 2 =CH-CH 3 )] en présence de catalyseurs , suivant principalement le procédé Ziegler - Natta . Historique [ modifier ] Représentation d'une chaîne d'un polypropylène isotactique et syndiotactique (de haut en bas).
L'énergie nucléaire
Robotique, protection nucléaire, ingénierie industrielle, sécurité incendie - Groupe Gorgé
Pesticides environnement : le MDRGF lutte contre les pesticides et les OGM
Au coeur de la réserve mondiale de semences de Svalbard.