Accessibility
CSS Analyser
Contents Translations Spanish Version About this Service This service has been provided to allow you to check the validity of your CSS against the W3C's validation service, along with a colour contrast test, and a test to ensure that relevant sizes are specified in relative units of measurement. If the CSS is specified by a URL, it will be loaded into the text area to offer an option to make changes for testing without having to re-upload.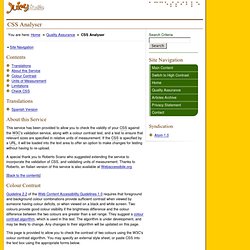 Tools to Download - Resources - Vision Australia Website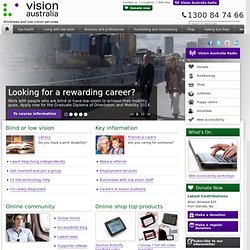 Do you have a child with low vision?Vision Australia provides training and resources that enable children who are blind or have low vision to increase their choices and reach their full potential in life.To children's services Carols by CandlelightRecap on Vision Australia's Carols by Candlelight presented by Myer.
IETester Download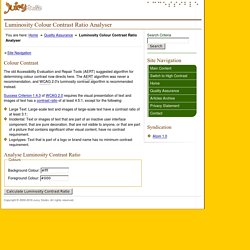 Colour Contrast The old Accessibility Evaluation and Repair Tools (AERT) suggested algorithm for determining colour contrast now directs here. The AERT algorithm was never a recommendation, and WCAG 2.0's luminosity contrast algorithm is recommended instead. Success Criterion 1.4.3 of WCAG 2.0 requires the visual presentation of text and images of text has a contrast ratio of at least 4.5:1, except for the following:
Luminosity Colour Contrast Ratio Analyser
Date created: January 11, 2005 Date last modified: March 30, 2009 The Colour Contrast Check Tool allows to specify a foreground and a background colour and determine if they provide enough of a contrast "when viewed by someone having color deficits or when viewed on a black and white screen"[W3C].