Product dev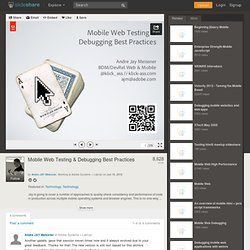 Mobile Web Testing & Debugging Best Practices
8,628 views Featured in: Technology, Technology Jay is going to cover a number of approaches to quality-check consistency and performance of code in production across multiple mobile operating systems and browser engines. This is no one-way ...
Deconstructing Recommender Systems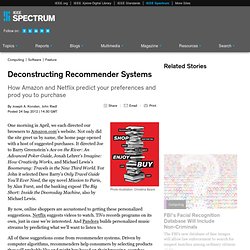 Photo-illustration: Christina Beard One morning in April, we each directed our browsers to Amazon.com's website. Not only did the site greet us by name, the home page opened with a host of suggested purchases.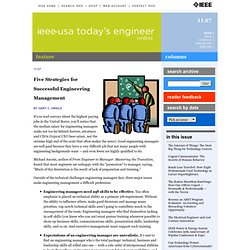 Five Strategies for Successful Engineering Management By Gary C. Hinkle If you read surveys about the highest paying jobs in the United States, you'll notice that the median salary for engineering managers ranks not too far behind doctors, attorneys and CEOs (typical CEO base salary, not the extreme high end of the scale that often makes the news).
IEEE-USA Today's Engineer
HTML5 vs. Apps: Why The Debate Matters, And Who Will Win
HTML5 is a new technology that allows developers to build rich web-based apps that run on any device via a standard web browser. Many think it will save the web, rendering native platform-dependent apps obsolete. So, which will win? Native apps or HTML5? A recent report from BI Intelligence explains why we think HTML5 will win out, and what an HTML future will look like for consumers, developers, and brands. Access The Full Report By Signing Up For A Free Trial Today >>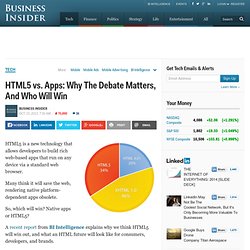 Data Says R Amongst Most Popular Languages
Data Scientist Drew Conway tackles the problem of deciding which programming languages are the most popular in an interesting way: by comparing the number of projects tagged in GitHub with each language, and the number of questions in StackOverflow about the language. The former is a measure of how often a language is used (though, mainly for open source projects); the latter is a measure of how many programmers are asking questions about it. Drew uses these measures and a k-means clustering technique to categorize langauges as follows: Most Popular (generally ranked in the highest 20% of languages in StackOverflow and GitGub)Second Tier (ranked in the 60%-80% quartiles)High Variance (ranked in the 20%-60% quartiles)Least Popular (ranked in the bottom 20-25%)Incomparable (because of indeterminate rankings in StackOverflow)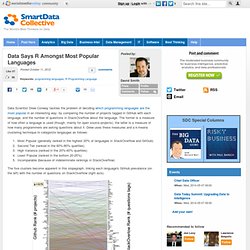 Roy
Google, Microsoft, Facebook and Others Launch Web Platform Docs, A Web Standards Documentation Site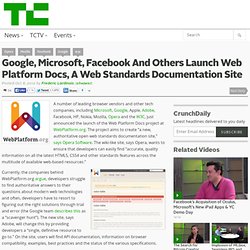 A number of leading browser vendors and other tech companies, including Microsoft, Google, Apple, Adobe, Facebook, HP, Nokia, Mozilla, Opera and the W3C, just announced the launch of the Web Platform Docs project at WebPlatform.org. The project aims to create "a new, authoritative open web standards documentation site," says Opera Software. The wiki-like site, says Opera, wants to ensure that developers can easily find "accurate, quality information on all the latest HTML5, CSS4 and other standards features across the multitude of available web-based resources." Currently, the companies behind WebPlatform.org argue, developers struggle to find authoritative answers to their questions about modern web technologies and often, developers have to resort to figuring out the right solutions through trial and error (the Google team describes this as a "scavenger hunt"). The new site, says Adobe, will change this by providing developers a "single, definitive resource to go to."
Seth Godin's 9 Tips On Creating A Remarkable Product
JavaScript match() Method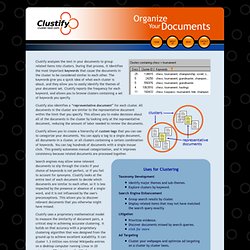 Clustify analyzes the text in your documents to group related items into clusters. During that process, it identifies the most important keywords that cause the documents in the cluster to be considered similar to each other. The keywords give you a quick idea of what each cluster is about, and they allow you to easily identify the themes of your document set. Clustify reports the frequency for each keyword, and allows you to browse clusters containing a set of keywords you specify. Clustify also identifies a "representative document" for each cluster.
Clustering for e-Discovery, Taxonomy Development, and Search Engine Enhancement
W.T.F.M: Write The Freaking Manual I will take this moment to reflect on what has been an epic exercise in utter frustration: Sifting through poorly written documentation or tutorials for an otherwise excellent programming language, framework, project, etc. It seems that nowadays, the original phrase R.T.F.M. is also quickly becoming the need to W.T.F.M. Developers: You spend hours, days, months, perhaps years refining your masterpiece. It is an expression of your life's work, heart and soul. Why, then, would you shortchange yourself by providing poor or no documentation for the rest of us?
W.T.F.M: Write The Freaking Manual - Floopsy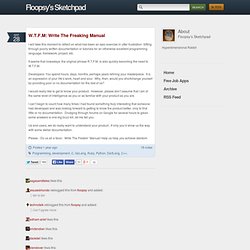 This site is intended as an intermediate repository for more or less finalized ideas and plans for the R statistical system. Most parts of the site are open to the public, and we welcome discussions on the ideas, but please do not take them for more than that, in particular there is no commitment to actually carry out the plans in finite time unless expressedly stated. The site also includes a collection of technical papers about R. For general information about R see the R Project's homepage. This page (and most of its links) are updated daily and so may not be absolutely current.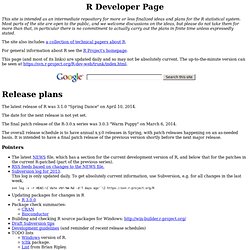 R Developer Page
Wordle is a toy for generating "word clouds" from text that you provide. The clouds give greater prominence to words that appear more frequently in the source text. You can tweak your clouds with different fonts, layouts, and color schemes. The images you create with Wordle are yours to use however you like. You can print them out, or save them to the Wordle gallery to share with your friends. Create your own.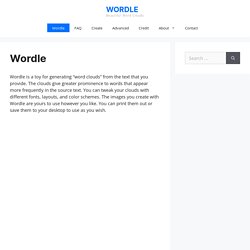 Walrus - Graph Visualization Tool
Source Code Available The source code to Walrus is now available under the GNU GPL. You may download the source code below. Description Walrus is a tool for interactively visualizing large directed graphs in three-dimensional space. It is technically possible to display graphs containing a million nodes or more, but visual clutter, occlusion, and other factors can diminish the effectiveness of Walrus as the number of nodes, or the degree of their connectivity, increases.
Your mental health is just as important as your physical wellbeing—perhaps even more so. If you are not taking care of your mental wellbeing, you may begin to succumb to physical ailments, social withdrawal, and even negative thoughts and behaviors. Mental health does not necessarily mean mental illness. Keeping yourself free from depression and anxiety is a preemptive way to keep you healthy and happy through the years. Social stigma has ruled people's opinion of mental health since ancient times.
Reynholm Industries › You look like Ghandi… no, wait, not Ghandi, the other one… Bono.
I've experience in projects in little startups, but also doing research at top noch universities back in Barcelona. What this use to mean is that I enjoy hard problems that keep my mind busy. If you're interested on it, you could check my online profiles.
polaris.umuc.edu/~busilane/tman636/articles/12prin.pdf
JSON Tutorial
Few computer science or software development programs attempt to teach the building blocks of scalable systems. Instead, system architecture is usually picked up on the job by working through the pain of a growing product or by working with engineers who have already learned through that suffering process. In this post I'll attempt to document some of the scalability architecture lessons I've learned while working on systems at Yahoo! and Digg.
Introduction to Architecting Systems for Scale
How to Build an Excellent Web or Mobile App
If you ever want to screw over a library, just walk up to any shelf, pick up any book, and put it on another shelf where it doesn't belong. Eventually a librarian will stumble across it, see that it's out of place, and pull it off the shelf. Until then, that book is hopelessly lost. It might as well be on the surface of the moon.
Sorting and searching at the library
Amazon S3 - Cross Origin Resource Sharing Support
Amazon Web Services Adds Long Requested Web Browser Specification
WebRTC is almost here, and it will change the web
natefaubion/matches.js
videlalvaro/gifsockets
Titan: A Highly Scalable, Distributed Graph Database
Lectures « Marko A. Rodriguez
I build High Availability Platforms so Cloud is not for me | NetworksAreMadeOfString
5.9. Calculating the clustering coefficient of a network
myUniverse and matrices (fast) calculation with jit.gen « The Blog of Julien Bayle
NOOBLAST | Pavel Risenberg
WSREST2011Keynote.pdf (application/pdf Object)
Apps Are Over: Frog Design's Scott Jenson Want to Overthrow the Desktop Paradigm
Hacking: Always Design the UX First | systemizer
How We Build Features
Welcome to StartupCTO [StartupCTO]
technical papers and algorithims