Ilustración
Misato Suzuki. Ashkan Honarvar - portfolio. Paula Bonet | Illustration. Www.guydenning.org. Ellen Weinstein New York Illustrator and Designer. ▓MOLGH▓ News all images on this site are copyright 2009 jason shawn alexander. Alberto vazquez. Polaqia - Inicio. StudioKxx. Silke Werzinger Illustration. HOPE GANGLOFF. Cgunit - Online Gallery.
Descargar fuentes | dafont.com en español. Leilani Bustamante. Vania Zouravliov. Stuntkid. JAW Cooper Illustration. _____ JOAO RUAS - FERAL-KID.COM. James Jean | Home. Kareena Zerefos. Home. Lo mejor de 2011. Ahora sí.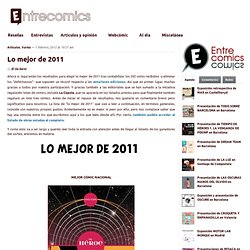 Aquí están los resultados para elegir lo mejor de 2011 tras contabilizar los 292 votos recibidos -y eliminar los "defectuosos"- que suponen un récord respecto a las anterioresediciones. Así que en primer lugar, muchas gracias a todos por vuestra participación. Y gracias también a las editoriales que se han sumado a la iniciativa regalando lotes de cómics, incluida La Cúpula, que no aparecía en los listados previos pero que finalmente también regalará un lote tres cómics. Antes de iniciar el repaso de resultados, nos gustaría un comentario breve pero significativo para nosotros. La lista de "lo mejor de 2011″ que vais a leer a continuación, en términos generales, coincide con nuestros propios gustos.
Xianaa. Home - Pat Perry. Luché. Max-o-matic | Illustration, collage and organized chaos since 2003.
---