State of the Tablet (iPad, Xoom, HP, BlackBerry, Win 8)
Microsoft Windows. Microsoft Windows is a series of graphical interface operating systems developed, marketed, and sold by Microsoft.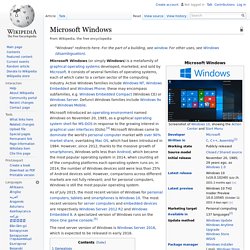 Version history The term Windows collectively describes any or all of several generations of Microsoft operating system products. Microsoft To Release Windows for Tablets in 2012 [REPORT] Microsoft will release a tablet-oriented version of Windows no sooner than 2012, Bloomberg reports, citing sources familiar with the matter.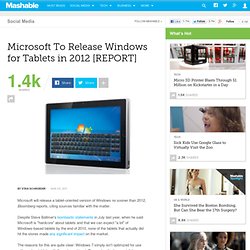 Despite Steve Ballmer's bombastic statements in July last year, when he said Microsoft is "hardcore" about tablets and that we can expect "a lot" of Windows-based tablets by the end of 2010, none of the tablets that actually did hit the stores made any significant impact on the market. The reasons for this are quite clear: Windows 7 simply isn't optimized for use with modern tablets with finger-based input. Remember the long, painful transition from Windows Mobile 6 to Windows Phone 7?
Once again, it will take time for Microsoft to deliver the user experience it needs to be able to compete with Apple's iOS and Google's Honeycomb. IN MEDIA Announces $399 Windows 7 Tablet PC, Shipping Early 2011. Whether or not Windows 7 has a place on tablets or not, it isn't stopping some brave companies from releasing consumer-oriented slate computers running Redmond's latest operating system.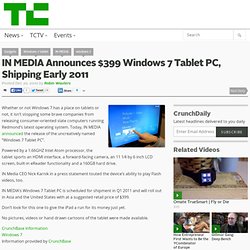 Today, IN MEDIA announced the release of the uncreatively named "Windows 7 Tablet PC". Powered by a 1.66GHZ Intel Atom processor, the tablet sports an HDMI interface, a forward-facing camera, an 11 1⁄4 by 6 inch LCD screen, built-in eReader functionality and a 160GB hard drive. IN Media CEO Nick Karnik in a press statement touted the device's ability to play Flash videos, too.
Onkyo Announces Snoopy-Themed Windows Tablet. I thought we'd get a Hello Kitty tablet before anything else, but today Onkyo Japan has announced a Snoopy-themed Windows tablet [JP, PDF] for the local market (Windows 7 Home Premium 32bit, to be more exact).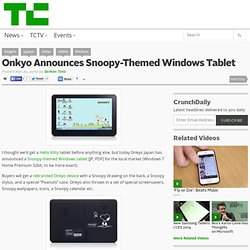 Buyers will get a rebranded Onkyo device with a Snoopy drawing on the back, a Snoopy stylus, and a special "Peanuts" case. Onkyo also throws in a set of special screensavers, Snoopy wallpapers, icons, a Snoopy calendar etc. Technically, the tablet features a 10.1-inch LCD with 1,024×600 resolution, an Atom N450 CPU (1.66GHz), 1GB of RAM, a 160GB HDD, two USB slots, an SD card slot, IEEE 802.11b/g/n Wi-Fi, Bluetooth 2.1+EDR, and a web cam. Report: Microsoft Won't Release Dedicated Tablet OS Until 2012. Microsoft will be releasing Windows 7 tablets this year, but its dedicated tablet build of Windows 7 reportedly won't land until next year.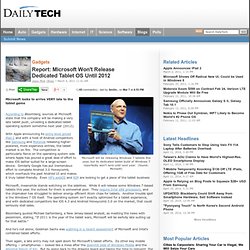 (Source: Microsoft) Microsoft looks to arrive VERY late to the tablet game. Windows 8 slate from Microsoft in 2012. Following on from comments made by Steve Ballmer earlier this week Business Week is reporting that Microsoft won't be releasing a Windows 8 tablet until early 2012.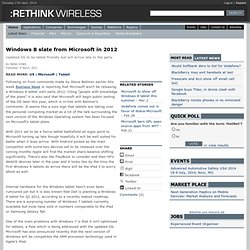 Citing "people with knowledge of the plans" it is also said that Microsoft will begin public testing of the OS later this year, which is in-line with Ballmer's comments. It seems like a sure sign that tablets are taking over the personal computing market as a lot of the talk surrounding the next version of the Windows Operating system has been focused on Microsoft's tablet plans. With 2011 set to be a fierce tablet battlefield all signs point to Microsoft turning up late though hopefully it will be well suited for battle when it does arrive.
With Android poised as the main competitor with some key devices set to be released over the coming months Apple will find the market share balance shifting significantly. Windows 7 tablet roundup from Computex, nay Tabletex. Tabletex.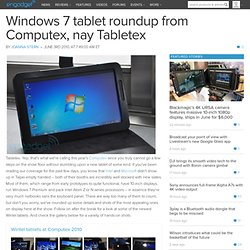 Yep, that's what we're calling this year's Computex since you truly cannot go a few steps on the show floor without stumbling upon a new tablet of some kind. If you've been reading our coverage for the past few days, you know that Intel and Microsoft didn't show up in Taipei empty handed -- both of their booths are incredibly well stocked with new slates. Most of them, which range from early prototypes to quite functional, have 10-inch displays, run Windows 7 Premium and pack Intel Atom Z or N series processors -- in essence they're very much netbooks sans the keyboard panel. There are way too many of them to count, but don't you worry, we've rounded up some details and shots of the most appealing ones on display here at the show. Follow on after the break for a look at some of the newest Wintel tablets.
Microsoft Said to Plan Windows Release for Tablets in 2012. Windows 8 Tablet Demos May Arrive in June. As Windows 8 Milestone 3 begins, there are reports that Microsoft may demo the OS on tablets this June.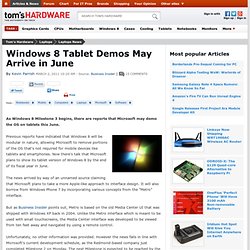 Previous reports have indicated that Windows 8 will be modular in nature, allowing Microsoft to remove portions of the OS that's not required for mobile devices like tablets and smartphones. Now there's talk that Microsoft plans to show its tablet version of Windows 8 by the end of its fiscal year in June. The news arrived by way of an unnamed source claiming that Microsoft plans to take a more Apple-like approach to interface design. It will also borrow from Windows Phone 7 by incorporating various concepts from the "Metro" interface. Windows 7 Tablets: Now or Never - PCWorld. As I watch the Tablet Revolution, 2011 Edition unfold, I'm struck by the similarities to the first go-round of tablets a decade ago.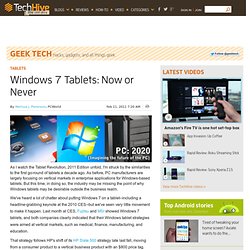 As before, PC manufacturers are largely focusing on vertical markets in enterprise applications for Windows-based tablets. But this time, in doing so, the industry may be missing the point of why Windows tablets may be desirable outside the business realm. ASUS Eee Slate EP121-1A010M 12.1-Inch Tablet PC: Computer & Accessories. 4G PlayBook Tablet PC. Get BlackBerry 4G PlayBook Tablet. BlackBerry PlayBook March Confirmed Release Date: iPad 2 Rival? From the start of this year, it became apparent that the next 12 months would be a busy time for tablet and smartphone releases, and one such device waiting for its turn would be the BlackBerry PlayBook.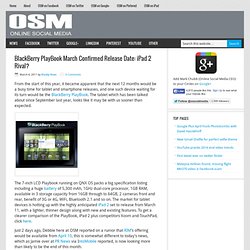 The tablet which has been talked about since September last year, looks like it may be with us sooner than expected. The 7-inch LCD Playbook running on QNX OS packs a big specification listing including a huge battery of 5,300 mAh, 1GHz dual-core processor, 1GB RAM, available in 3 storage capacity from 16GB through to 64GB, 2 cameras front and rear, benefit of 3G or 4G, WiFi, Bluetooth 2.1 and so on. The market for tablet devices is hotting up with the highly anticipated iPad 2 set to release from March 11, with a lighter, thinner design along with new and existing features. To get a clearer comparison of the PlayBook, iPad 2 plus competitors Xoom and TouchPad, click here.
BlackBerry PlayBook. Early reviews were mixed saying that although the hardware was good, several features were missing. Shipments totaled approximately 500,000 units during the first quarter of sales and 200,000 in the following quarter.[5] Many of the 700,000 units shipped to retailers allegedly remained on the shelves for months, prompting BlackBerry to introduce dramatic price reductions in November 2011 to increase sales.[6] Sales rebounded following the price cuts,[7] with BlackBerry shipping approximately 2.5 million BlackBerry PlayBooks by June 1, 2013.
Announcement[edit] Among the features demonstrated was its tight integration with and support for Adobe AIR applications and full Flash support. According to Lazaridis, "We're not trying to dumb down the internet for a mobile device. RIM's BlackBerry PlayBook set for April 10 release, according to report. Citing an anonymous source close to the company, technology blog Boy Genius Report has reported the Research in Motion PlayBook, the company's long-anticipated entry into the tablet market, will be released on April 10.
If true, that would mean the RIM device would launch just a month after Apple releases its iPad 2, which the company recently announced would be available to consumers on March 11. The move is viewed by some within the industry as RIM's efforts to remain relevant amid sliding market shares for its BlackBerry line of smartphones. Around the same time the Boy Genius Report was released, Jon Oakes, director of product marketing for HP's TouchPad, said the PlayBook and his company's device have some "uncanny similarities. " "It's a fast innovation cycle and a fast imitation cycle in this market," Oakes said in an interview with Laptop magazine.
RIM initially announced it would enter the tablet market in September. Blackberry Playbook's webOS Tablet UI Confusion : Product Reviews Net. By Peter Chubb Posted 2 Mar 2011, 13:48 Both HP and RIM are to release their tablet devices to the market soon, and if you were to take the branding of each device, you could easily mistake them from one another. There have suggestions that the BlackBerry PlayBook has borrowed a number of elements from the webOS is to run HP's TouchPad, which would certainly lead to tablet confusion.
Playbook. WebOS | HP TouchPad³, HP Veer, HP Pre 3³ HP Announces The TouchPad. It's official. Palm's new WebOS device is called the Touchpad. It has a 9.7-inch screen, front 1.3-megapixel camera, and comes in 16 or 32GB models. It runs a 1.2GHz Snapdragon Processor processor and the screen resolution is 1024×768. Designed by the "hundreds of talented programmers" on the WebOS team, the TouchPad is HP's second slate of the new decade, the first being the HP Slate 500. HP TouchPad. The HP TouchPad is a tablet computer which was developed and designed by Hewlett-Packard.[6] The HP TouchPad was launched on July 1, 2011, in the United States; July 15 in Canada, United Kingdom, France, Germany; and August 15 in Australia.[7] History[edit] The HP TouchPad was announced on February 9, 2011, at the HP webOS "Think Beyond" event held at the Fort Mason Center in San Francisco alongside the HP Veer and HP Pre 3.[8] Early reviews of the HP TouchPad were mixed.
David Pogue of The New York Times wrote, "It works beautifully, and conveys far more information than the iPad 2. HP's WebOS-Based TouchPad Tablet: First Look | eWEEK Europe UK. HP unveils TouchPad tablet, WebOS headed to PCs | Wireless. Liveblog: HP's webOS tablet event. TouchPad Brings webOS to the Big Screen. iPad - All-new design. Video calls. HD video. And more. What Apple Hopes You Didn't Notice About iPad 2. iPad 2 Versus the Competition [INFOGRAPHIC] An iPad Lover's (Initial) Thoughts On iPad 2. After Seeing the iPad 2, Samsung Reconsiders Galaxy Tab Pricing.
Apple's iPad Still Has No Competition. 9 Upcoming Tablet Alternatives to the Apple iPad. iPad. iPad 2 versus BlackBerry PlayBook - San Francisco Gadgets. New iPad 2 Hands-On: Insanely Fast, Solid, Improved Safari & Gaming. Apple iPad 2 and its top 5 Windows 7-based tablet contenders [PHOTOS] Is the iPad 3 the one to wait for. Ipad 2. XOOM - Android Smart Tablet - Overview. Motorola Xoom Full Review. Xoom. Motorola Xoom. Motorola Xoom User Reviews - Tablets. Fly Or Die (Tablet Edition): The Motorola Xoom And The Kno. HTC Launches a 7-Inch, 1.5 GHz Tablet. Tablet personal computer. Tablets and Tablet PC Reviews. Sprint announcing Nexus S 4G, EVO 3D, and EVO View tablet at CTIA? Tablet PC Review - Best Tablet PCs.
Tablet Commerce Expected to Explode in 2011 [STATS] Tablets. 10 Reasons To Buy A Tablet (And 5 Reasons Not To) High Prices Threaten to Kill Tablet Adoption - PCWorld Business Center.
---